Hydrogen-bromate flow battery: can one reach both high bromate utilization and specific power?
Abstract
Hydrogen-bromate flow battery is a promising hybrid current source for air-deficient environment that functions by electrocatalyzed reactions of hydrogen oxidation and aqueous LiBrO3 reduction. The flow cell consists of porous carbonaceous cathode, platinum catalyzed hydrogen oxidation gas diffusion anode, and separating proton exchange membrane. Performance of the hydrogen-bromate flow battery single cell has been optimized by varying the catholyte feed rate, LiBrO3 concentration in catholyte, hydrogen pressure, membrane thickness, amount of porous carbon at cathode, and Pt loading at anode. Shape of the I-V curve is characterized by a sharp maximum of current, which indicates passivation of one of the electrodes. Combination of conventional reference electrode and home-made thin-film Luggin capillary has been used to monitor separately the polarizations of both flow cell electrodes. Poisoning of platinum hydrogen oxidation electrocatalyst by bromine species, which permeated the membrane, is shown as a major source of performance losses of hydrogen-bromate flow battery at high power density. Hypothesis supported by experiments claims that the degree of the platinum electrocatalyst poisoning is determined by the balance between the rates of the bromine species supply to anode and their removal by liquid water that permeates the membrane. Use of thinner proton exchange membrane and thinner carbonaceous cathode is a prerequisite to achieving high power density of the cell at high current efficiency of the cathode process. At 40 °C, area-specific power reaches 0.74 W cm−2 at the level of catholyte utilization equal to 0.93.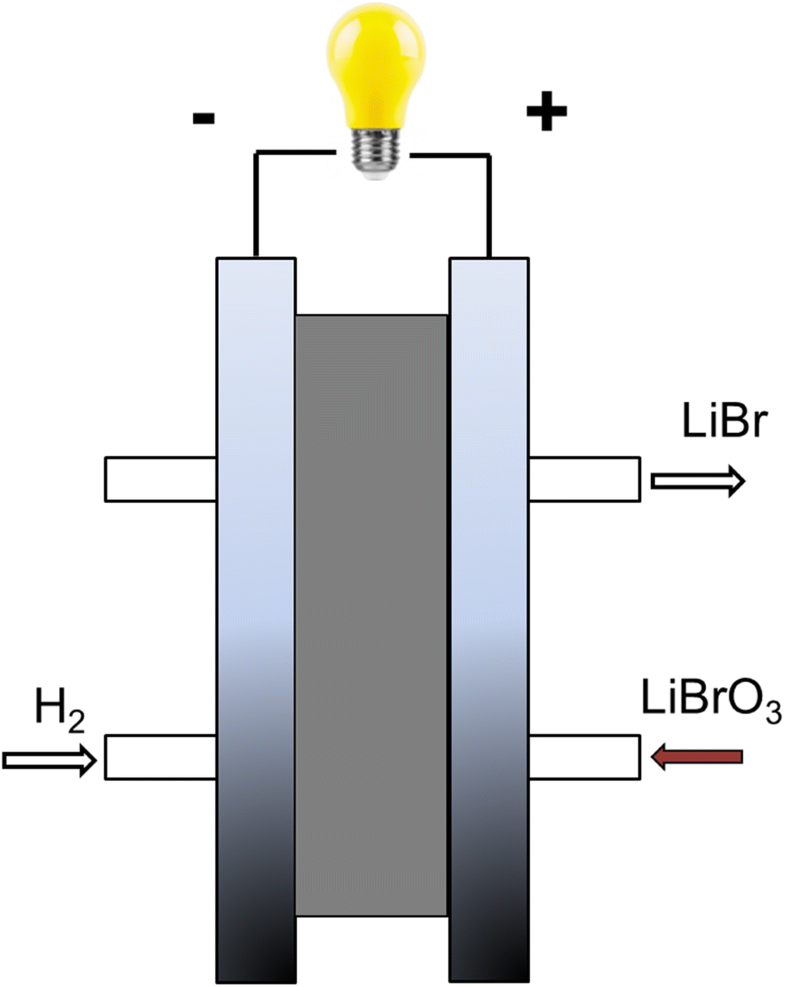 Keywords
Electrocatalysis 
Flow battery 
Bromine 
Energy conversion 
Fuel cells 
Power sources 
Notes
Funding information
This research was financially supported by the Russian Ministry of Education and Research (Grant № 14.574.21.0150, UIN RFMEFI57417X0150).
Copyright information
© Springer-Verlag GmbH Germany, part of Springer Nature 2019