Shape evolution and effect of organic additives in the electrosynthesis of Cu nanostructures
Abstract
Copper nanostructures were electrodeposited onto FTO in potentiostatic conditions at acidic pH without and with organic additives with different charge and structure: two cationic surfactants (hexadecyl trimethyl ammonium bromide and substituted deoxycholic acid), two anionic ones (sodium dodecyl benzene sulfonate and sodium dioctyl sulfosuccinate) and two neutral ones (saponin and deoxycholic acid). Shape evolution (assessed by image analyses of SEM micrographs) was determined for different copper concentrations (0.001–0.1 M) and discharged charge (Q = 0.001–0.1 C) without additives. A common scheme was observed: sphere-like particles were observed firstly, then evolving towards branched structures, which undergo a gradual branch enlargement finally giving aggregate-like structures.
As for the effect of organics, negatively charged additives promoted nucleation rather than growth of nanoparticles, while positively charged additives enhanced growth of copper structures rather than new nucleation.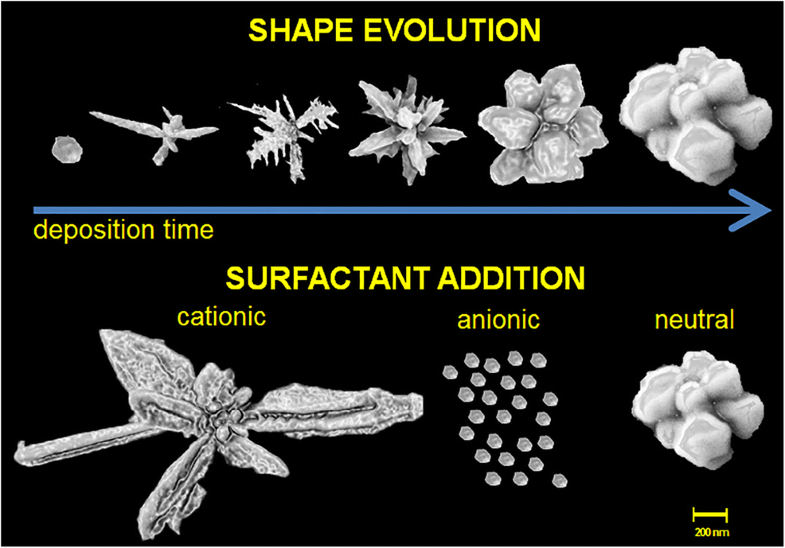 Keywords
Electrosynthesis 
Cu nanostructures 
Organic additives 
Acidic sulphate bath 
FTO 
Notes
Acknowledgements
The author thanks Prof. Luciano Galantini of the Department of Chemistry of Sapienza University for the biliar acids kindly furnished and used for the tests.
Copyright information
© Springer-Verlag GmbH Germany, part of Springer Nature 2019