Zn-Co electrocatalysts in lithium-O2 batteries: temperature and rotating cathode effects on the electrodeposition
Abstract
In this study, we developed Zn-Co catalyst by electrodeposition process in nickel foam and steel mesh electrodes for application as a cathode in Li-O2 batteries. The electrodes were synthesized from an electrolytic bath varying the temperature (25 to 70 °C) and rotating cathode (30 to 100 rpm) by the potentiostatic method. The results of capacities in the Li-O2 cell and catalytic activity measurements showed that the Zn-Co alloy is a promising catalyst for the O2 evolution reaction (OER). Sharp surfaces composed for nanoflakes and heterogeneous surfaces with whitish agglomerates which may have increased the surface area for the housing of the discharge products was observed by scanning electron microscopy (SEM). X-ray diffraction (XRD) evidenced Zn21Co5 composition and Raman spectra evidenced discharge product Li2O2. The maximum charge capacity of 399 mAh gc−1 for steel mesh and 182 mAh gc−1 for nickel foam electrode suggests the use of this alloy as catalysts in Li-O2 batteries.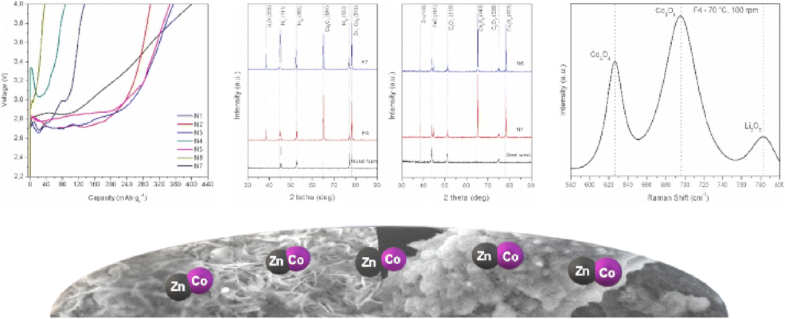 Keywords
Energy storage materials 
Electrochemical performance 
Alloys 
Oxygen evolution reaction 
Notes
Funding information
This study was financed in part by the Coordenação de Aperfeiçoamento de Pessoal de Nível Superior - Brasil (CAPES) - Finance Code 001.
Copyright information
© Springer-Verlag GmbH Germany, part of Springer Nature 2019