Polyethyleneimine-AuNPs-copper protoporphyrin nanocomposite: a novel biosensor for sensitive detection of hydrogen peroxide in human serum
Abstract
The detection of hydrogen peroxide (H2O2) is essential due to its extensive application in bio-medical and environment. Herein, we synthesized a novel polyethyleneimine-Au nanoparticle-copper protoporphyrin (PEI-AuNPs-CuPP) nanocomposite toward H2O2 detection. Ultraviolet-visible spectrometry (UV-vis), transmission electron microscopy (TEM), and Fourier-transform infrared spectroscopy (FTIR) were used to characterize this nanomaterial. Analytical performance of this proposed sensor was evaluated through differential pulse voltammetry (DPV) and cyclic voltammetry (CV). It was found surprisingly that the PEI-AuNPs-CuPP-based sensor exhibited sensing for H2O2 with a detection limit of 91.74 aM. In addition, this sensor displayed superb selectivity in the presence of dopamine (DA), ascorbic acid (AA), uric acid (UA), and glucose (Glu), which held satisfactory analytical performance for the detection of H2O2 in human serum samples, indicating a promising application in biological sample analysis.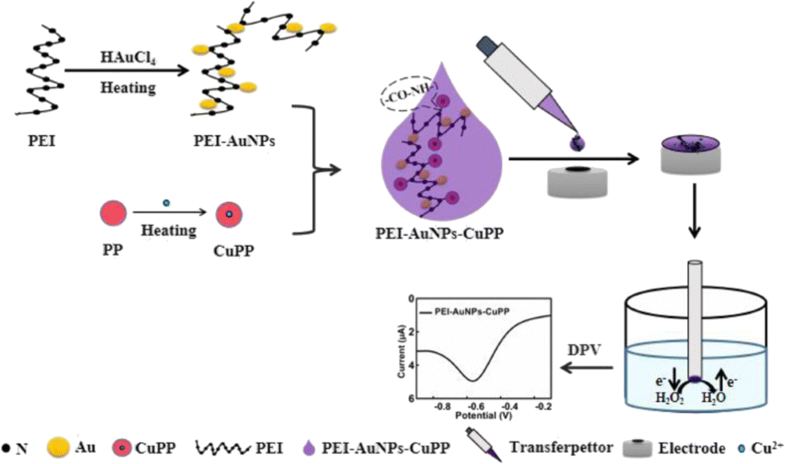 Keywords
PEI-AuNPs-CuPP nanocomposite 
Peroxidase 
H2O2 detection 
Electrochemical sensor 
Notes
Funding information
This work was supported by two funds: the National Natural Science Foundation of China (21575066) and Science and Technology Research Projects of Henan province (no. 162102310462).
Copyright information
© Springer-Verlag GmbH Germany, part of Springer Nature 2019