Novel Ni cermets for anode-supported proton ceramic fuel cells
Abstract
Ni cermets have been widely investigated as anode materials for solid oxide fuel cells (SOFCs), particularly for those based on O2−-conducting electrolytes, e.g., yttria-stabilized zirconia (YSZ). However, proton ceramic fuel cells (PCFCs) are increasingly attracting research attention, considered to be another developmental step in high-temperature fuel cell technologies. Ni cermets with a ceramic matrix capable of performing proton transfer are believed to be prospective anode materials for PCFCs. This work is aimed at investigating materials that can be used as supporting anodes with LaScO3-based proton-conducting electrolytes. La0.95Sr0.05ScO3−δ (LSS5) as a potential ceramic component was synthesized by solid-phase and co-precipitation methods. Ni-LSS5 composites were obtained by solid-state mixing of the respective powders followed by reduction in hydrogen. Effects of the LSS5 powder production technique and sintering temperature (1400, 1450, and 1500 °С) on the microstructural features and phase composition were studied using both oxidized and reduced samples. The temperature dependencies of resistivity, as well as of thermal and chemical expansions, were investigated in situ. It is found that the electrical conductivity and chemical expansion of Ni-LSS is largely determined by its porosity rather than by the selected synthesis method. The materials under study are shown to exhibit relatively small values of chemical expansion and resistivity, making them promising for application in anode-supported PCFCs with LaScO3-based proton-conducting electrolytes.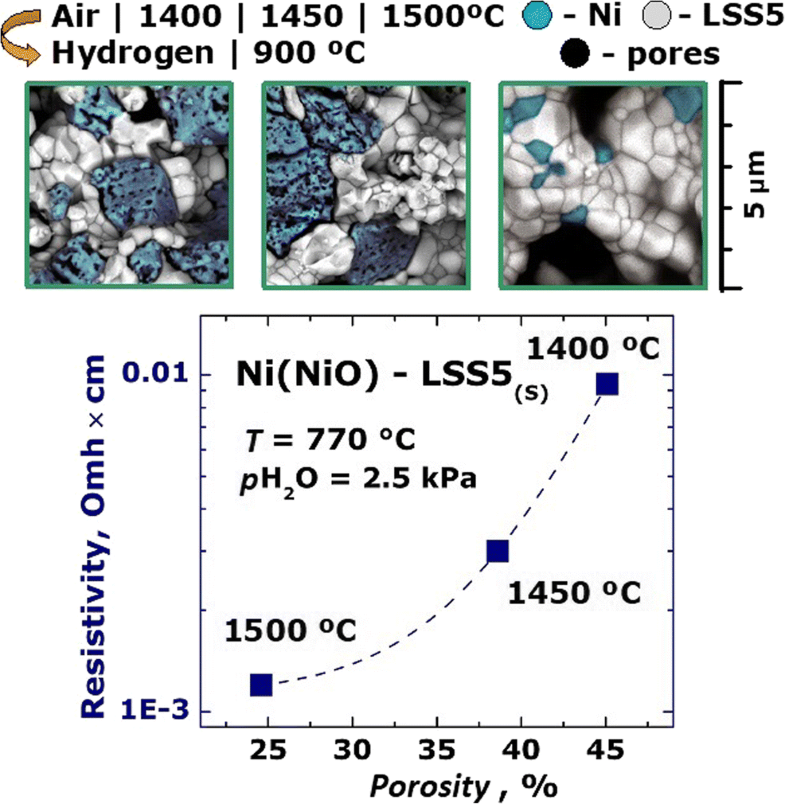 Keywords
LaScO3 
Chemical expansion 
Supporting anode 
Proton ceramic fuel cell 
Ni cermet 
Notes
Acknowledgments
This work is done using the facilities of the Shared access center "Composition of Compounds" of IHTE UB RAS. The authors would like to thank the IHTE employees B.T., Eremin and V.A., Plaksin for help in carrying out experiments.
Funding information
This study is partly supported by the grant of the Russian Science Foundation (Project number no. 16-13-00053) and the act 211 of Government of the Russian Federation, agreement no. 02.A03.21.0006.
Copyright information
© Springer-Verlag GmbH Germany, part of Springer Nature 2019