Noncovalent interactions based self-assembled bichromophoric sensitizer for dye-sensitized solar cells
Abstract
A noncovalent interaction based self-assembled ruthenium (II) phthalocyanine (RuPc) and N-pyridyl-peryleneimide (PyPMI) dyad has been exploited to fabricate n-type dye-sensitized solar cells (DSSCs). This supramolecular dyad design is an alternative method to replace the most challenging synthesis of covalent-linked dyads. Metal-coordinated-based dyad complex improved the light-harvesting properties of the photoanodes as opposed to when individual dye anchored on TiO2 surface alone. DSSCs comprise of RuPc⋅PyPMI dyad convert light-to-electrical energy more efficiently (η = 2.29%) than those made of single dye under one sun irradiation (100 mW cm−2) condition. The enhanced photovoltaic performance of the dyad-based devices is due to the broader light absorption of the dyad in the longer wavelengths, enabling better electron injection into the conduction band of TiO2. The combined effect of efficient electron-hole charge separation and the long-lived charge-separated states facilitated the higher short-circuit current density (Jsc) and open-circuit voltage (Voc) of the devices. The enhancement of Voc and Jsc of the devices is confirmed by measuring current–voltage (I–V) curve and incident photon to current conversion efficiency (IPCE) spectrum of each device.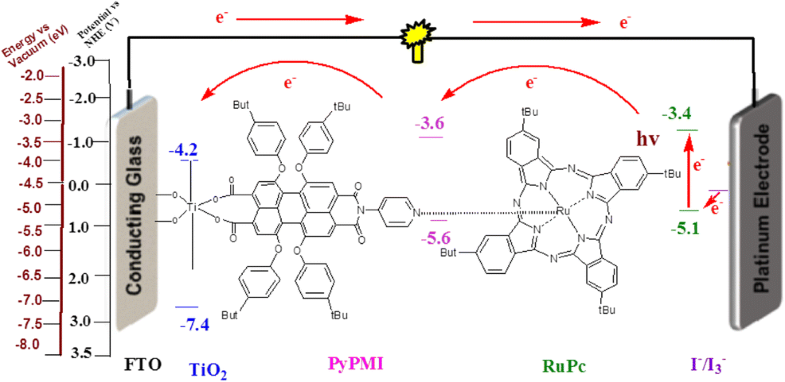 Keywords
Interconnectivity 
Optical absorption properties 
Dyad 
Fill factor 
Photovoltaic study 
Notes
Acknowledgments
Dr. D. K. Panda (DKP) and Prof. S. D. Delekar (SDD) acknowledge Prof. Sourav Saha (Department of Chemistry and Biochemistry, FSU, USA) allowing his photovoltaic lab for fabrication and characterization of all solar cells. This article is dedicated to Sir Harold Kroto as he was a mentor to SDD during his Raman post-doctoral studies at FSU, USA, and a collaborator to DKP.
Author contributions
The manuscript has written through contributions of all authors. All authors have approved the final version of the manuscript.
Funding information
SDD is financially supported by the University Grants Commission, New Delhi, India (UGC No. F 5-88/2014 (IC) dated 9 Sep. 2014), under Raman post-doctoral fellowship at the Florida State University, USA, as well as by the Department of Science and Technology, New Delhi, India (DST No. SR/FT/CS-37/2010), for awarding fast-track proposal for young scientists.
Compliance with ethical standards
Conflict of interest
The authors declare that they have no conflicts of interest.
Copyright information
© Springer-Verlag GmbH Germany, part of Springer Nature 2019