MOF-derived binary mixed carbon/metal oxide porous materials for constructing simultaneous determination of hydroquinone and catechol sensor
Abstract
It is a top priority to simultaneously and accurately detect hydroquinone (HQ) and catechol (CC). Here, a new strategy for constructing simultaneous determination of HQ and CC sensor was proposed by one-step pyrolysis of MIL series metal-organic frameworks materials (MIL-125 (Ti), MIL-101 (Cr), and MIL-101 (Fe)) to obtain uniform-mixed carbon/metal oxide porous materials (TiO2/C900, Cr2O3/C900, and Fe2O3/C900, respectively). And, cyclic voltammetry (CV) was utilized to investigate the electrochemical behavior of the composite materials. It was found that the simultaneous detection of catechol (CC) and hydroquinone (HQ) could be achieved by the sensor consisted of TiO2/C900 with the superior BET-specific surface area and micro-mesoporous characteristics. And, the linear range and detection limit of HQ and CC for the TiO2/C900 sensor were further studied. In addition, it was also found that the pyrolysis temperature and metal centers would affect the internal structures and component of the materials, thus affecting the properties of materials. The experiment provides a new idea for optimizing the simultaneous detection of the dihydroxybenzene isomers.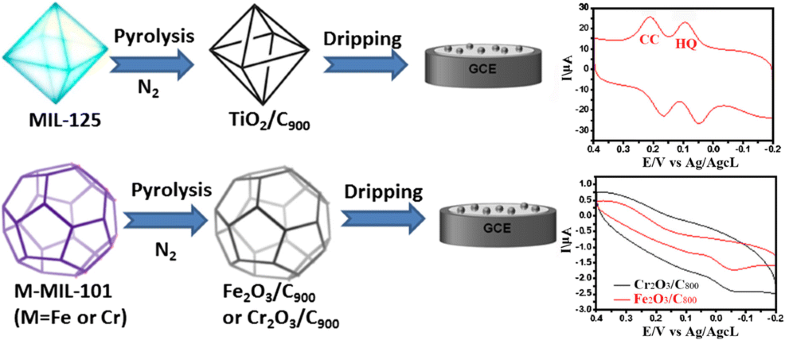 Keywords
Metal-organic frameworks 
Pyrolysis derivatives 
Dihydroxybenzene 
Electrochemical sensor 
Notes
Acknowledgments
The authors gratefully acknowledge the financial supports of the National Natural Science Foundation of China (21207018, 21673039, and 21573042), Natural Science Foundation of Fujian Province (2015J01039, 2018J07001), and Environment and Land Resources Bureau of Pingtan Comprehensive Experimentation Area (DH-1374).
Copyright information
© Springer-Verlag GmbH Germany, part of Springer Nature 2018