Core-shells on nanosheets: Fe3O4@carbon-reduced graphene oxide composites for lithium-ion storage
Abstract
Fabrication of core-shells on sheets is considered as an effective strategy to explore novel functional composite materials. Herein, a three-component composite was successfully constructed by dispersing and anchoring carbon-coated Fe3O4 nanoparticle core-shell structures onto reduced graphene oxide (rGO) sheets. Carbonization of glucose polymer formed carbon shells existing between the Fe3O4 particles and rGO sheets. The structure of core-shells placed on rGO sheets formed close connections and high structural stability to the Fe3O4@C-rGO (FCG) composite. Reversible specific capacity up to 884 mA h g−1 at 0.2 C with good recyclability was achieved with FCG as an anode material of lithium-ion batteries. These unique three-dimensional structures of core-shells on sheets are beneficial to enhancing lithium-ion battery storage capacity, cycle stability, and rate performances.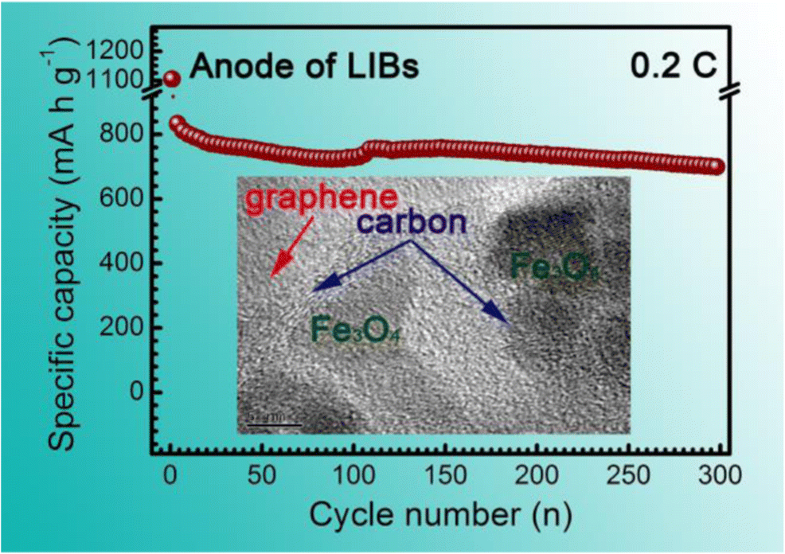 Keywords
Fe3O4 nanoparticles 
Carbonization 
Core-shell structure 
Three-component composite 
Lithium-ion storage 
Notes
Acknowledgements
We thank LetPub for its linguistic assistance during the preparation of this manuscript.
Author contributions
Y.W., X.L., J.H., and B.L. conceived and designed the experiments; Y.W., X.W., M.H., and H.D. performed the experiments; X.W. and B.L. analyzed the data; Y.W., X.W., and B.L. wrote and revised the paper.
Funding
Financial supports from the National Natural Science Foundation of China (no. 21401168) and the Henan Science and Technology Open Cooperation Project (no. 172106000067) are acknowledged.
Compliance with ethical standards
Copyright information
© Springer-Verlag GmbH Germany, part of Springer Nature 2018