Study on the morphology and photocatalytic activity of TiO2 nanotube arrays produced by anodizing in organic electrolyte with Ni, Na, and C as dopants
Abstract
The main purpose of this research work is to investigate the effect of nickel as metal dopant on the morphology and photocatalytic activity of TiO2 nanotube arrays synthesized in the organic electrolyte by anodizing process containing sodium carbonate as an additive (TNAS). In order to characterize the synthesized nanotubes, various analyses such as FESEM, XRD, FTIR, XPS, DRS, and EIS were applied. The results of XPS and FTIR tests evaluate the participation of sodium (Na), nickel (Ni), and carbon (C) in the lattice of nanotubes as dopants. According to the DRS and UV-visible tests results, the band gap energy of TiO2 nanotube arrays decreases from 3.20 to ~ 2.64 eV as well as the absorption edge extends from UV-light region (396 nm) to visible light region (510 nm). However, the photocurrent density of doped TiO2 nanotubes increased about 10 times higher than that of the pristine compounds.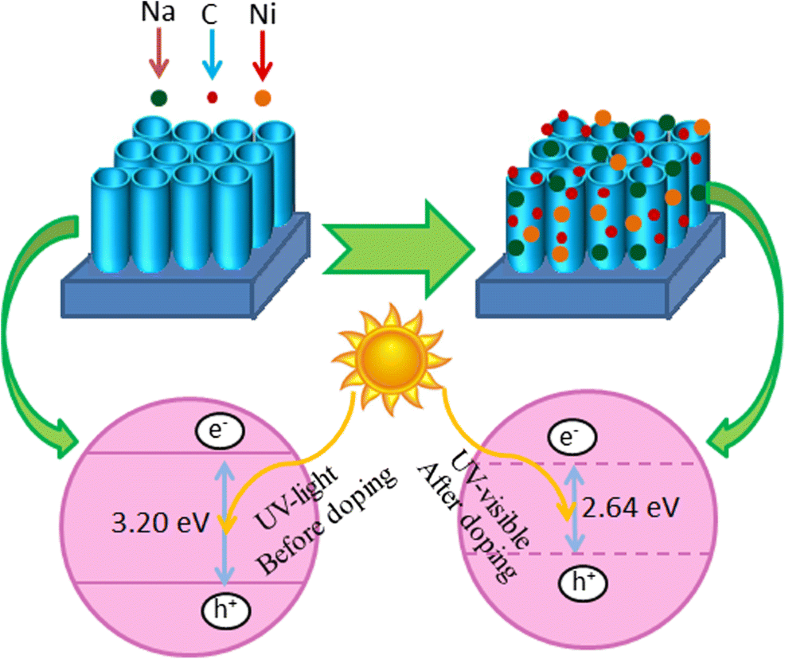 Keywords
Doped TiO2 nanotube arrays 
Nickel sulfate 
Sodium carbonate 
Band gap energy 
Photocurrent density 
Notes
Acknowledgements
The authors are grateful to the corrosion and processing and extraction of materials and laboratories of the Department of Material Science and Engineering at Sharif University of Technology.
Copyright information
© Springer-Verlag GmbH Germany, part of Springer Nature 2018