A highly sensitive sensor of paracetamol based on zinc-layered hydroxide-L-phenylalanate-modified multiwalled carbon nanotube paste electrode
Abstract
A new zinc-layered hydroxide-L-phenylalanate (ZLH-LP)-modified multiwalled carbon nanotube (MWCNT) was prepared as a new material of paste electrode for the detection of paracetamol (PCM) in 1.0 × 10−1 M phosphate buffer solution and at pH 7.5. The electrochemical characterization of the MWCNTs/ZLH-LP paste electrode was characterized by square wave voltammetry, electrochemical impedance spectroscopy, and cyclic voltammetry while the morphology properties of the MWCNTs, ZLH-LP, and MWCNTs/ZLH-LP were investigated using transmission electron microscopy and scanning electron microscopy. Under optimized conditions, the MWCNTs/ZLH-LP paste electrode demonstrated an excellent electrocatalytic activity towards oxidation of PCM in the linear responses' ranges from 7.0 × 10−7 M to 1.0 × 10−4 M (correlation coefficient, 0.996) with the limit of detection obtained at 8.3 × 10−8 M. As a conclusion, the MWCNTs/ZLH-LP paste electrode revealed good repeatability, reproducibility, and stability, and was found to be applicable for use in pharmaceutical tablet samples.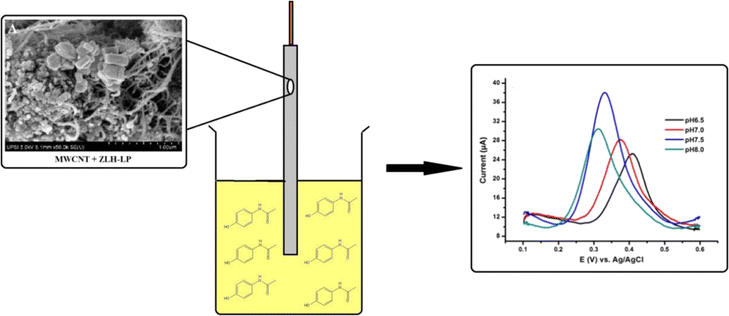 Keywords
Paracetamol 
Multiwalled carbon nanotubes 
Square wave voltammetry 
Chronocoulometry 
Zinc layered hydroxide-L-phenylalanate 
Notes
Funding information
The authors would like to thank the Ministry of Higher Education (MOHE), Malaysia, for financial support through a FRGS grant: 2017-0075-101-02 for this work. One of the authors, Mohamad Syahrizal Ahmad is also thankful to Sultan Idris Education University for providing PhD scholarship under SLKKAP scheme.
Compliance with ethical standards
Conflict of interest
The authors declare that they have competing interests.
Copyright information
© Springer-Verlag GmbH Germany, part of Springer Nature 2018