Abstract
Introduction
Lymphangiomas are relatively uncommon head and neck region lymphatic malformations. Although surgery can be still considered the mainstay of treatment, sclerotherapy by OK-432 is becoming a widespread treatment option. The aim of this article is to present and discuss the management and outcomes of a series of cases of lymphangiomas.
Methods
All patients with lymphangiomas who were treated from 2010 to 2018 were reviewed. The following data were recorded: age, gender, subtype, staging, type of treatment, outcome, and recurrence.
Results
Fifteen patients (9 females, 6 males) were included with 2 microcystic and 13 macrocystic lymphangiomas. Six patients underwent surgery with excision (5 with a complete success, one with a fair success), whereas the remaining 9 subjects underwent sclerotherapy by OK-432 (6 with a complete success, 3 with a fair success). No postoperative complications were observed.
Conclusions
All modes of treatment are important in properly selected patients affected by lymphangiomas. OK-432 therapy is a safe and effective option in the treatment of head and neck lymphangiomas.
This is a preview of subscription content, log in to check access.
Access options
Buy single article
Instant access to the full article PDF.
US$ 39.95
Price includes VAT for USA
Subscribe to journal
Immediate online access to all issues from 2019. Subscription will auto renew annually.
US$ 99
This is the net price. Taxes to be calculated in checkout.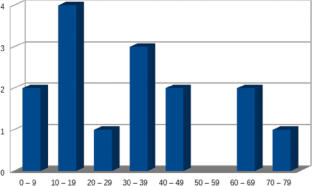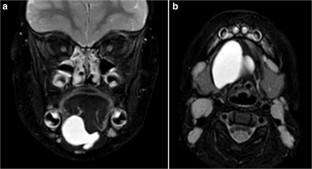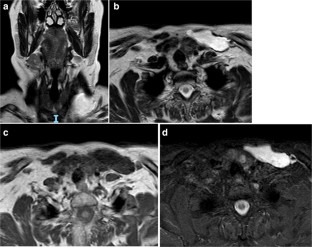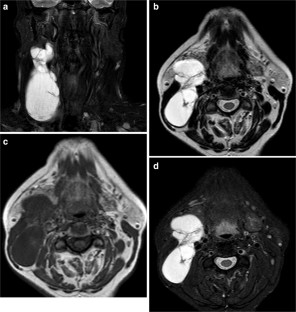 References
1.

Balakrishnan K, Perkins J (2012) Management of head and neck lymphatic malformations. Facial Plast Surg 28:596–602

2.

Efe N, Altas E, Mazlumoglu MR, Aktan B, Ucuncu H, Eren S, Oner F (2016) Excellent result with the use of single-dose OK-432 in cervical macrocystic lymphangioma. J Craniofac Surg 27:1802–1803

3.

Gilony D, Schwartz M, Shpitzer T, Feinmesser R, Kornreich L, Raveh E (2012) Treatment of lymphatic malformations: a more conservative approach. J Pediatr Surg 47:1837–1842

4.

Hamoir M, Plouin-Gaudon I, Rombaux P, Francois G, Cornu AS, Desuter G, Clapuyt P, Debauche C, Verellen G, Beguin C (2001) Lymphatic malformations of the head and neck: a retrospective review and a support for staging. Head Neck 23:326–337

5.

Lerat J, Mounayer C, Scomparin A, Orsel S, Bessede JP, Aubry K (2016) Head and neck lymphatic malformation and treatment: clinical study of 23 cases. Eur Ann Otorhinolaryngol Head Neck Dis 133:393–396

6.

Mitsukawa N, Satoh K (2012) New treatment for cystic lymphangiomas of the face and neck: cyst wall rupture and cyst aspiration combined with sclerotherapy. J Craniofac Surg. 23:1117–1119

7.

Ohta N, Fukase S, Watanabe T, Ito T, Aoyagi M (2010) Effects and mechanism of OK-432 therapy in various neck cystic lesions. Acta Otolaryngol 130:1287–1292

8.

Golinelli G, Toso A, Borello G, Aluffi P, Pia F (2015) Percutaneous sclerotherapy with OK-432 of a cervicomediastinal lymphangioma. Ann Thorac Surg 100:1879–1881
Ethics declarations
Conflict of interest
The authors declare that they have no conflict of interest.
Ethical approval
All procedures performed in studies involving human participants were in accordance with the ethical standards of the institutional research committee and with the 1964 Helsinki declaration and its later amendments or comparable ethical standards.
Informed consent
Informed consent was obtained from all individual participants included in the study.
Additional information
Publisher's note
Springer Nature remains neutral with regard to jurisdictional claims in published maps and institutional affiliations.
About this article
Cite this article
Aluffi Valletti, P., Brucoli, M., Boffano, P. et al. A single-center experience in the management of head and neck lymphangiomas. Oral Maxillofac Surg 24, 109–115 (2020). https://doi.org/10.1007/s10006-020-00832-z
Received:

Accepted:

Published:

Issue Date:
Keywords
Maxillofacial malformation

Plastic surgery

Lymphangioma

Head and neck

Surgery

OK-432