Abstract
Purpose
The aim of this study was to analyze the clinical features of BSCC in the oral cavity, diagnosed over 31 years of service in oral pathology, and make comparisons with the data reported in the literature.
Methods
Data regarding gender, age, clinical presentation, anatomical location, symptoms, evolution time, size of lesion, and use of alcohol and tobacco from cases of BSCC were collected. Additionally, we conducted a review of BSCC studies from searches in three electronic databases.
Results
Among 24,570 oral biopsies, 7 (0.03%) were BSCC and represented 0.8% of oral squamous cell carcinoma (n = 875). All cases occurred in males, and the prevalent affected age was the sixth decade (60%). Ulcers occurred in all cases, with the majority showing no symptoms (71.4%). The tongue (30.8%), alveolar ridge/gingiva (30.8%), and floor of the mouth (23.1%) were the anatomical locations affected. The literature review indicated a total of fifteen publications, reporting 214 cases of BSCC. Males (76.7%) in the seventh (53.3%) decade of life were most affected. According to the cases with adequate information, symptomatic (90.0%) ulcers (80.0%) in the floor of the mouth (42.1%), with a mean size of 2 cm and the mean evolution time of 1.5 to 18 months were the most seen. Association with tobacco and alcohol use, when noted, was 50.0%.
Conclusion
The features presented in this study are more similar than different when compared with the literature data.
This is a preview of subscription content, log in to check access.
Access options
Buy single article
Instant access to the full article PDF.
US$ 39.95
Price includes VAT for USA
Subscribe to journal
Immediate online access to all issues from 2019. Subscription will auto renew annually.
US$ 99
This is the net price. Taxes to be calculated in checkout.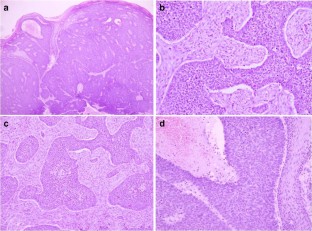 References
1.

Shivakumar BN, Dash B, Sahu A, Nayak B (2014) Basaloid squamous cell carcinoma: a rare case report with review of literature. J Oral Maxillofac Pathol 18:2

2.

Gopinath D, Beena VT, Stephen M, Sivakumar R, Choudhary K (2012) Basaloid squamous cell carcinoma of oral cavity: report of two cases. Int J Dent Clin 4

3.

Bishop JA, Guo TW, Smith DF, Wang H, Ogawa T, Pai SI, Westra WH (2013) Human papillomavirus-related carcinomas of the sinonasal tract. Am J Surg Pathol 37:185

4.

de Góes FCGS, Oliveira DT, Dorta RG, Nishimoto IN, Landman G, Kowalski LP (2014) Prognoses of oral basaloid squamous cell carcinoma and squamous cell carcinoma. Arch Otolaryngol Neck Surg 130:83

5.

Fritsch VA, Gerry DR, Lentsch EJ (2014) Basaloid squamous cell carcinoma of the oral cavity: an analysis of 92 cases. Laryngoscope. 124:1573

6.

Jayasooriya PR, Tilakaratne WM, Mendis BRRN, Lombardi T (2013) A literature review on oral basaloid squamous cell carcinomas, with special emphasis on etiology. Annals of Diagnostic Patholog 17

7.

Aggarwal P, Saxena C, Kumar A, Wadhwan V (2018) Basaloid squamous cell carcinoma: report of two cases with review of literature. J Oral Maxillofac Pathol. 22:1

8.

Sah K, Kale A, Hallikerimath S (2008) Basaloid squamous cell carcinoma involving floor of the mouth. J Oral Maxillofac Pathol 12:61

9.

Thariat J, Badoual C, Faure C, Butori C, Marcy PY, Righini CA (2010) Basaloid squamous cell carcinoma of the head and neck: role of HPV and implication in treatment and prognosis. J Clin Pathol 63:857

10.

Paulino AF, Singh B, Shah JP, Huvos AG (2000) Basaloid squamous cell carcinoma of the head and neck. Laryngoscope. 110:9

11.

Yu G-Y, Gao Y, Peng X, Chen Y, Zhao F-Y, Wu M-J: A clinicopathologic study on basaloid squamous cell carcinoma in the oral and maxillofacial region Int J Oral Maxillofac Surg 2008; 37:1003

12.

Wain SL, Kier R, Vollmer RT, Bossen EH (1986) Basaloid-squamous carcinoma of the tongue, hypopharynx, and larynx: report of 10 cases. Hum Pathol 17:1158

13.

Barnes L, Eveson JW, Reichart P, Sidransky, International Agency for Research on Cancer: WHO classification of head and neck tumours. WHO Classification of Tumours. 3rd Edition; 2005; 9

14.

Warnakulasuriya S (2009) Global epidemiology of oral and oropharyngeal cancer. Oral Oncol 45

15.

Gonçalves AP et al (2019) Top-100 most cited dental articles with authors from Brazil. Braz Dent J 30:2

16.

Dhanuthai K et al (2018) Oral cancer: a multicenter study. Med Oral Patol Oral Cir Bucal 23:1

17.

Kumari K et al (2017) Basaloid squamous cell carcinoma of tongue: a report with emphasis on immunohistochemistry. J Clin Diagn Res 11:3

18.

Gupta B et al (2018) Basaloid squamous cell carcinoma - a rare and aggressive variant of squamous cell carcinoma: a case report and review of literature. Natl J Maxillofac Surg 9:1
Acknowledgments
This work was supported by the Brazilian National Council for Scientific and Technological Development (CNPq) and Coordination for the Improvement of Higher Education Personnel (CAPES). LFS is a scholarship recipient.
Ethics declarations
Conflict of interest
The authors declare that they have no conflict of interest.
Ethical approval
All procedures performed in studies involving human participants were in accordance with the ethical standards of the institutional and/or national research committee and with the 1964 Helsinki declaration and its later amendments or comparable ethical standards.
Additional information
Publisher's note
Springer Nature remains neutral with regard to jurisdictional claims in published maps and institutional affiliations.
About this article
Cite this article
Schuch, L.F., Nóbrega, K.H.S., Gomes, A.P.N. et al. Basaloid squamous cell carcinoma: a 31-year retrospective study and analysis of 214 cases reported in the literature. Oral Maxillofac Surg 24, 103–108 (2020). https://doi.org/10.1007/s10006-020-00828-9
Received:

Accepted:

Published:

Issue Date:
Keywords
Basaloid squamous cell carcinoma

Oral cancer

Epidemiology