Abstract
Density functional theory investigations at the DFT-B3LYP/6-311++G** theoretical level employed to determine the tautomerism, substituent effects of 4-substituted 4-amino-5-methyl-2,4-dihydro-3H-1,2,4-triazole-3-thione, and its derivatives (4-R-H, 4-R-CH3, 4-R-F, 4-R-NO2) in the selected solvent (acetone, acetonitrile, and dichloromethane) and gas phases using the polarizable continuum method (PCM) model. The substituted 1,2,4-triazoles have two main different tautomers namely N2-H and S7-H. For considered derivatives, thione forms are more energetically stable and dominant form in the studied solvent and gas phases. In addition, geometrical parameters, charges on atoms, dipole moments, energetic properties, and the nucleus-independent chemical shifts (NICS) are investigated. It has been seen that these molecular features of the studied compound and its derivatives are mostly solvent dependent. For electron-releasing and -withdrawing derivatives in the solution and gas phases, 2-H forms are the more stable and dominant form. The relative stability of the C4-substituted 1,2,4-triazole tautomerism is influenced by the possibility for intramolecular interactions between substituent and electron-donor or electron-acceptor centers of the triazole ring.
This is a preview of subscription content, log in to check access.
Access options
Buy single article
Instant access to the full article PDF.
US$ 39.95
Price includes VAT for USA
Subscribe to journal
Immediate online access to all issues from 2019. Subscription will auto renew annually.
US$ 199
This is the net price. Taxes to be calculated in checkout.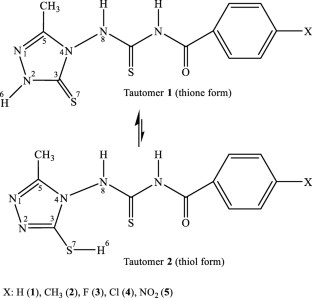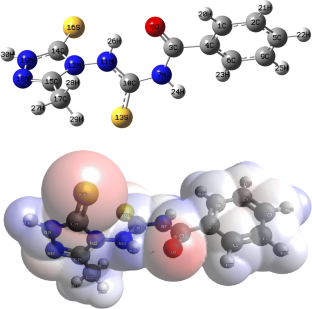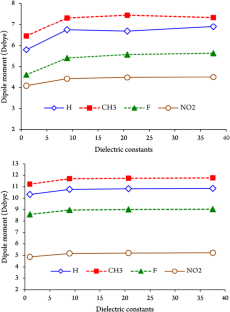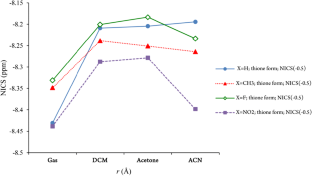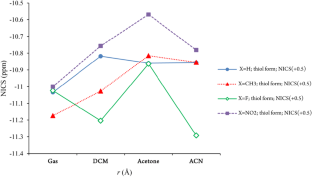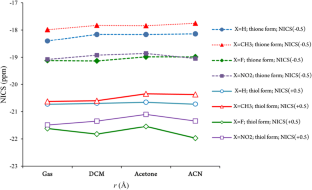 References
1.

Elguero J, Katritzky AR, Denisko OV (2000). Adv Heterocycl Chem 76:2

2.

Friedrichsen W, Traulsen T, Elguero J, Katritzky AR (2000). Adv Heterocycl Chem 76:85

3.

Minkin VI, Garnovski AD, Elguero J, Katritzky AR, Denisko O (2000). Adv Heterocycl Chem 76:157

4.

Koch A, Kleinpeter E (1997). J Mol Model 3:375

5.

Kleinpeter E, Koch A (2001). J Phys Org Chem 14:566

6.

Tavakol H, Esfandyari M, Taheri S, Heydari A (2011). Acta A Mol Biomol Spectrosc 79:574

7.

Kwiatkowski JS, Zielenski TJ, Rein R (1986). Adv Quantum Chem 18:85

8.

Namratha B, Gaonkar SL (2014). Int J Pharm 6:73

9.

Nekkanti S, Tokala R, Shankaraiah N (2017). Curr Med Chem 24:2887

10.

Sahu JK, Ganguly S, Kaushik A (2013). Chin J Nat Med 11:456

11.

Ghochikyan TV, Samvelyan MA, Galstyan AS, Grigoryan SV (2016). Chem Biol 2:8

12.

Al-Khawas MS, Hazaa BAA, Al-Din AS (1979). Sci Pharm 47:314

13.

Davari MD, Bahrami H, Zolmajd-Haghighi Z, Zahedi M (2010). J Mol Model 16:841

14.

Iqbal R, Rama NH, Yunus U, Saeed A, Zamani K (1997). J Chem Soc Pak 19:145

15.

Yan W, Xue Y, Zhu H, Zeng J, Xie D (2004). J Comput Chem 25:1833

16.

Onsager L (1936). J Am Chem Soc 58:1486

17.

Rivail L, Rinaldi D (1973). Theor Chim Acta 32:57

18.

Hall RJ, Davidson MM, Burton NA, Hillier IH (1995). J Phys Chem 99:921

19.

Hobza P, Sponer J (1999). Chem Rev 99:3247

20.

Lee C, Yang W, Parr RG (1988). Phys Rev B 37:785

21.

Becke AD (1993). J Chem Phys 98:5648

22.

Schleyer PVR, Maerker C, Dransfeld A, Jiao H, van Eikema Hommes NJR (1996). J Am Chem Soc 118:6317

23.

Cysewski P (2005). J Mol Struct (Theochem) 714:29

24.

Nigam S, Majumder C, Kulshreshtha SK (2006). J Chem Sci 118:575

25.

Schleyer PVR, Manoharan M, Wang ZX, Kiran B, Jiao HJ, Puchta R, Hommes N (2001). Org Lett 3:2465

26.

Schleyer PVR, Jiao H, Goldfuss B, Freeman PK (1995). Angew Chem Int Ed Engl 34:337

27.

Reed AE, Weinstock RB, Weinhold F (1985). J Chem Phys 83:735

28.

Badenhoop JK, Weinhold F (1999). Int J Quantum Chem 72:269

29.

Frisch MJ, Trucks GW, Schlegel HB, Scuseria GE, Robb MA, Cheeseman JR, Scalmani G, Barone V, Mennucci B, Petersson GA et al (2009) Gaussian 09, Revision B.01. Gaussian, Wallingford

30.

Anandan K, Kolandaivel P, Kumaresan R (2004). J Mol Struct (Thoechem) 686:83

31.

Karthika M, Senthilkumar L, Kanakaraju R (2014). Struct Chem 25:197

32.

Senthilkumar L, Kolandaivel P (2003). J Mol Struct (Thoechem) 638:69

33.

Zahedi E, Shaabani S, Shiroudi A (2017). J Phys Chem A 121:8504

34.

Glendening ED, Reed AE, Carpenter JE, Weinhold F (2003) NBO Version 3.1

35.

Miertus S, Scrocco E, Tomasi J (1981). Chem Phys 55:117

36.

Miertus S, Tomasi J (1982). Chem Phys 65:239

37.

Cances MT, Mennucci V, Tomasi J (1997). J Chem Phys 107:3032

38.

Cossi M, Barone V, Mennucci B, Tomasi J (1998). Chem Phys Lett 286:253

39.

Barone V, Cossi M, Tomasi J (1998). J Comput Chem 19:404

40.

Barone V, Cossi M (1998). J Phys Chem A 102:1995

41.

Wolinski K, Hilton JF, Pulay P (1990). J Am Chem Soc 112:8251

42.

Ditchfield R (1974). Mol Phys 27:789

43.

Reed AE, Curtiss LA, Weinhold F (1988). Chem Rev 88:899

44.

Palafox MA, Tardajos G, Guerrero-Martinez A, Rastogi VK, Mishra D, Ojha SP, Kiefer W (2007). Chem Phys 340:17

45.

Politzer P, Daiker KC (1981) The force concept in chemistry. Van Nostrand Reinhold Co, New York

46.

Politzer P, Laurence PR, Jayasuriya K, McKinney J (1985). Health Perspect 61:191

47.

Politzer P, Murray JS (1991) In: Beveridge DL, Lavery R (eds) Theoretical biochemistry and molecular biophysics: a comprehensive survey, vol 2. Adenine Press, Schenectady, pp 165–191, Chapter 13

48.

Scrocco E, Tomasi J (1973) Topics in current chemistry, vol 42. Springer-Verlag, Berlin

49.

Tahmassebi D (2003). J Mol Struct (Theochem) 638:11

50.

Padmaja L, Ravi Kumar C, Sajan D, Joe IH, Jayakumar VS, Pettit GR (2009). J Raman Spectrosc 40:419

51.

Sagdinc S, Pir H (2009). Spectrochim Acta A 73:181

52.

Manolopoulos ED, May JC, Down SE (1991). Chem Phys Lett 181:105

53.

Aihara J (1999). J Phys Chem A 103:7487

54.

Ruiz-Morales Y (2002). J Phys Chem A 106:11283

55.

Rubio-Pons Ò, Serrano-Andrés L, Burget D, Jacques P (2006). J Photochem Photobiol A 179:298

56.

Schleyer PVR, Jiao H (1996). Pure Appl Chem 68:209

57.

Salimi Beni A, Aazari M, Najafi Chermahini A, Zarandi M (2016). J Phys Chem A 90:1859

58.

Wong MW, Wiberg KB, Frisch MJ (1992). J Am Chem Soc 114:1645

59.

Krygowski TM, Cyranski M, Ciesielski A, Swirska B, Leszczynski P (1996). J Chem Inf Comput Sci 36:1135

60.

Badoglu S, Yurdakul S (2010). Struct Chem 21:1103
Additional information
Publisher's note
Springer Nature remains neutral with regard to jurisdictional claims in published maps and institutional affiliations.
Electronic supplementary material
About this article
Cite this article
Shiroudi, A., Safaei, Z., Kazeminejad, Z. et al. DFT study on tautomerism and natural bond orbital analysis of 4-substituted 1,2,4-triazole and its derivatives: solvation and substituent effects. J Mol Model 26, 57 (2020). https://doi.org/10.1007/s00894-020-4316-9
Received:

Accepted:

Published:
Keywords
DFT

1,2,4-triazole

Tautomerism

Solvent effect

NBO