Abstract
Using molecular dynamics simulations, the adsorption and diffusion of doxorubicin drug molecules in boron nitride nanotubes are investigated. The interaction between doxorubicin and the nanotube is governed by van der Waals attraction. We find strong adsorption of doxorubicin to the wall for narrow nanotubes (radius of 9 Å). For larger radii (12 and 15 Å), the adsorption energy decreases, while the diffusion coefficient of doxorubicin increases. It does, however, not reach the values of pure water, as adsorption events still hinder the doxorubicin mobility. It is concluded that nanotubes wider than around 4 nm diameter can serve as efficient drug containers for targeted drug delivery of doxorubicin in cancer chemotherapy.
This is a preview of subscription content, log in to check access.
Access options
Buy single article
Instant access to the full article PDF.
US$ 39.95
Price includes VAT for USA
Subscribe to journal
Immediate online access to all issues from 2019. Subscription will auto renew annually.
US$ 199
This is the net price. Taxes to be calculated in checkout.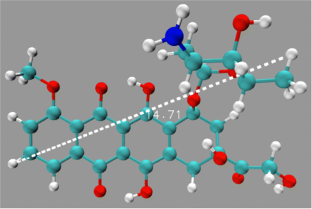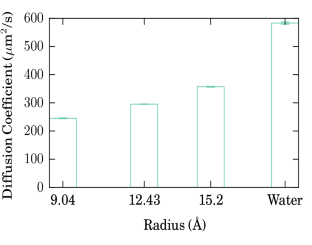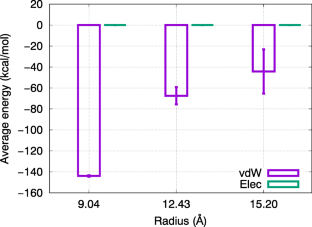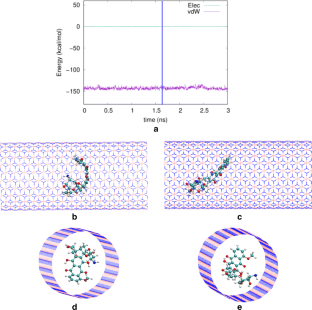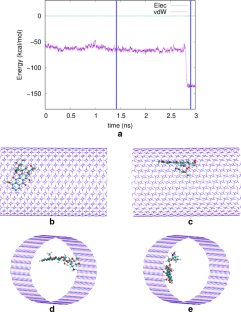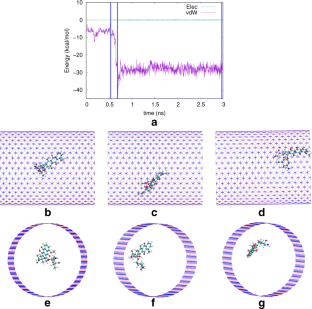 References
1.

Gewirtz DA (1999) Biochem Pharmacol 57:727

2.

Tacar O, Sriamornsak P, Dass CR (2013) J Pharm Pharmacol 65:157

3.

Pérez-Arnaiz C, Busto N, Leal JM, García B (2014) J Phys Chem B 118:1288

4.

Poste G, Kirsh R (1983) Bio/Technology 1:869

5.

Watermann A, Brieger J (2017) Nanomaterials 7:189

6.

Rubio A, Corkill JL, Cohen ML (1994) Phys Rev B 49:5081

7.

Merlo A, Mokkapati VRSS, Pandit S, Mijakovic I (2018) Biomater Sci 6:2298

8.

Ciofani G, Danti S, Genchi GG, Mazzolai B, Mattoli V (2013) Small 9:1672

9.

Ferreira T, Marino A, Rocca A, Liakos I, Nitti S, Athanassiou A, Mattoli V, Mazzolai B, De Sousa EM, Ciofani G (2015) Int J Pharm 481:56

10.

Nedunchezhian K, Aswath N, Thiruppathy M, Thirugnanamurthy S (2016) Journal of Clinical and Diagnostic Research 10:ZE01

11.

Barth RF, Coderre JA, Vicente MGH, Blue TE (2005) Clin Cancer Res 11:3987

12.

Geninatti-Crich S, Deagostino A, Toppino A, Alberti D, Venturello P, Aime S (2012) Anti Cancer Agents Med Chem 12:543

13.

Hiratsuka J, Kamitani N, Tanaka R, Yoden E, Tokiya R, Suzuki M (2018) Cancer Communications, pp 1–10

14.

Ferreira T, Miranda M, Rocha Z, Leal A, Gomes D, Sousa E (2017) Nanomaterials 7:82

15.

Ali-Boucetta H, Al-Jamal KT, McCarthy D, Prato M, Bianco A, Kostarelos K (2008) Chem Commun, pp 459–461

16.

Emanet M, Kazanc E, Cobandede Z, Culha M (2016) Carbohydr Polym 151:313

17.

Panczyk T, Jagusiak A, Pastorin G, Ang WH, Narkiewicz-Michalek J (2013) J Phys Chem C 117:17327

18.

Mejri A, Vardanega D, Tangour B, Gharbi T, Picaud F (2015) J Phys Chem B 119:604

19.

Shakerzadeh E, Noorizadeh S (2014) Physica E:, Low-Dimensional Systems and Nanostructures 57:47

20.

Khatti Z, Hashemianzadeh SM (2016) Eur J Pharm Sci 88:291

21.

Wang X, Liu Y, Xu J, Li S, Zhang F, Ye Q, Zhai X, Zhao X (2015) J Nanomater 2015:872079

22.

Shan P, Shen J-W, Xu D-H, Shi L-Y, Gao J, Lan Y-W, Wang Q, Wei X-H (2014) RSC Adv 4:23730

23.

Zhang J, Sun T, Liang L, Wu T, Wang Q (2014) Soft Matter 10:438

24.

Aksimentiev A, Brunner RK, Cruz-Chu E, Comer J, Schulten K (2009) IEEE Nanotechnol Mag 3:20

25.

Dresselhaus MS, Dresselhaus G, Avouris P (eds) (2001) Carbon nanotubes: synthesis, structure, properties and applications, no. 80 in Topics in Applied Physics. Springer, Berlin

26.

Qin L-C (2006) Phys Chem Chem Phys 9:31

27.

Wu Y, Wagner LK, Aluru NR (2016) J Chem Phys 144:164118

28.

Berman HM, Westbrook J, Feng Z, Gilliland G, Bhat TN, Weissig H, Shindyalov IN, Bourne PE (2000) Nucl Acids Res 28:235

29.

Vanommeslaeghe K, Hatcher E, Acharya C, Kundu S, Zhong S, Shim J, Darian E, Guvench O, Lopes P, Vorobyov I et al (2010) Comput Chem 31:671

30.

Jo S, Kim T, Iyer VG, Im W (2008) J Comput Chem 29:1859

31.

Jorgensen WL, Chandrasekhar J, Madura JD, Impey RW, Klein ML (1983) J Chem Phys 79:926

32.

Mark P, Nilsson L (2001) J Phys Chem A 105:9954

33.

Phillips JC, Braun R, Wang W, Gumbart J, Tajkhorshid E, Villa E, Chipot C, Skeel RD, Kale L, Schulten K (2005) J Comp Chem 26:1781

34.

Humphrey W, Dalke A, Schulten K (1996) J Mol Graphics 14:33

35.

Stone J (1998) Master's thesis, Computer Science Department, University of Missouri-Rolla, Rolla, MO USA

36.

Allen MP, Tildesley DJ (eds) (1987) Computer Simulation of Liquids. Clarendon, Oxford

37.

Wang J, Hou T (2011) J Comput Chem 32:3505

38.

Popov P, Steinkerchner L, Mann EK (2015) Phys Rev E 91:053308

39.

Ghysels A, Moors SLC, Hemelsoet K, De Wispelaere K, Waroquier M, Sastre G, Van Speybroeck V (2015) J Phys Chem C 119:23721

40.

Jorgensen WL, Tirado-Rives J (2005) Proc Natl Acad Sci USA 102:6665

41.

Franks F (2000) Water: A Matrix of Life, RSC Paperbacks, 2nd edn. The Royal Society of Chemistry, Cambridge

42.

Nejad MA, Urbassek HM (2019) J Mol Graph Model 86:228

43.

Nejad MA, Urbassek HM (2019) Biomolecules 9:204

44.

Nejad MA, Urbassek HM (2018) J Mol Model 24:89
Acknowledgments
We appreciate the computational resources provided by the compute cluster "Elwetritsch" of the University of Kaiserslautern.
Additional information
Publisher's note
Springer Nature remains neutral with regard to jurisdictional claims in published maps and institutional affiliations.
About this article
Cite this article
Nejad, M.A., Umstätter, P. & Urbassek, H.M. Boron nitride nanotubes as containers for targeted drug delivery of doxorubicin. J Mol Model 26, 54 (2020). https://doi.org/10.1007/s00894-020-4305-z
Received:

Accepted:

Published:
Keywords
Molecular dynamics

Nanotubes

Doxorubicin

Targeted drug delivery systems