Computational study on optoelectronic and charge transport properties of diketopyrrolopyrrole-based A–D–A–D–A structure molecules for organic solar cells
Abstract
Eight novel diketopyrrolopyrrole (DPP)-based A–D–A–D–A structure molecules were designed for organic solar cells (OSCs) applications. In these molecules, the electron-deficient DPP and dicyanovinyl groups were used as the acceptor groups and different planar electron-rich groups were employed as the donor π-bridges. Applying the B3LYP/6–31G (d,p) and TD-B3LYP/6–31G (d,p) methods, the optoelectronic and charge transport properties were investigated. It turned out that the different π-bridges can tune effectively the frontier molecular orbital energy levels, band gap, and absorption spectra. Furthermore, the different π-bridges also affect the charge transport properties of the designed molecules. Our results suggest that the investigated molecules can serve as donor materials. Additionally, some investigated molecules can also be used as hole and/or electron transport materials for OSCs.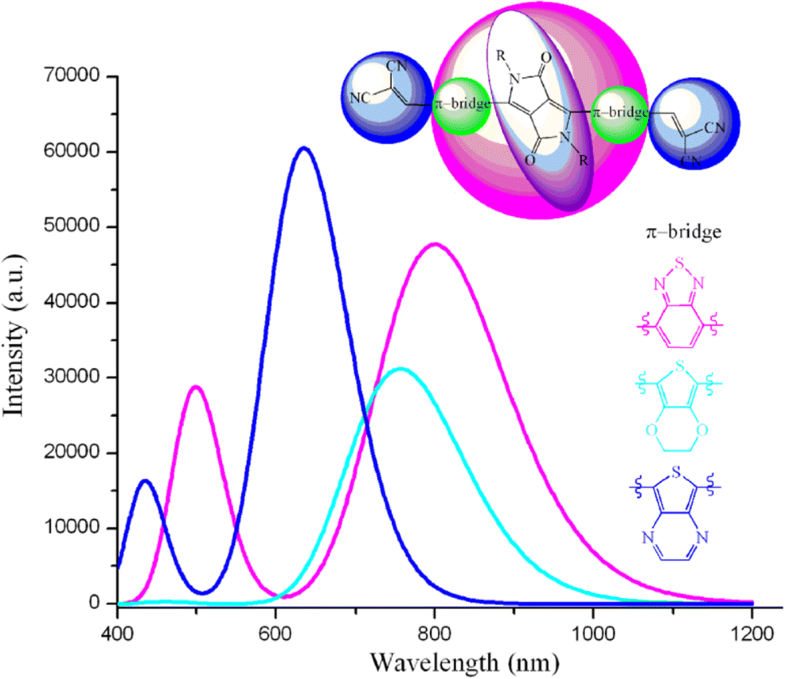 Keywords
Diketopyrrolopyrrole (DPP) 
Dicyanovinyl 
Optoelectronic property 
Reorganization energy 
Organic solar cells (OSCs) 
Notes
Funding information
This work was supported by NSFC (grant number 21563002) and Natural Science Foundation of Inner Mongolia Autonomous Region (grant number 2019MS02030).
Compliance with ethical standards
Conflict of interest
The authors declare that they have no conflict of interest.
Copyright information
© Springer-Verlag GmbH Germany, part of Springer Nature 2019