Systematic study on the structures and properties of (Ag2S)n (n = 1–8) clusters
Abstract
Silver sulfide is a famous semiconductor, which can be used in many areas. Understanding the size evolution of silver sulfide clusters is useful in controlling their size to improve their properties in applications. The structures of (Ag2S)n (n = 1–8) clusters are explored using a combined method of genetic algorithm (GA) and density functional theory (DFT). The TPSSh/def2-tzvp(Ag)/6-311G(d)(S) method has been used to optimize the structures. The re-optimized structures and refined energies are computed at PBE0/Lanl2tz(Ag)/6-311G(d,p)(S) level according to the benchmark calculations. The global minimum (GM) structures, HOMO and LUMO frontier orbitals, density of states, ionization potentials, electron affinity energies, noncovalent interactions, and natural populations of the clusters have been studied. The clusters evolve from open to cage structures when n varies from 1 to 8. A triangular Ag3S3 unit is found to be an important building block, which can construct the global minimum structures of (Ag2S)n (n = 3–8) clusters. When n > 6, quadrangular Ag4S4 rings present in (Ag2S)n clusters. (Ag2S)6 and (Ag2S)8 clusters are in hollow conformation, and both of which have special stability because of their high HOMO-LUMO gaps, high ionization potentials, and Ag⋯Ag attractive interactions in them.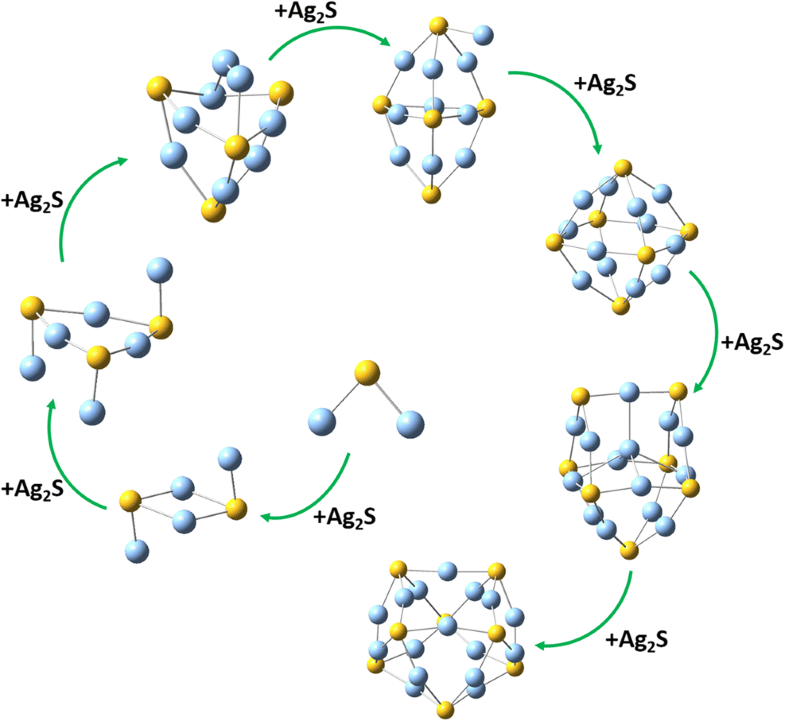 Keywords
(Ag2S)n (n = 1–8) clusters 
Density functional theory 
Structures 
Properties 
Stability 
Notes
Acknowledgments
The calculations were carried out on the Theoretical and Computational Chemistry LAB, School of Chemistry and Materials Engineering, Fuyang Normal University, China.
Funding information
This work received financial support from the Fuyang Normal University (2017FSKJ01ZD), 2017 Fuyang municipal government-Fuyang Normal University horizontal cooperation project (XDHX201719).
Compliance with ethical standards
Conflict of interest
The authors declare that they have no conflict of interest.
Copyright information
© Springer-Verlag GmbH Germany, part of Springer Nature 2019