UV-vis absorption spectra of Sn(IV)tetrakis(4-pyridyl) porphyrins on the basis of axial ligation and pyridine protonation
Abstract
The present study highlights the structural and electronic spectra of Sn(IV)tetrakis(4-pyridyl) porphyrins (SnTP) using density functional theory (DFT) and time-dependent density functional theory (TDDFT). The impact of axial ligands (OH−, Cl−, and H2O) and protonation at pyridine sites on the excitation properties of SnTP is also explored. The considered SnTPs were optimized at B3LYP/6-31+G* level of theory with LANL2DZ basis set for Sn metal. The effects of tetrahydrofuran (THF) and dimethylformamide (DMF) solvents were also assessed employing conductor-like polarizable continuum (C-PCM) model. The observed structural effects correlate well with the experimental data and clearly depict the impact of axial ligands on the SnTP ring. The absorption spectra along with the frontier orbitals in all three phases show noticeable dependence of axial ligation on the photophysical properties of SnTPs. The transition character of molecular orbitals and their respective density of states (DOS) were explored to infer the orbitals involved in electronic transitions.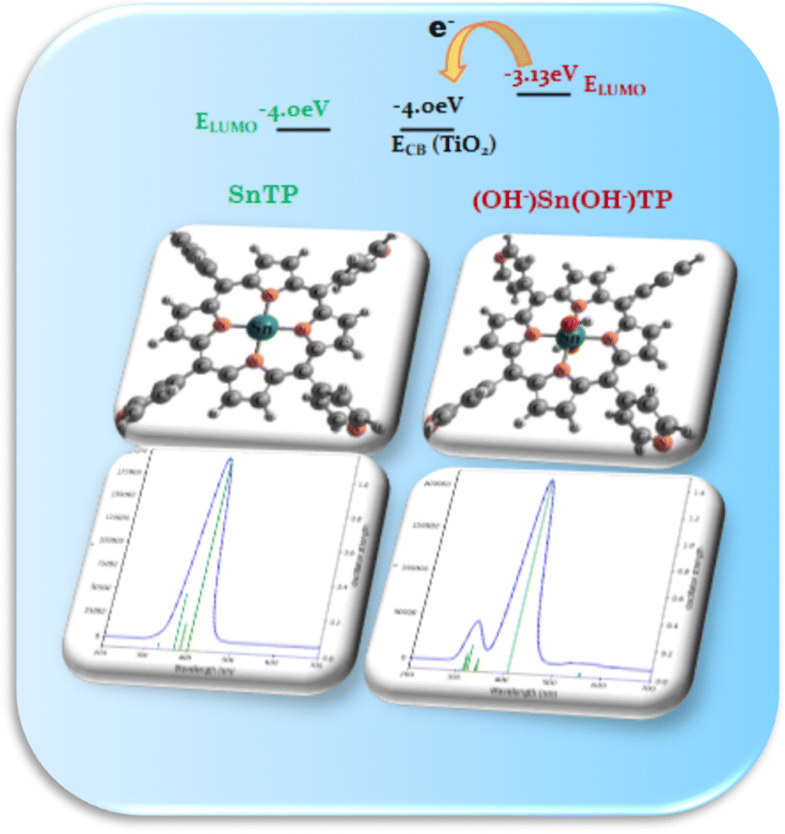 Keywords
Porphyrin 
Sn 
Axial ligands 
Pyridine protonation 
Absorption 
TDDFT 
Notes
Acknowledgments
The authors are thankful to "Bioinformatics Resources and Applications Facility (BRAF), C-DAC, Pune for offering the computational facilities to carry out this work. The authors are also thankful to Prof. L. Senthilkumar, Department of Physics, Bharathiar University, Tamilnadu, INDIA for extending his timely help in providing the computational facility to obtain the relaxed geometries of excited states. PG is grateful to the Science and Engineering Research Board (SERB), India.
Funding information
This work received FastTrack Research Grant (Project No. SB/FTP/PS-096/2013) from the Science and Engineering Research Board (SERB), India.
Copyright information
© Springer-Verlag GmbH Germany, part of Springer Nature 2019