Molecular modeling of four Dermaseptin-related peptides of the gliding tree frog Agalychnis spurrelli
Part of the following topical collections:
Abstract
In this research, we present a preliminary computational study of four Dermaseptin-related peptides from the skin exudate of the gliding tree frog Agalychnis spurrelli. Experimentally, the amino acid sequence of these peptides was elucidated through molecular cloning and tandem mass spectrometry and synthetic peptides were assayed against E. coli, S. aureus, and C. albicans to determine their antimicrobial properties. With the sequences on hand, a computational study of the structures was carried out, obtaining their physicochemical properties, secondary structure, and their similarity to other known peptides. A molecular docking study of these peptides was also performed against cell membrane and several enzymes are known to be vital for the organisms. Results showed that Dermaseptin-related peptides are α-helical cationic peptides with an isoelectric point above 9.70 and a positive charge of physiological pH. Introducing theses peptides in a database, it was determined that their identity compared with known peptides range from 36 to 82% meaning these four Dermaseptins are novel peptides. This preliminary study of molecular docking suggests the mechanism of action of this peptide is not given by the inhibition of essential enzymatic pathways, but by cell lysis.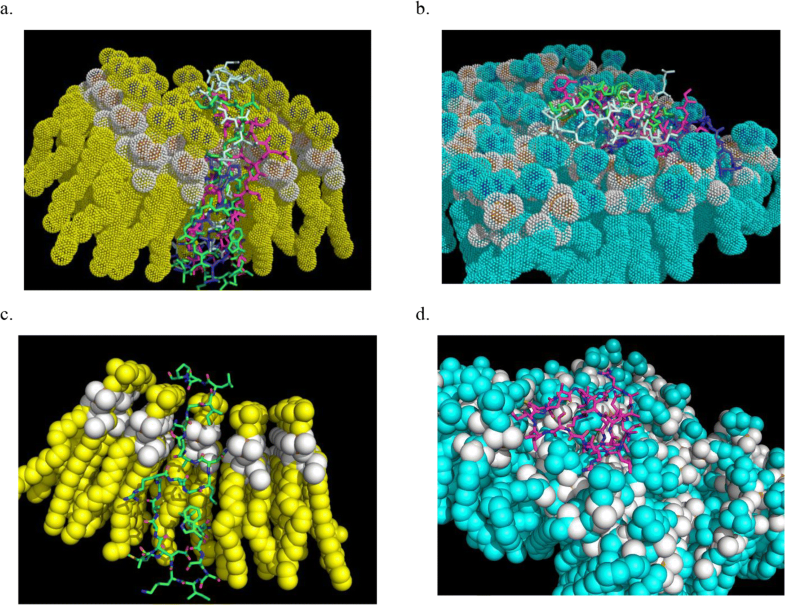 Keywords
Agalychnis spurrelli
Antimicrobial peptides 
Dermaseptins 
Molecular docking 
Notes
Acknowledgments
CPB obtained the peptides sequences in Queen's University Belfast funded by the Natural drug discovery group and the Ecuadorian Secretariat of Science and Technology (SENESCYT) through a scholarship. Collection and rearing of frogs in Ecuador were done under permits of the Ecuadorian Ministerio de Ambiente (MAE): 001-13 IC-FAU-DNB/MA, 003-11 IC-FAU-DNB/MA, 005-15 IC-FAU-DNB/MA (Issued to the Centro Jambatu). This research is part of the project "Conservation of Ecuadorian amphibian diversity and sustainable use of its genetic resources", which involves MAE, Ikiam-Universidad Regional Amazónica, Queen's University Belfast, and Centro Jambatu, and help of the Global Environmental Facility (GEF) and "Programa de las Naciones Unidas para el Desarrollo" (PNUD).
Funding information
This research was funded by two research grants to L.M and M.R. of the Dirección General Académica of the Pontificia Universidad Católica del Ecuador, projects: QINV0035-IINV529010100 and QIV0046-IINV529010100.
Copyright information
© Springer-Verlag GmbH Germany, part of Springer Nature 2019