Theoretical investigation on π-spacer effect of the D–π–A organic dyes for dye-sensitized solar cell applications: a DFT and TD-BHandH study
Abstract
In this paper, we present a series of sensitizers to shed light on the influence of π-spacers on the performance of dye-sensitized solar cells. We have accurately calculated key properties in energy conversion, including sunlight absorption, electron injection, electron/hole reorganization energy, ionization potential (IP) and electronic affinity (EA). We chose a series of donor-π-acceptor dyes based on methyl-indole-carbazole as the electron donor group and cyano-acrylic acid as an acceptor with various π-conjugated systems. The results obtained show that, with incorporation of the thieno(3,4-b)pyrazine in the two π-spacer parts, D4 may be the best candidate among the dyes studied, due to its many advantages such as low gap energy, red-shift absorption spectra, large ΔGInj, low hole/electron reorganization energies, low IP and high EA, which indicate its better optoelectronic properties, which present more balanced transport rates and provide good injection ability.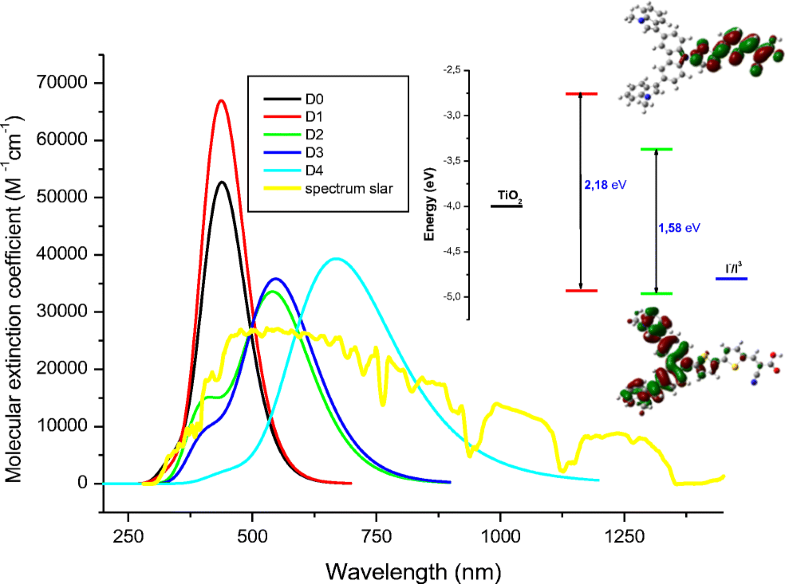 Keywords
D-π-a structure 
π-Spacers effect 
BHandH 
Hole and electron transport 
Notes
Acknowledgments
The authors thank the Volubilis Program (N° Ma/11/248) for the purchase of Gaussian09. One of the authors (İ.S.) greatly thanks Bitlis Eren University for supporting this study by Gaussian 09 W and GaussView5.0 softwares.
Copyright information
© Springer-Verlag GmbH Germany, part of Springer Nature 2019