Exploring the mechanism of alkene hydrogenation catalyzed by defined iron complex from DFT computation
Part of the following topical collections:
Abstract
UB3LYP computation including dispersion and toluene solvation has been carried to elucidate the mechanisms of alkene hydrogenation catalyzed by bis(imino)pyridine iron dinitrogen complex (iPrPDI)Fe(N2)2, which has low stability towards N2 dissociation. The coordinatively unsaturated complexes, (iPrPDI)Fe(N2) and (iPrPDI)Fe(1-C4H8), favor open-shell singlet ground states. On the basis of our computations, we propose a new mechanism of 1-butene coordination and hydrogenation after N2 dissociation. The hydrogenation of 1-butene undergoes a concerted open-shell singlet transition state involving H2 dissociation, C-H bond formation and C=C bond elongation, as well as the subsequent C-H reductive elimination. In the whole alkene hydrogenation, the H-H bond cleavage is the rate-determining step.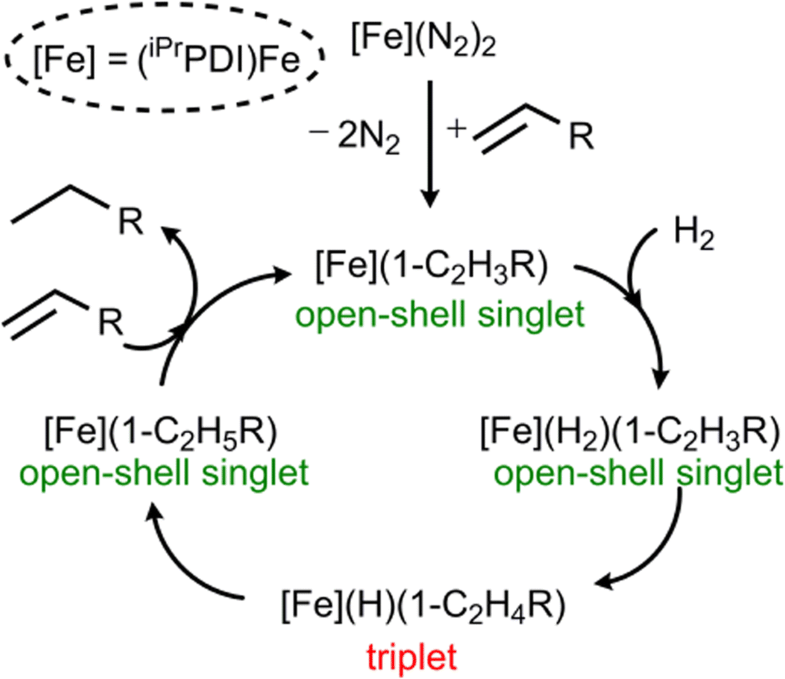 Keywords
Alkene hydrogenation 
Fe complexes 
DFT 
Mechanism 
Homogeneous catalysis 
Notes
Acknowledgements
This work was supported by the National Natural Science Foundation of China (Grant Nos. 21203115 and 21373131) and the Research Project Supported by Shanxi Scholarship Council of China (Grant No. 2012-057). We thank Dr. Ling Guo and Dr. Bingqiang Wang for helpful discussions. This work was also supported in part by Computer resources at the National Supercomputing Center in Shenzhen (Shenzhen Cloud Computing Center).
Compliance with ethical standards
Conflict of interest
The authors declare no competing financial interests.
Copyright information
© Springer-Verlag GmbH Germany, part of Springer Nature 2019