A QM/MM study on ethene and benzene oxidation using silica-supported chromium trioxide
Abstract
Oxidation of ethene and benzene by chromium oxide (CrO3) supported on silica (SiO2) was investigated by employing hybrid quantum mechanics/molecular mechanics (QM/MM) model calculations. Various mechanistic possibilities, such as C–H or C=C bond activation of hydrocarbons, were investigated in detail for the reaction of ethene and benzene with CrO3 grafted on a silica surface. While activation of the C–H bond leads to the formation of alcohol, epoxide is obtained via C=C bond activation. The complete reaction routes for the formation of each product were traced and found to be exothermic. Thermochemical analysis were performed to predict temperature conditions for the reaction to be feasible in a forward direction. The study provides conclusive evidence to aid experimentalists for further research on oxidation of hydrocarbons using silica-supported metal oxides.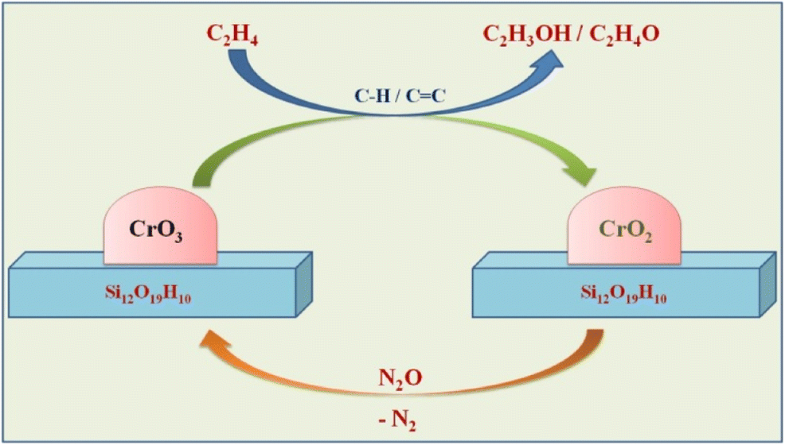 Keywords
CrO3/SiO2 system 
C2H4 
C6H6 
A QM/MM model 
C–H/C=C bond activation 
Notes
Acknowledgments
This work was supported by the Science and Engineering Research Board (SERB), Department of Science and Technology (DST), India under grant no. SERB/F/8589/2014-2015. I.K. wants to thank University Grants Commission (UGC), India for a Basic Scientific Research Fellowship (BSR).
Compliance with ethical standards
Conflict of interest
The authors declare no conflict of interest.
Copyright information
© Springer-Verlag GmbH Germany, part of Springer Nature 2019