Does the stability of the stacking motif surpass the planar motif in 2-amino-4-nitrophenol? — a CCSD(T) analysis
Abstract
In this work we analyzed O-H...O, O-H...N, and N-H...O contacts existing in the 2-amino-4-nitrophenol structure engaged in ANP molecules through quantum chemical methods. Furthermore, the above contacts were favored to comprehensively understand the stability of noncovalent interactions, π stacking and hydrogen bonding, surviving in 2-amino-4-nitrophenol. The geometries of π stacking and hydrogen bond interactions between two 2-amino-4-nitrophenols were optimized at BLYP-D3/def2-QZVP with dispersion 3 and MP2/cc-pVTZ levels of theory, and their stability was compared using the CCSD(T) interaction energies. The analyses predicted a particularly strong π stacking interaction of 2-amino-4-nitrophenol with hydrogen bond due to the narrow equivalent configuration of NO2 interactions with the other 2-amino-4-nitrophenols. Furthermore, this work focused on analyzing the stability of the individual hydrogen bonds existing in planar and stacked arrangements.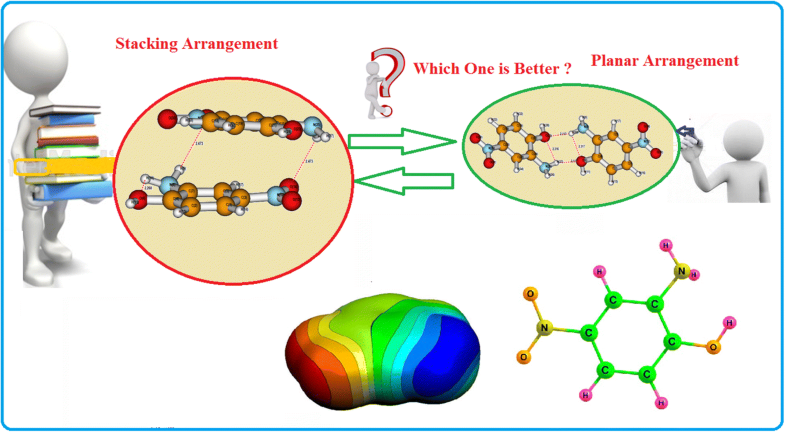 Keywords
Planar 
Stack 
CCSD(T) 
Stability 
2-amino-4-nitrophenol 
Notes
Acknowledgments
Palanisamy Deepa, is thankful to the Science and Engineering Research Board (SERB), Government of India, New Delhi for the award of the Project (File Number: YSS/2015/000275) and financial assistance. Furthermore, Palanisamy Deepa expresses her sincere thanks to Pavel Hobza, Department of Computational Chemistry, Institute of Organic Chemistry and Biochemistry of the Academy of Sciences of the Czech Republic, Flemingovo na'm. 2, 166 10 Prague 6, Czech Republic for the computational facility.
Copyright information
© Springer-Verlag GmbH Germany, part of Springer Nature 2018