Aluminum cluster for CO and O2 adsorption
Part of the following topical collections:
Abstract
Low temperature oxidation of CO to CO2 is an important process for the environment. Similarly adsorption of CO from the releasing sources is also of major concern today. Whereas the potential of gold and silver clusters is well proven for the catalysis of the above mentioned reaction, the potential of aluminum (Al) clusters remains unexplored. The present study proves that, similar to the transition metals, Al clusters can also be used for adsorption of gases. We first tested the potential of Al cluster as adsorbents for CO. The high binding energy (BE) values prove that Al clusters can be used for adsorbing both CO and O2. Since oxygen binding is more facile, we adsorbed oxygen on Al and then checked the effect of this O2 on the BE of CO. The results were obtained by DFT calculations at M062X/TZVP level of theory.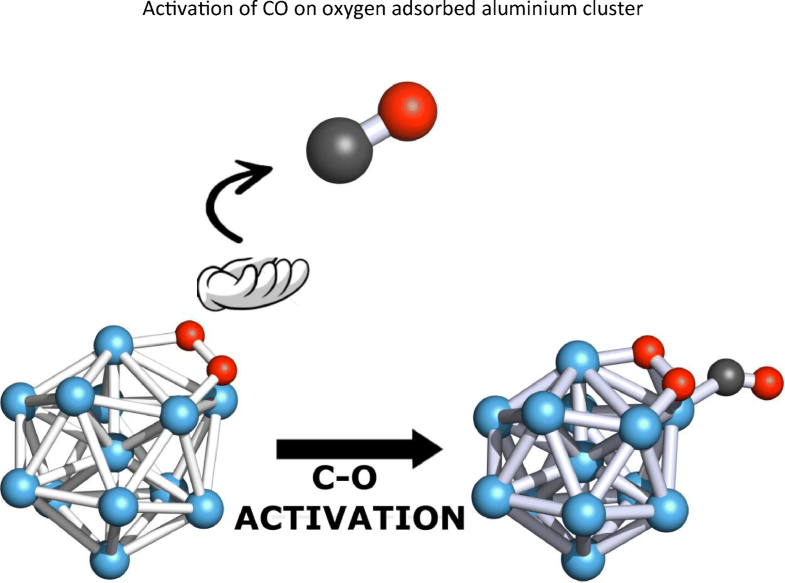 Keywords
DFT 
Aluminum clusters 
CO adsorption 
O2 adsorption 
Charge decomposition analysis 
Wiberg bond indices 
Notes
Acknowledgments
B.S. would like to thank IITB for providing a Teaching Assistant fellowship and high performance computation facilities. T.S. would like to thank the University Grant Commission (UGC) for a Senior Research Fellowship (SRF). The authors acknowledge the Center of Excellence in Scientific Computing at CSIR-NCL. S.P. acknowledges the J.C. Bose Fellowship grant of SERB, India, towards partial fulfillment of this work.
Compliance with ethical standards
Conflict of interest
The authors declare no competing financial interest.
Copyright information
© Springer-Verlag GmbH Germany, part of Springer Nature 2018