Sensor applications of polypyrrole for oxynitrogen analytes: a DFT study
Abstract
Density functional theory calculations are performed to evaluate the sensing ability of polypyrrole for oxynitrogen analytes. Interaction energies of PPy-X (X = NO2−, NO2, and NO) are calculated at B3LYP-CP/6-31G(d) and B3LYP/6-31G(d) levels of theory and compared with the high level calibrated method (M05-2X/aug-cc-pVDZ). B3LYP-CP/6-31G(d) gives the best correlation with the high level calibrated method compared to B3LYP/6-31G(d). Interaction of oligopyrrole with analytes shows a significant effect on the geometric and electronic properties; the conjugation is increased in the pyrrole oligomers and movement of charge is increased over the polymeric backbone. The charge is transferred from analytes to pyrrole oligomers (except nPy-NO2), and a more pronounced effect of charge transfer is observed in the case of nitrite ion (NO2−) compared to NO. In nPy-NO2, the charge is transferred from polymer to analyte. This transfer of charge indicates the n-type doping effect of analytes. The HOMO-LUMO gap decreases after interaction with analytes, which results in a drop of resistance (conductivity increases). These theoretical outcomes are consistent with the experimental results; polypyrrole has more sensing ability toward the nitrite anion (NO2−).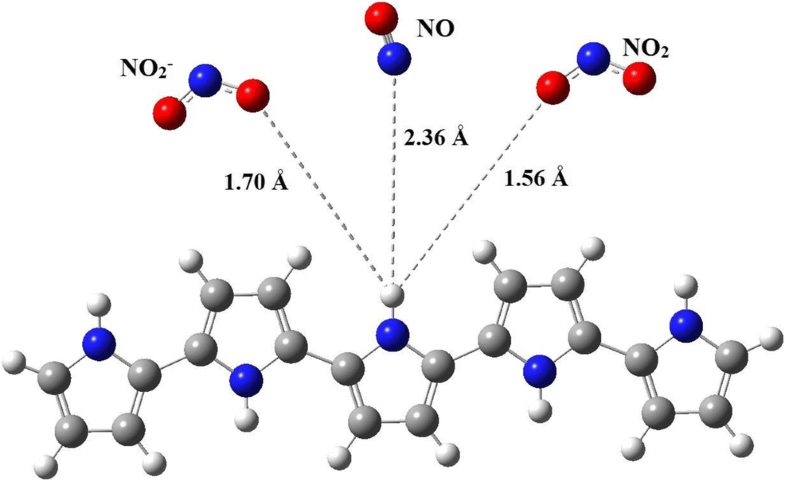 Keywords
Sensors 
Polypyrrole 
Oxynitrogen analytes 
Density functional theory 
Notes
Acknowledgments
The authors acknowledge the Higher Education Commission of Pakistan (Grant No. 3013 and 5309) and COMSATS University, Abbottabad Campus.
Compliance with ethical standards
Ethical statements
1. The manuscript has not been submitted to more than one journal for simultaneous consideration.
2. The manuscript has not been published previously (partly or in full)
3. A single study is not split up into several parts to increase the quantity of submissions and submitted to various journals or to one journal over time (e.g., "salami-publishing").
4. No data have been fabricated or manipulated (including images) to support conclusions.
5. No data, text, or theories by others are presented as if they were the author's own ("plagiarism") without proper acknowledgements to other's work if quoted.
Copyright information
© Springer-Verlag GmbH Germany, part of Springer Nature 2018