Boron–nitrogen dative bond
Abstract
This study consists of the theoretical analysis of some organic molecules and their inorganic similar compounds, through substitution of two carbon atoms by boron and nitrogen atoms. The methods DFT/B3-LYP/TZVPP and CC2/TZVPP were considered. Firstly, ethane, ethene, and ethyne molecules (based on C atoms and their BN/NB analogs) were studied. These molecules were considered as a reference for the analysis of other molecules with functional groups. These molecules with functional groups are: ethanol, ethanal (and its isomer ethenol), ethanoic acid (and its isomer ethenediol), ethylamine, ethylbenzene, propane, and fluoroethane. We studied the energies, bond length, population analysis, and bond order. The dative bonds (BN) are bigger and weaker than that covalent based on C atoms. The dative bond has π character when the BN bond is double and triple. It is possible to distinguish two different behaviors for BN bonds, one when the functional group is bounded to the B atom, and the other to the N atom. When the functional group is bounded to the B atom, the BN bond is weaker and lengthier than that when the same group is bounded to the N atom. However, the isomer with weaker BN bond is the most stable one.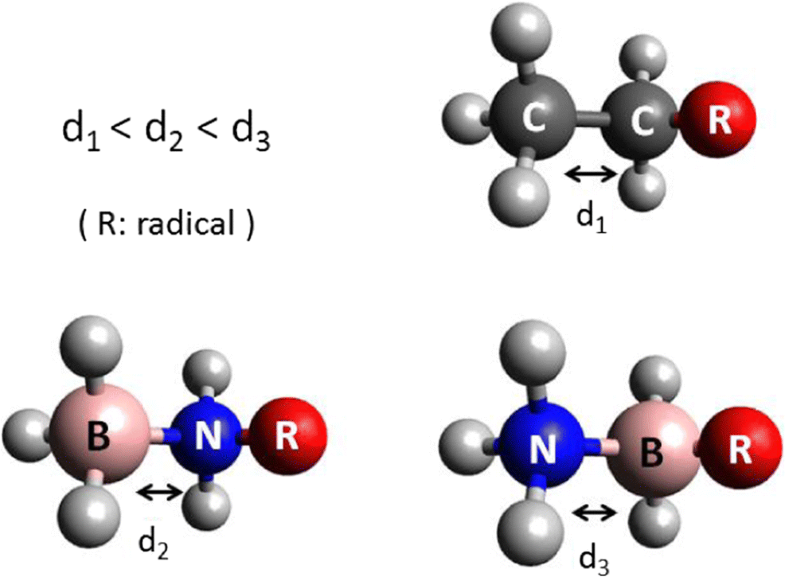 Keywords
Dative bond 
Boron–nitrogen bond 
Covalent x dative bonds 
Functional group 
Notes
Acknowledgements
This work was supported in part by the FAPESP (Fundação de Amparo à Pesquisa do Estado de São Paulo), grants: 2010/11385-2; CNPq (Conselho Nacional de Desenvolvimento Científico e Tecnológico), grants: 131879/2014-6; and by CAPES (Coordenação de Aperfeiçoamento de Pessoal de Nível Superior). We also wish to thank professors Rose Maria Carlos, Nelson H. Morgon, and Jean Marcel R. Gallo for discussions.
Copyright information
© Springer-Verlag GmbH Germany, part of Springer Nature 2018