Structural and dynamic characterization of human Wnt2-Fzd7 complex using computational approaches
Abstract
Wnt and Frizzled (Fzd) family members play crucial roles in the self-renewal of tumor-initiating cells. Until now, only a few studies have addressed the distinct mechanism of Wnt–Fzd interactions. In this study, we suggest a possible interaction mode of Wnt2 with the Fzd7 cysteine-rich domain (CRD)—both of which are up-regulated in some types of cancer. A combination of homology modeling, molecular docking and molecular dynamics (MD) simulations was carried out to study this ligand–receptor complex in great detail. The results demonstrated the unique dynamic behavior of Wnt2 upon binding to Fzd7. Interestingly, the β-strand content of the C-terminal binding site of Wnt2 was obviously reduced when bound to Fzd7 CRD. Moreover, the N-terminal and C-terminal binding sites of Wnt2 appeared to interact with the C-terminal and N-terminal binding sites of Fzd7, respectively. Calculation of the binding energies uncovered the pivotal role of electrostatic and hydrophobic interactions in the binding of Wnt2 to Fzd7 CRD. In conclusion, this study provides valuable insights into the mechanism of the Wnt2-Fzd7 CRD interaction for application in colorectal cancer prevention programs.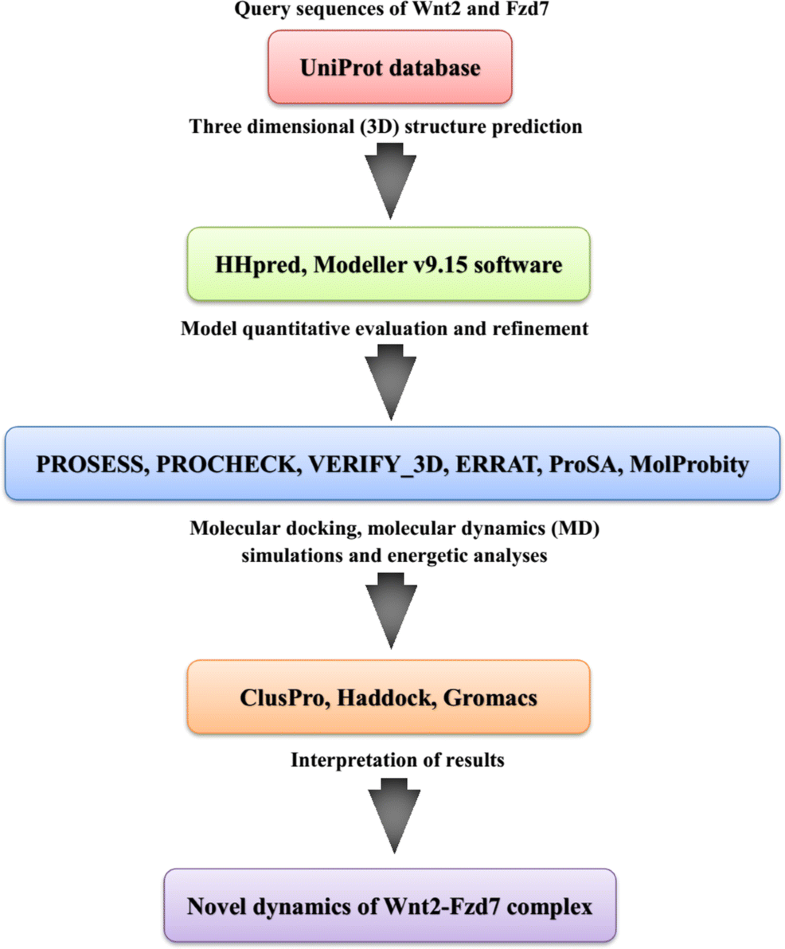 Keywords
WNT2 protein 
FZD7 protein, human 
Structural homology, protein 
Molecular docking simulation 
Molecular dynamics simulations 
Abbreviations
3D

Three dimensional

CN

Cluster number

CRC

Colorectal cancer

CRD

Cysteine-rich domain

CTD

C-terminal domain

DKK

Dikpoff

DOPE

Discrete optimized potential energy

FZD

Frizzled

HM

Homology modeling

LRP

Lipoprotein receptor related protein

LE

Lowest energy

mFZD

mouse frizzled

MD

Molecular dynamics

NTD

N-terminal domain

PDB

Protein Data Bank

Pdf

Probability density function

Rg

Radius of gyration

RMSD

Root mean square deviation

RMSF

Root mean square fluctuations

SASA

Solvent accessible surface area

SPC

Simple point charge

TCF

Transcription cell factor

Wnt

Wingless Int

xWNT

Xenopus Wnt
Notes
Acknowledgments
This study was supported by the Semnan University of Medical Sciences (Grant Number: 810) and the Pasteur Institute of Iran (Grant Number: 94/0110/15866).
Compliance with ethical standards
Conflict of interest
There is no conflict of interest.
Copyright information
© Springer-Verlag GmbH Germany, part of Springer Nature 2018