Abstract
We report herein the microstructure of the acetabular labrum obtained from a patient with stem loosening but without bipolar cup migration who had undergone hemiarthroplasty for femoral neck fracture 18 years ago. We used light and scanning electron microscopy to investigate the influence of bipolar cup on acetabular labrum in vivo. Deparaffinized blocks were treated with 2 N NaOH to digest the cell matrix, allowing the collagen fibers, constituting the acetabular labrum, to be observed under scanning electron microscopy. Although chondrocyte atrophy was seen, the basic structure was not different from the normal tissue images of the elderly. However, in the deep part of the acetabular labrum, there was an area that was not stained with Alcian blue observed with light microscopy, and there was an amorphous tissue without type II collagen fibrils observed with scanning electron microscopy. These findings proved that the acetabular labrum has partially degenerated over the long term after bipolar hemiarthroplasty, and that the acetabular labrum can survive in vivo in such a condition. Given that hemiarthroplasty has a possibility to preserve the face-to-face tissue in the long term in vivo, it may be one of the valuable options for modern or future joint reconstruction surgery.
This is a preview of subscription content, log in to check access.
Access options
Buy single article
Instant unlimited access to the full article PDF.
US$ 39.95
Price includes VAT for USA
Subscribe to journal
Immediate online access to all issues from 2019. Subscription will auto renew annually.
US$ 99
This is the net price. Taxes to be calculated in checkout.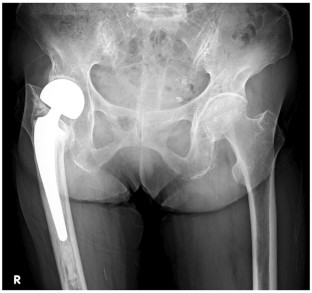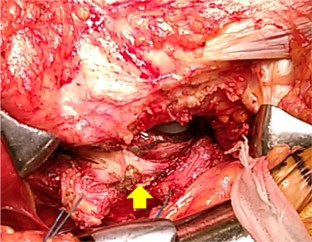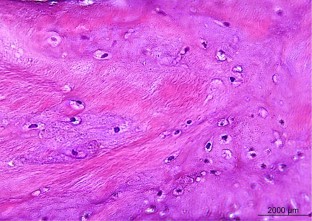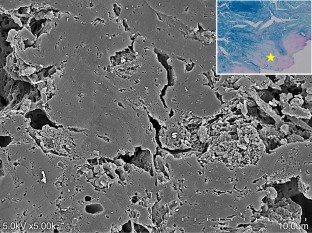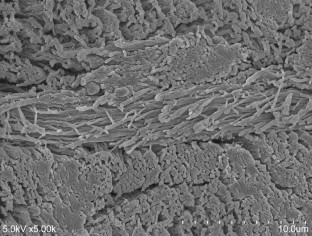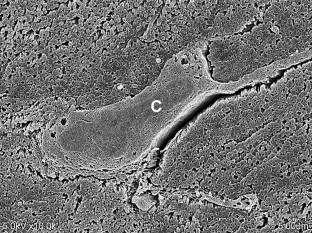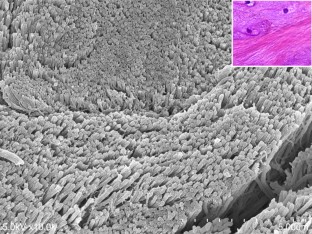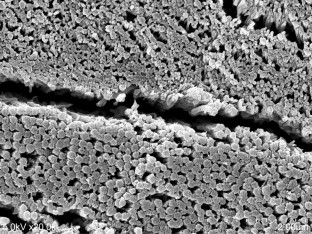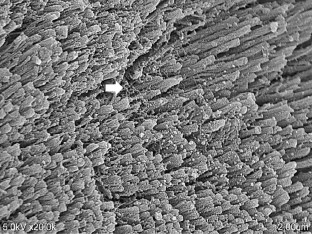 References
1.

Cruess RL, Kwok DC, Duc PN, Lecavalier MA, Dang GT (1984) The response of articular cartilage to weight-bearing against metal. A study of hemiarthroplasty of the hip in the dog. J Bone Jt Surg Br 66:592–597

2.

Kim YH (1986) The reaction of the acetabular articular cartilage to bipolar hemiarthroplasty. Yonsie Med J 27:234–238

3.

Dalldorf PG, Banas MP, Hicks DG, Pellegrini VD Jr (1995) Rate of degeneration of human acetabular cartilage after hemiarthroplasty. J Bone Jt Surg Am 77:877–882

4.

Nogami R, Kaku N, Shimada T, Tabata T, Tagomori H, Tsumura H (2019) Three-dimensional architecture of the acetabular labrum in the human hip joint. Med Mol Morphol. https://doi.org/10.1007/s00795-019-00228-3

5.

Shimada T, Sato F, Zhang L, Ina K, Kitamura H (1993) Three-dimensional visualization of the aorta and elastic cartilage after removal of extracellular ground substance with a modified NaOH maceration method. J Electron Microsc 42:328–333

6.

Fan L, Dang X, Wang K (2012) Comparison between bipolar hemiarthroplasty and total hip arthroplasty for unstable intertrochanteric fractures in elderly osteoporotic patients. PLoS ONE 7:e39531

7.

Yang S, Halim AY, Werner BC (2015) Does osteonecrosis of the femoral head increase surgical and medical complication rates after total hip arthroplasty? A comprehensive analysis in the United States. Hip Int 25:237–244

8.

Blomfeldt R, Törnkvist H, Eriksson K, Söderqvist A, Ponzer S, Tidermark J (2007) A randomised controlled trial comparing bipolar hemiarthroplasty with total hip replacement for displaced intracapsular fractures of the femoral neck in elderly patients. J Bone Jt Surg Br 89:160–165

9.

Field JR, Stanley R, Appleyard R, McGee M, Callary S, Nilsson K (2009) An evaluation of prosthetic femoral head impact on acetabular articular cartilage in a hemiarthroplasty model. Vet Comp Orthop Traumatol 22:142–147

10.

Kim YS, Kim YH, Hwang KT, Choi IY (2012) The cartilage degeneration and joint motion of bipolar hemiarthroplasty. Int Orthop 36:2015–2020

11.

Tsukanaka M, Støen RØ, Figved W, Frihagen F, Nordsletten L, Röhrl SM (2017) Steady state acetabular cartilage wear after bipolar hemiarthroplasty: a case series of 10 patients with radiostereometric analysis. Hip Int 27:193–197

12.

Maistrelli G, Sessa V, Fornasier VL (1991) Response of the articular cartilage to weight-bearing: comparison of hemiarthroplasty with ceramic and cobalt-chromium head in dogs. Ital J Orthop Traumatol 17:387–393

13.

McGibbon CA, Krebs DE, Trahan CA, Trippel SB, Mann RW (1999) Cartilage degeneration in relation to repetitive pressure: case study of a unilateral hip hemiarthroplasty patient. J Arthroplasty 14:52–58

14.

van der Meulen MC, Beaupré GS, Smith RL, Giddings VL, Allen WA, Athanasiou KA, Zhu CF, Mandell JA, Song Y, Poser RD, Goodman SB (2002) Factors influencing changes in articular cartilage following hemiarthroplasty in sheep. J Orthop Res 20:669–675

15.

Oungoulian SR, Durney KM, Jones BK, Ahmad CS, Hung CT, Ateshian GA (2015) Wear and damage of articular cartilage with friction against orthopedic implant materials. J Biomech 48:1957–1964

16.

Minihane KP, Turner TM, Urban RM, Williams JM, Thonar EJ, Sumner DR (2005) Effect of hip hemiarthroplasty on articular cartilage and bone in a canine model. Clin Orthop Relat Res 437:157–163

17.

Abe T, Kaku N, Tabata T, Tagomori H, Tsumura H (2018) Clinical results of hemiarthroplasty using new bipolar cups for stage 3 or lower osteonecrosis of the femoral head: a retrospective study. Musculoskelet Surg 102:241–246

18.

Lin CC, Yang CC, Yu TC (2019) Comparison of mid-term survivorship and clinical outcomes between bipolar hemiarthroplasty and total hip arthroplasty with cementless stem: a multicenter retrospective study. Orthop Surg 11:221–228

19.

Karsdal MA, Nielsen SH, Leeming DJ, Langholm LL, Nielsen MJ, Manon-Jensen T, Siebuhr A, Gudmann NS, Rønnow S, Sand JM, Daniels SJ, Mortensen JH, Schuppan D (2017) The good and the bad collagens of fibrosis—their role in signaling and organ function. Adv Drug Deliv Rev 121:43–56

20.

Kaku N, Shimada T, Tabata T, Tagomori H, Abe T, Zhang JJ, Tsumura H (2018) Three-dimensional architecture of the ligamentum teres in the human hip joint. Muscles Ligaments Tendons J 7:442–448

21.

Cadet ER, Chan AK, Vorys GC, Gardner T, Yin B (2012) Investigation of the preservation of the fluid seal effect in the repaired, partially resected, and reconstructed acetabular labrum in a cadaveric hip model. Am J Sports Med 40:2218–2223

22.

Nepple JJ, Philippon MJ, Campbell KJ, Dornan GJ, Jansson KS, LaPrade RF, Wijdicks CA (2014) The hip fluid seal–Part II: The effect of an acetabular labral tear, repair, resection, and reconstruction on hip stability to distraction. Knee Surg Sports Traumatol Arthrosc 22:730–736

23.

Kim KW, Baek JH, Ha YC (2012) Prevalence and locations of acetabular labral sulcus in patients undergoing arthroplasty for hip fracture. Arthroscopy 28:1373–1380
Acknowledgements
We would like to thank Editage (www.editage.com) for English language editing.
Ethics declarations
Conflict of interest
The authors declare that they have no conflicts of interest.
Additional information
Publisher's Note
Springer Nature remains neutral with regard to jurisdictional claims in published maps and institutional affiliations.
About this article
Cite this article
Kaku, N., Shimada, T., Nogami, R. et al. Histological evaluation of the acetabular labrum after bipolar hip hemiarthroplasty: a case report. Med Mol Morphol (2020). https://doi.org/10.1007/s00795-020-00244-8
Received:

Accepted:

Published:
Keywords
Bipolar hemiarthroplasty

Acetabular labrum

Microstructure

Scanning electron microscopy

Chondrocyte

Collagen fibrils

Collagen fibers