Dual bloom of green algae and purple bacteria in an extremely shallow soda pan
Open Access
Original Paper
Abstract
In April 2014, dual bloom of green algae and purple bacteria occurred in a shallow, alkaline soda pan (Kiskunság National Park, Hungary). The water was only 5 cm deep, in which an upper green layer was clearly separated from a near-sediment purple one. Based on microscopy and DNA-based identification, the upper was inhabited by a dense population of the planktonic green alga, Oocystis submarina Lagerheim, while the deeper layer was formed by purple, bacteriochlorophyll-containing bacteria, predominated by Thiorhodospira and Rhodobaca. Additional bacterial taxa with a presumed capability of anoxygenic phototrophic growth belonged to the genera Loktanella and Porphyrobacter. Comparing the bacterial community of the purple layer with a former blooming event in a nearby soda pan, similar functional but different taxonomic composition was revealed. Members from many dominant bacterial groups were successfully cultivated including potentially new species, which could be the result of the application of newly designed media.
Keywords
Soda pan 
Purple bacteria 
Oocystis
Thiorhodospira
Rhodobaca
Bloom 
Abbreviations
AAP

Aerobic anoxygenic phototrophs

BCC

Bacterial community composition

Bchl

Bacteriochlorophyll(s)

CFU

Colony forming units

Chl a

Chlorophyll a

HMW

High molecular weight

LMW

Low molecular weight

NGS

Next-generation DNA sequencing

NTU

Nephelometric turbidity unit

OTU

Operational taxonomic unit

PNSB

Purple non-sulfur bacteria

PSB

Purple sulfur bacteria

SRP

Soluble reactive phosphorus

TN

Total nitrogen

TOC

Total organic carbon
Introduction
Soda lakes have Na+- and CO32−/HCO3−-dominated alkaline water, and therefore, they are different from other athalassohaline waters (Boros et al. 2014; Boros and Kolpakova 2018). Soda lakes can be found in almost every continent (Grant 2006; Sorokin et al. 2014; Boros and Kolpakova 2018): in Central Asia (Kulunda Steppe), Inner Asia, East Africa (Eastern Rift Valley), Central Europe (Carpathian Basin) and sporadically in India (Lonar Lake) and North America (Mono Lake and Soap Lake). These alkaline and saline environments range from deep meromictic to shallow lakes, and can be grouped into hypersaline (> 50 g/L) and less saline water bodies.
Shallow lakes and pans are characteristic features of the semiarid steppe and undergo significant diurnal (mainly temperature and oxygen concentration) and annual (mainly temperature, volume and salinity) changes regarding various physical parameters. According to our current knowledge, within Europe, soda lakes could be found exclusively in the Carpathian Basin; their size ranges from small wetlands of few m2 to few hundred ha (Boros et al. 2014, 2017). Most of them are intermittent aquatic systems and have low water transparency (Boros et al. 2017; Somogyi et al. 2017). Two main types of these shallow lakes (which are usually referred as pans) could be distinguished, the 'turbid type' (high amount of suspended solids and usually high concentration of humic substances) and the 'colored type' (relatively low amount of suspended solids and very high concentration of humic substances) (Boros et al. 2017). The 'fluid sediment' concept has been proposed for the turbid water type, as wind induces continuous sediment resuspension due to their extreme shallowness (< 50 cm) (Eiler et al. 2003; Boros et al. 2017).
The key primary producers in soda lakes of the Carpathian Basin are cyanobacteria, eukaryotic green algae and euglenophytes (Vörös et al. 2008; Somogyi et al. 2017). Phytobenthos is considered to be negligible due to the strong underwater light limitation (Boros et al. 2013), while phytoplankton (especially in the turbid-type waters) is usually dominated by pico-sized (< 3 μm) species (Vörös et al. 2008; Felföldi et al. 2009; Somogyi et al. 2009, 2017) and has characteristic seasonal changes. Below 15 °C, picoeukaryotes (mainly Chloroparva and Choricystis) dominate, while above this temperature picocyanobacteria (mostly Synechococcus/Cyanobium) occur (Vörös et al. 2008; Felföldi et al. 2009, 2011; Somogyi et al. 2009, 2011, 2016). Interestingly, pico-sized green algae regularly bloom under the ice during winter (Somogyi et al. 2009; Pálffy et al. 2014); while in spring and summer, blooms of larger (mainly green) algae could be formed due to the high productivity of these waters, which occasionally co-occur with mass production of purple bacteria near the sediment surface (Borsodi et al. 2013).
The aim of the present study was the characterization of a dual bloom, which occurred in a soda pan with a special focus on the bacterial community inhabiting the purple layer. Comparing the obtained results (physicochemical parameters and taxonomic composition) with a similar, previous dual bloom event reported from the studied region (Borsodi et al. 2013), the underlying factors shaping the bacterial community composition (BCC) of these Oocystis-associated purple bacterial blooms were revealed.
Results
Results of limnological analyses
At the time of sampling, pH 10.2 and 15.5 mS/cm conductivity were measured (Table 1), which is equivalent to 12.4 g/L salinity according to the conversion coefficient determined for these pans by Boros et al. (2014). Other measured parameters of lake water are shown in Table 1. High levels of total organic carbon (TOC), nitrogen forms, orthophosphate and sulfate were present. The upper layer of the water contained 10.6 mg/L Chl a and 1.9 mg/L Bchl a, while the lower contained 4.0 mg/L Chl a and 7.8 mg/L Bchl a. Oocystis submarina Lagerheim, a unicellular green alga, was identified microscopically as the sole organism causing the algal bloom (Supplementary Figure S2). Based on microscopy, high density of vibrio-shaped bacteria was observed in the bottom layer. These bacteria showed phototaxis and sulfur globules were also observed (Supplementary Figure S3).
Results of cultivation-based analyses
The three media used for the determination of heterotrophic bacterial viable cell counts in the purple layer resulted in different plate counts. Under aerobic conditions 1.7 × 106, 2.8 × 107 and 3.5 × 107 CFU (colony forming units)/mL were recorded after 19 days of incubation on medium 'C', 'R' and 'S', respectively. Anaerobic cultivation yielded lower or similar values: 4.2 × 104 and 3.6 × 107 CFU/mL were obtained after 19 days in the case of media 'C' and 'S', respectively, while no colony formation was observed using medium 'R'. Therefore, medium 'S' was the most suitable for the growth of facultative anaerobic bacteria present in the sample.
From the three different solid media, 63 pure cultures were obtained, 51 with aerobic, 12 with anaerobic cultivation: 6 and 4 strains from medium 'C', 17 and 8 strains from medium 'S', 28 from 'R' agar plates, respectively. According to their 16S rDNA sequences, 37 strains belonged to phylum Proteobacteria (Alphaproteobacteria, 17 and Gammaproteobacteria, 20) and 26 strains to Bacteroidetes (Fig. 
1
). Isolates showed 89.0–100% sequence similarity values with type strains of validly published species (Table 
2
). No clear selectivity of the media was observed, while anaerobic cultivation resulted in similar bacteria as the aerobic one (e.g.
Halomonas
,
Porphyrobacter
,
Roseicitreum
), only few taxa were isolated exclusively under anaerobic conditions (represented by three strains showing the highest 16S rRNA gene similarities to
Erythromicrobium
,
Ectothiorhodospira
and
Adhaeribacter
 type strains).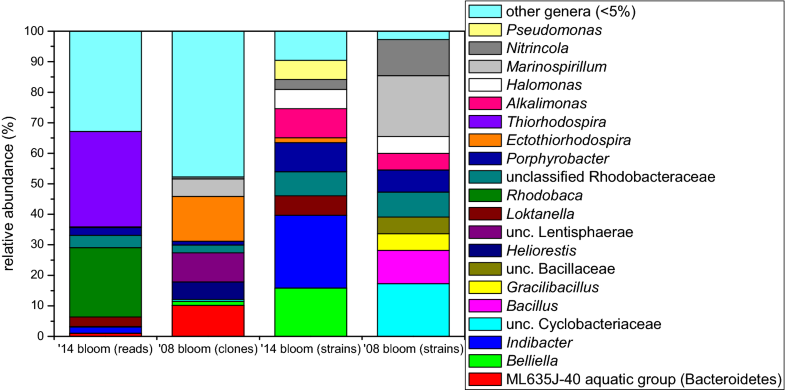 Table 2
Taxonomic affiliation of the bacterial strains isolated from the purple layer based on 16S rRNA gene sequence similarity
Phylum/Class

Order

Strain code

Closest species

16S rRNA gene similarity (%)

Presence of the pufM gene

Number of strains in sequence group

Proteobacteria

Alphaproteobacteria

Sphingomonadales

S4B-2

Erythromicrobium ramosum

98.53

+

1

S5B-2

Porphyrobacter colymbi/donghaensis

99.17

–

1

R4-10P

Porphyrobacter neustonensis

99.05

only in C4B-1

4

Rhodobacterales

S4-11

Loktanella vestfoldensis a

99.36

+

4

R4-14

Rhodobaca barguzinensis

97.71

+

2

S4-16

Roseinatronobacter monicus

97.71

+

1

R3-13B

Roseicitreum antarcticum

99.58

+

2

S5-6A

Rhodobaculum claviforme

99.87

–

1

Rhizobiales

S4-27B

Chelatococcus composti

95.24

–

1

Gammaproteobacteria

Chromatiales

C3B-1

Ectothiorhodospira shaposhnikovii

100

+

1

Oceanospirillales

R3-4

Halomonas shengliensis

98.97

–

1

Oceanospirillales

S4-1

Halomonas ventosae

98.46

–

3

R4-8b

Nitrincola alkalisediminis

98.56

–

2

Pseudomonadales

R3-8

Pseudomonas salegens

98.87

–

1

R4-10

Pseudomonas salegens

98.75

–

3

Vibrionales

R4-7

Vibrio metschnikovii

99.70

–

3

Alteromonadales

R4-13

Alkalimonas amylolytica

99.90

–

6

Bacteroidetes

Cytophagia

Cytophagales

S4-3

Belliella pelovolcani

99.80

–

5

R3-1

Belliella aquatica

97.28

–

5

Cytophagales

R3-9

Mongoliibacter ruber

98.29

–

15

Cytophagales

S4B-3

Adhaeribacter aerophilus

88.82

–

1
Vast majority of alphaproteobacterial strains were red colored (e.g. members of genera Erythromicrobium, Porphyrobacter, Loktanella and Rhodobaculum), four of them produced Bchl (Supplementary Figure S4). One of these strains, Roseinatronobacter sp. S4-16 stopped expressing its pigment(s) during the cultivation process. An anaerobic gammaproteobacterial strain showed 100% sequence similarity to an alkalophilic purple sulfur bacterium, Ectothiorhodospira shaposhnikovii. Other strains from this class were typical heterotrophs, with high similarities to halophilic or alkalophilic representatives of genera Alkalimonas, Halomonas, Nitrincola, Pseudomonas and Vibrio. All Bacteroidetes strains belonged to order Cytophagales, and were pink or bright red colored. Five strains were closely (99.8%) related to the type strain of Belliella pelovolcani, while another five strains probably represent a new species within this genus (~ 97% similarity to type strains). Fifteen strains were affiliated to Mongoliibacter, while strain S4B-3 may represent a new family, as the shared sequence similarity values to type strains were less than 89%.
Strains were screened for the presence of the pufM gene, and amplicons were obtained in the case of 12 strains (19% of total strains). As in many cases a longer fragment was co-amplified with the deposited amplicon (< 150 nt length), we presume an upstream, secondary annealing position of the forward (pufM_uniFfresh) primer inside the pufL gene. Taxon identification (against the GenBank database) based on pufM gene sequences was consistent to the 16S rDNA-based results. The pufM-positive strains belonged to the three purple bacterial groups [purple sulfur bacteria (PSB), purple nonsulfur bacteria (PNSB) and aerobic anoxygenic phototrophs (AAP)]. With the exception of the Porphyrobacter strains (one out of five was positive), strains from the same genus were either positive or negative. All pufM-containing isolates and representatives of sequence groups from pufM-negative strains were investigated with epifluorescence microscopy to detect the presence of Bchl. Not all of the pufM-positive strains were found to synthesize Bchl pigments, but Bchl was not detected in any of the pufM-negative strains. Interestingly, one strain (Roseinatronobacter sp. S4-16) stopped producing Bchl pigments during the cultivation process.
Results of cultivation-independent analyses
Overall, 3398 high-quality sequences were obtained with next-generation DNA sequencing, which were clustered to 162 bacterial OTUs. Two OTUs with 27 sequences were identified as eukaryotic plastid and belonged to the chlorophyte genus Oocystis (unfortunately no O. submarina 16S rRNA gene sequence is available in GenBank currently; Supplementary Figure S5).
Altogether 18 bacterial phyla were detected (Fig. 
2
). Proteobacteria was the most abundant phylum, dominated by Alpha- (36.2% of total bacterial reads) and Gammaproteobacteria (35.9%), while only low relative abundance of Deltaproteobacteria was detected (2.9%), and the contribution of Betaproteobacteria was negligible (< 0.1%). Other bacterial phyla represented only a minor fraction of the bacterial community: Firmicutes (7.1%), Verrucomicrobia (6.3%), Bacteroidetes (5.8%), etc. (Figure 
2
). Almost one-third of the sequences was affiliated with the PSB family Ectothiorhodospiraceae (Gammaproteobacteria) and the vast majority of these sequences belonged to a single OTU assigned to the genus
Thiorhodospira
, while other five OTUs containing two to four sequences clustered into a
Thioalkalivibrio
, two
Ectothiorhodospira
and two unclassified groups (Fig. 
1
). Another third of the reads was affiliated with PNSB and AAP groups of the Rhodobacteraceae family (Alphaproteobacteria), dominated by a single OTU belonging to genus
Rhodobaca
, while a
Loktanella
and a
Porphyrobacter
OTU turned out to be also significant (~ 3% both). Other notable groups (with 1–4% relative abundance) were: two unclassified OTUs from each Firmicutes and Alphaproteobacteria; two verrucomicrobial OTUs (from
Haloferula
and a closely related unclassified genus) and one OTU from genera
Desulfonatronum
(Deltaproteobacteria),
Indibacter
(Bacteroidetes) and group ML602 J-51 (Actinobacteria). In total, 11 OTUs showed higher relative abundance than 1%, together they contributed 75.7% of the bacterial community.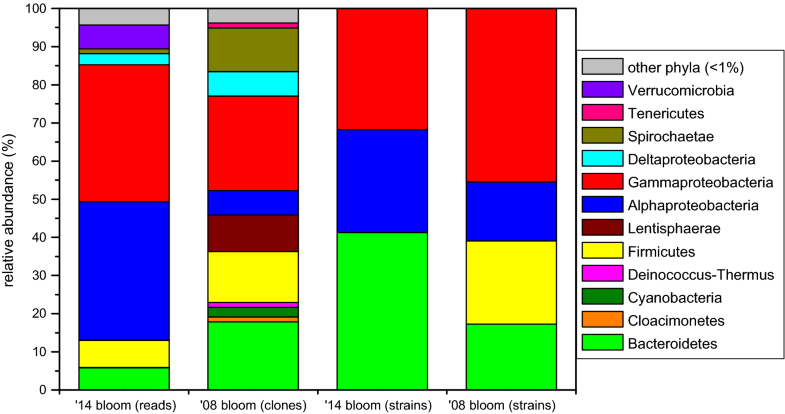 From the 162 bacterial OTUs, 10 were shared between cultivated strains and the NGS library, which included 43 strains (68% of isolates) and 1221 sequences (36% of total reads). 20 strains forming seven OTUs were not detected by NGS.
Based on the result of qPCR, the 16S rRNA gene copy number of Archaea was below the detection limit (40 PCR cycles).
Summary
A dual bloom of green algae and purple bacteria in a Central European soda pan was characterized in this study. While algal blooms are common in these waters, the presence of a purple layer is only an occasional event in the studied region. The high level of oxygen produced by the algae was consumed by heterotrophic bacteria in a few centimeters, and a sulfuretum was developed, where sulfate reducers created hydrogen sulfide, which was oxidized to sulfate by PSBs, PNSBs and AAPs. Probably the warm, calm and sunny conditions enabled both the Oocystis bloom, and the development of a sulfuretum in the water as the chemocline rose into the water column from the sediment–water boundary. These special conditions resulted in an uncommon microbial community, dominated by PSB (Thiorhodospira) and PNSB (Rhodobaca) that oxidize sulfide under anaerobic conditions. The purple layer development was probably initiated by the sulfide genesis of sulfate-reducing bacteria (Desulfonatronum).
It can be concluded that such purple layer formation in a shallow lake is a result of the combination of several biotic and abiotic factors (e.g. favorable light climate, ionic composition, calm weather, sediment proximity).
Notes
Acknowledgements
Open access funding provided by Eötvös Loránd University (ELTE). The authors are thankful to Anikó Lajosné Balogh, Nóra Tugyi and Balázs Németh for their technical assistance and to József Kukolya and Erzsébet Baka for providing DNA reference samples. We are also grateful to the anonymous reviewers, who played a significant role in improving the manuscript.
Funding
This work was supported by the Hungarian Scientific Research Fund (PD 105407 and PD 112449). Purchase of equipment was financed by the National Development Agency (Grants KMOP-4.2.1/B-10-2011-0002 and TÁMOP-4.2.2/B-10/1-2010-0030).
Copyright information
© The Author(s) 2019
Open AccessThis article is distributed under the terms of the Creative Commons Attribution 4.0 International License (http://creativecommons.org/licenses/by/4.0/), which permits unrestricted use, distribution, and reproduction in any medium, provided you give appropriate credit to the original author(s) and the source, provide a link to the Creative Commons license, and indicate if changes were made.