Effects of boundary condition on shrinkage vectors of a flowable composite in experimental cavity models made of dental substrates
Abstract
Objectives
Bond strength to enamel and dentin depends on the bonding approach or condition. This study investigated the effects of the boundary conditions, in terms of the bonding substrate and the bonding condition, on the shrinkage vectors of a flowable composite.
Materials and methods
An experimental cylindrical cavity (diameter = 6 mm, depth = 3 mm) consisting of the enamel floor and the surrounding dentin cavity walls was prepared for the "enamel-floor" group. Cylindrical cavities of the same dimensions were prepared with access from the occlusal enamel into dentin and served as controls. Each cavity model group was divided and bonded with two bonding conditions (n = 9): a self-etch (Adper Easy Bond, 3M ESPE) and a total-etch approach (OptiBond FL, Kerr). The composite (Tetric EvoFlow, Ivoclar Vivadent) was mixed with glass beads, applied to the cavity, scanned twice by micro-CT (uncured and cured states). The scans were evaluated by rigid registration, sphere segmentation, and registration for computing shrinkage vectors.
Results
The free surface of all restorations moved downward. The shrinkage vectors in the experimental cavity model pointed downward towards the enamel cavity floor, and the net axial movement was downward. In the control group, shrinkage vectors additionally moved upward, away from the cavity floor. The effect of the bonding substrate and the bonding condition was investigated for the shrinkage vectors and the axial movement (univariate ANOVA).
Conclusion
The bonding substrate, enamel, influenced the shrinkage vectors' direction, while the bonding condition caused only variations in the magnitude.
Clinical relevance
Bonding to enamel influences shrinkage vectors' direction, while the bonding condition plays only a minor role.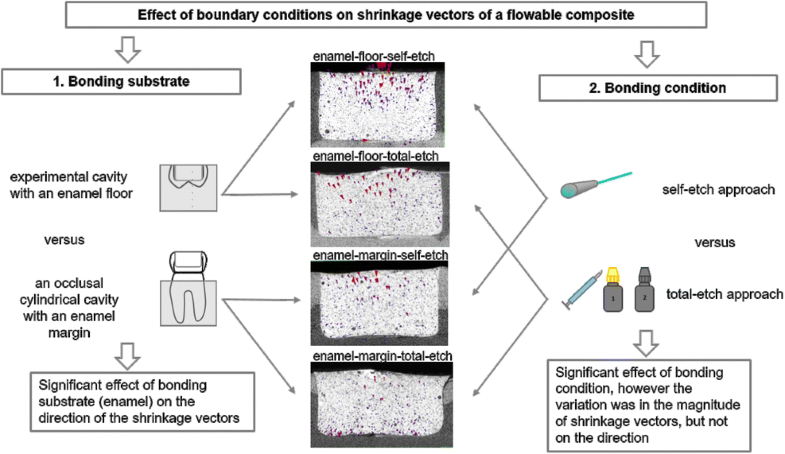 Keywords
Flowable composite 
Shrinkage vectors 
Enamel 
Dentin 
Self-etch adhesive 
Total-etch adhesive 
Notes
Acknowledgments
The authors would like to thank Mr. T. Obermeier, Mrs. E. Koebele, and Mrs. G. Dachs for their technical support and SEM images.
Funding
The work was supported by the Department of Conservative Dentistry and Periodontology, Ludwig-Maximilians-University of Munich, Germany.
Compliance with ethical standards
Conflict of interest
The authors declare that they have no conflict of interest.
Ethical approval
This article does not contain any studies with human participants or animals performed by any of the authors. The research ethics committee of the medical faculty of the Ludwig-Maximilians-University of Munich, Germany has approved the use of extracted human teeth in anonymized form (#078-14).
Informed consent
For this type of study, formal consent is not required.
Copyright information
© Springer-Verlag GmbH Germany, part of Springer Nature 2018