Zusammenfassung
Einleitung
Der akute thrombotische Verschluss der V. subclavia oder V. axillaris wird in der Literatur als Paget-von-Schroetter-Syndrom bezeichnet. Es entsteht durch Mikrotraumen bzw. Intimaeinrisse der Vene und präsentiert sich klinisch mit venösem Rückstau, Prominenz der Oberarmvenen sowie infraklavikulärem oder axillärem Druckschmerz. Chronische Abflussstörungen der Vv. axillaris et subclavia aufgrund der anatomischen Veränderungen im Bereich der oberen Thoraxapertur bezeichnet man als venöses Thoracic-outlet-Syndrom (TOS).
Ziel
Das Ziel des vorliegenden wissenschaftlichen Fallberichtes ist es, den seltenen Kasus eines Paget-von-Schroetter-Syndrom (PSS) mit der individuell fallspezifischen klinischen Symptomausprägung, basierend auf einschlägigen Referenzen der medizinisch-wissenschaftlichen Literatur und den gewonnenen Erfahrungen im diagnostischen und therapeutischen Management, inkl. des Outcomes und einer prognostischen Wertung darzustellen.
Fallbericht
Ein 30-jähriger Hobby-Sportler klagte über eine am Vortag plötzlich aufgetretene Schwellung und Druckschmerz im Bereich des rechten Armes mit ebenfalls leicht bläulich-livider Verfärbung des Hautkolorits. Duplexsonographie, CT- und MR-Angiographie sowie eine Phlebographie zeigten eine Thrombose der V. subclavia dextra bis zur V. cava superior bei Thoracic-outlet-Syndrom. Aufgrund der Akuität und ausgeprägten Symptomatik wurde die Indikation zur intravenösen medikamentösen Thrombolyse lokal via V. brachialis mittels Actilyse® (Alteplase, Boehringer Ingelheim Pharma GmbH & Co. KG, Ingelheim am Rhein, Deutschland) gesehen. Hiernach waren noch Restthromben in der V. subclavia und eine Obstruktion an der V. subclavia darstellbar, die interventionell-radiologisch mittels Ballon dilatiert wurde. Die Antikoagulation erfolgte mittels Xarelto® 20 mg täglich (Rivaroxaban; Bayer AG, Leverkusen, Deutschland). Bei der klinischen Kontrolluntersuchung nach 3 Monaten waren die Beschwerden deutlich regredient. Die konservative Therapie wird weiter fortgeführt mit weniger Sportaktivitäten und weiterer Gabe von Rivaroxaban für mindestens 6 Monate. Als mögliche Ursache wurde a.e. eine anstrengende und wiederholte Aktivität der oberen Extremitäten durch die sportliche Betätigung eruiert.
Schlussfolgerung
Das Paget-von-Schroetter-Syndrom ist ein sehr seltenes Krankheitsbild. Es kann konservativ, interventionell und operativ behandelt werden. Bei akuten ausgeprägten Thrombosen sollte eine Fibrinolyse mit Plasminogenaktivatoren vorgenommen werden. Bei schweren Verläufen und in rezidivierenden Fällen sollte die fassbare Ursache für eine Kompression möglichst chirurgisch korrigiert werden.
Abstract
Introduction
Acute thrombotic occlusion of the subclavian or axillary vein is referred to as Paget–Schroetter syndrome (PSS) in the literature. It results from microtrauma or intimal tears of the vein and presents clinically with venous swelling, prominence of the upper arm veins in addition to infraclavicular or axillary pressure pain. Chronic pathological changes of the axillary and subclavian veins due to anatomical changes in the upper thoracic aperture are referred to as venous thoracic outlet syndrome (TOS).
Aim
The aim of this scientific case report is to investigate the rare case of a PSS with the individual case-specific clinical symptom severity based on relevant references from the scientific medical literature and the experience gained in diagnostic and therapeutic case management, including the outcome and a prognostic evaluation.
Case report
A 30-year-old hobby athlete complained of swelling and pressure pain in the right arm that had suddenly appeared the day before, with a slight bluish-livid discoloration of the skin. Duplex ultrasonography, CT and MR angiography in addition to venography revealed thrombosis of the right subclavian vein up to the superior vena cava in thoracic outlet syndrome. Owing to the acute event and severe symptoms, an indication for drug-induced intravenous thrombolysis with Actilyse® (Alteplase; Boehringer Ingelheim, Ingelheim/Rhein, Germany) was seen, which was locally applied via a catheter through the brachial vein. Residual thrombi in the subclavian vein were detected along with an obstruction to the subclavian vein, which was dilated using an image-guided balloon. Anticoagulation was initiated with Xarelto® 20 mg daily (Rivaroxaban; Bayer, Leverkusen, Germany). Control investigation after 3 months revealed significantly reduced symptomatology. The conservative therapy will be continued, with reduction of sports activities and additional rivaroxaban for at least 6 months. The possible cause was determined: strenuous and repeated activity of the upper extremities due to sports exercise.
Conlusion
PSS is a very rare disease. It can be treated conservatively, interventionally and by surgery. In acute severe thrombosis, fibrinolysis should be performed with plasminogen activators. In severe cases and in recurrences, the concrete cause of the compression should be corrected surgically if possible.
This is a preview of subscription content, log in to check access.
We're sorry, something doesn't seem to be working properly.
Please try refreshing the page. If that doesn't work, please contact support so we can address the problem.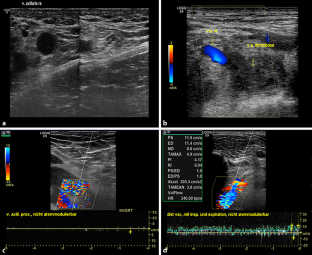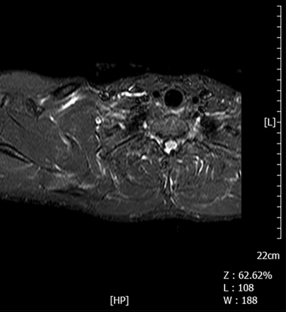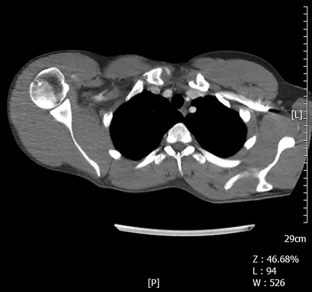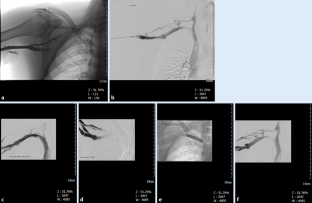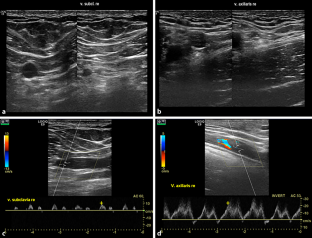 Literatur
1.

Alla V, Natarajan N, Kaushik M, Warrier R, Nair C (2010) Paget-Schroetter syndrome: review of pathogenesis and treatment of effort thrombosis. West J Emerg Med 11(4):358–362

2.

Barwegen M, Van Dongen R (1987) Neurovaskuläre Kompressionssyndrome an der oberen Thoraxapertur und ihre vaskulären Komplikationen. In: Kirschnersche allgemeine und speziele Operationnslehre. Gefäßchirurgie. Springer, Berlin Heidelberg, S 571–584

3.

Chin E, Zimmerman P, Grant E (2005) Sonographic evaluation of upper extremity deep venous thrombosis. J Ultrasound Med 24(6):829–838

4.

Dep A, Concannon E, McHugh S, Burke P (2013) Paget-Schrotter syndrome and complications of management. BMJ Case Rep 2013:bcr2013008858

5.

Desjardins B, Rybicki F, Kim H, Fan C, Flamm S, Gerhard-Herman M (2012) ACR appropriateness criteria suspected upper extremity deep vein thrombosis. J Am Coll Radiol 9(9):613–619

6.

Dunant J (1976) Schultergürtelsyndrom. Aktuelle Probl Angiol 31:1–68

7.

Illig K, Doyle A (2010) A comprehensive review of Paget-Schroetter syndrome. J Vasc Surg 51(6):1538–1547

8.

Jamieson W, Chinnick B (1996) Thoracic outlet syndrome: fact or fancy? A review of 409 consecutive patients who underwent operation. Can J Surg 39:321–326

9.

Joffe H, Goldhaber S (2002) Upper-extremity deep vein thrombosis. Circulation 106:1874–1880

10.

Joffe H, Kucher N, Tapson V, Goldhaber S (2004) Upper-extremity deep vein thrombosis: a prospective registry of 592 patients. Circulation 110:1605–1611

11.

Kucher N (2011) Clinical practice. Deep-vein thrombosis of the upper extremities. N Engl J Med 364(9):861–869

12.

Paget J (1875) Clinical lectures and essays. Langman & Green, London, S 292

13.

Rossi G, Rossi V (2005) Deep vein thrombosis. Lancet 366(9480):118–119

14.

Sanders R, Pearce W (1989) The treatment of thoracic outlet syndrome: a comparison of different operations. J Vasc Surg 10:626–634

15.

Schroetter L v. (1884) Erkrankungen der Gefäße. In: Nothnagels Handbuch der Pathologie und Therapie. Hölder, Wien

16.

Spencer F, Emery C, Lessard D, Goldberg R (2007) Upper extremity deep vein thrombosis: a community-based perspective. Am J Med 120:678–684

17.

Thompson J, Winterborn R, Bays S, White H, Kinsella D, Watkinson A (2011) Venous thoracic outlet compression and the Paget-Schroetter syndrome: a review and recommendations for management. Cardiovasc Intervent Radiol 34(5):903–910

18.

Urschel H, Razzuk M (1998) Neurovaskular compression in the thoracic outlet: changing management over 50 years. Ann Surg 228(4):609–617

19.

Urschel HJ, Razzuk M (2000) Paget-Schroetter syndrome: what is the best management? Ann Thorac Surg 69:1663–1669

20.

Urschel H, Patel A (2008) Surgery remains the most effective treatment for Paget-Schroetter syndrome: 50 years' experience. Ann Thorac Surg 86(1):254–260
Ethics declarations
Interessenkonflikt
K. Korsake, F. Meyer, J. Dillner, A. Udelnow, M. Powerski, R. Albrecht und Z. Halloul geben an, dass kein Interessenkonflikt besteht.
Für diesen Beitrag wurden von den Autoren keine Studien an Menschen oder Tieren durchgeführt. Für die aufgeführten Studien gelten die jeweils dort angegebenen ethischen Richtlinien. Für Bildmaterial oder anderweitige Angaben innerhalb des Manuskripts, über die Patienten zu identifizieren sind, liegt von ihnen und/oder ihren gesetzlichen Vertretern eine schriftliche Einwilligung vor.
About this article
Cite this article
Korsake, K., Meyer, F., Dillner, J. et al. Venöses Thoracic-outlet-Syndrom mit akuter Thrombose der V. subclavia (Paget-von-Schroetter-Syndrom). Gefässchirurgie 25, 44–50 (2020). https://doi.org/10.1007/s00772-019-00582-7
Schlüsselwörter
Thrombotischer Verschluss

V. subclavia

V. axillaris

Paget-von-Schroetter-Syndrom

Venöses Thoracic-outlet-Syndrom
Keywords
Thrombotic occlusion

Subclavian vein

Axillar vein

Paget–Schroetter syndrome

Venous thoracic outlet syndrome