Abstract
In order to train postgraduate students in the evaluation of a quality system in the pharmaceutical industry, it would be desirable to have installations constructed in accordance with the quality standards. This is very costly and unusual in universities. Virtual 3D worlds allow simulating immersive professional contexts for training. The first aim of this project is to design and construct a virtual analytical laboratory adapted to good laboratory practices (GLP) in the Second Life™ (SL) virtual world. The second aim is to set up a practice based on the inspection of the virtual laboratory installations. Finally, the students' acquisition of knowledge and satisfaction were assessed. The laboratory is available online on the Usalpharma Island of SL. The installations, equipment and tools were created using SL's building tools. During two academic years, a total of 30 students made an inspection of the laboratory to identify and classify nonconformities of a GLP quality system (supplementary video). They report the results in an assessment report. The following evaluation of the practice shows that the scores concerning the assessment of skills (7.1 ± 0.5 out of 10) and knowledge acquired (7.8 ± 0.3 out of 10) met the expectations of the authors. In an anonymous questionnaire, 81 % of the students assessed the experiment as satisfactory. The virtual laboratory allows, at very low cost, training postgraduate students in facilities not available at university. Tools like this could be implemented not only at universities, but in professional field in order to assess competencies or support the essential lifelong learning of the laboratory staff.
This is a preview of subscription content, log in to check access.
Access options
Buy single article
Instant unlimited access to the full article PDF.
US$ 39.95
Price includes VAT for USA
Subscribe to journal
Immediate online access to all issues from 2019. Subscription will auto renew annually.
US$ 99
This is the net price. Taxes to be calculated in checkout.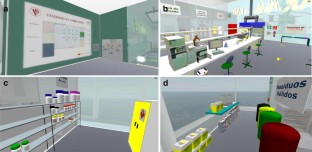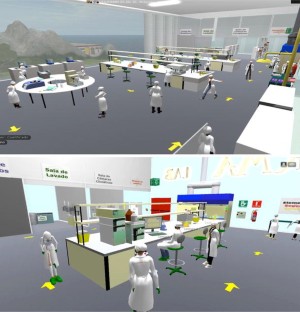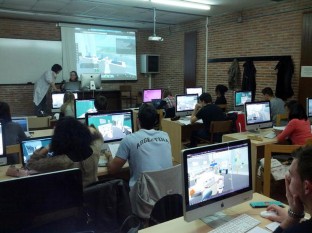 References
1.

Salmon G (2009) The future for (Second) Life and learning. Br J Educ Technol 40:526–538

2.

Atkinson T (2008) Inside Linden Lab: Second Life [TM] for Educators. TLRPTIL 52(3):16–18

3.

Jarmon L, Lim KYT, Carpenter BS (2009) Pedagogy, education and innovation in 3-D virtual worlds. J Virtual Worlds Res 2:1–4

4.

Lee A, Berge ZL (2011) Second Life in healthcare education: virtual environment's potential to improve patient safety. Knowl Manag Aquat Ec 3(1):17–23

5.

Kidd LI, Knisley SJ, Morgan KI (2012) Effectiveness of a Second Life® simulation as a teaching strategy for undergraduate mental health nursing students. J Psychosoc Nurs Ment Health Serv 50(7):28–37

6.

Richardson A, Hazzard M, Challman SD, Morgenstein AM, Brueckner JK (2011) A "Second Life" for gross anatomy: applications for multiuser virtual environments in teaching the anatomical sciences. Anat Sci Educ 4(1):39–43

7.

Schwaab J, Kman N, Nagel R, Bahner D, Martín DR, Khandelwal S et al (2011) Using Second Life virtual simulation environment for mock oral emergency medicine examination. Acad Emerg Med 18:559–562

8.

Wiecha J, Heyden R, Sternthal E, Merialdi M (2010) Learning in a virtual world: experience with using Second Life for medical education. J Med Internet Res 12(1):e1

9.

Boulos MNK, Hetherington L, Wheeler S (2007) Second Life: an overview of the potential of 3-D virtual worlds in medical and health education. Health Inf Libr J 24:233–245

10.

Boulos MNK, Ramloll R, Jones R, Toth-Cohen S (2008) Web 3D for public, environmental and occupational health: early examples from second life. Int J Environ Res Public Health 5(4):290–317

11.

Beard L, Wilson K, Morra D, Keelan J (2009) A survey of health-related activities on second life. J Med Internet Res 11:e17

12.

Conradi E, Kavia S, Burden D, Rice A, Woodham L, Beaumont C et al (2009) Virtual patients in a virtual world: training paramedic students for practice. Med Teach 31:713–720

13.

Jarmon L, Traphagan T, Mayrath M, Trivedi A (2009) Virtual world teaching, experiential learning, and assessment: an interdisciplinary communication course in Second Life. Comput Educ 53:169–182

14.

Davis LE, Storjohann TD, Spiegel JJ, Beiber KM, Barletta JF (2013) High-fidelity simulation for advanced cardiac life support training. Am J Pharm Educ 77(59):1–7

15.

De Lucia A, Francese R, Passero I, Tortora G (2009) Development and evaluation of a virtual campus on Second Life: the case of SecondDMI. Comput Educ 52:220–233

16.

Olofsson AD, Lindberg JO (2012) Informed design of educational technologies in higher education: enhanced learning and teaching. Information Science Reference (eds)

17.

OECD (1999) Quality assurance and GLP, OECD series on principles of good laboratory practice and compliance monitoring, No. 4, OECD Publishing. doi:10.1787/9789264078598-en

18.

OECDiLibrary (Organization for Economic Co-operation and Development) Series on Principles of Good Laboratory Practice and Compliance Monitoring: http://www.oecd-ilibrary.org/environment/oecd-series-on-principles-of-good-laboratory-practice-and-compliance-monitoring_2077785x. Accessed 31 Jul 2013

19.

Youtube. Usalpharma (english): http://www.youtube.com/watch?v=KhJXSzyPamc. Accessed 22 Jul 2013

20.

Warburton S (2009) Second Life in higher education: assessing the potential for and the barriers to deploying virtual worlds in learning and teaching. Br J Educ Technol 40:414–426

21.

Loomis JMJ, Blascovich JJJ, Beall ACA (1999) Immersive virtual environment technology as a basic research tool in psychology. Behav Res Methods Instrum Comput 31(4):557–564

22.

Witmer BG, Singer MJ (1998) Measuring presence in virtual environments: a presence questionnaire. Presence Teleoper Virtual Environ 7(3):225–240

23.

Bell D (2009) Learning from Second Life. Br J Educ Technol 40:515–525

24.

Patel S, Vincent AH, Abel SR, Jacobs CM, Dunlop SR, Seibert M (2011) A virtual clean room to teach USP 797 regulations for intravenous medications. Am J Pharm Educ 75(7):1–7

25.

García-Peñalvo FJ, Cruz-Benito J, Maderuelo C, Perez Blanco JS, Martín-Suárez A (2014) Usalpharma: a cloud-based architecture to support quality assurance training processes in health area using virtual worlds. Sci World J 1–10, Article ID 659364. doi:10.1155/2014/659364

26.

Štajdohar-Pađen O (2008) Education and training of laboratory staff as a part of laboratory competence. Accred Qual Assur 13:267–270
Acknowledgments
The authors are particularly grateful for the assistance given by laboratory technician José Armenteros del Olmo in the construction of the tools, attention to the students and working with his avatar in the laboratory.
Conflict of interest
The authors stated that there are no conflict of interests regarding the publication of this article. There is no funding to support this study.
Electronic supplementary material
Below is the link to the electronic supplementary material.
Video 1 Screen recorder during the students' practical exercise in the Virtual Laboratory (USALPHARMA Lab) (MOV 6499 kb)
About this article
Cite this article
Maderuelo, C., Martin-Suarez, A., Pérez-Blanco, J.S. et al. Facility-based inspection training in a virtual 3D laboratory. Accred Qual Assur 19, 403–409 (2014) doi:10.1007/s00769-014-1065-4
Received:

Accepted:

Published:

Issue Date:
Keywords
GLP principles

Facility-based inspection

Virtual worlds

Virtual laboratory

Second Life

Pharmaceutical education