Zusammenfassung
In dem alpinen Talkessel der Laubau südlich von Ruhpolding ist in glazialen Schottern ein Grundwassersystem ausgebildet, das durch eine ausgeprägte Dynamik gekennzeichnet ist. Häufige, zeitlich und räumlich variierende Infiltrationsereignisse entlang von Fließgewässern in Verbindung mit differenzierten Grundwasserzuflüssen aus den angrenzenden verkarsteten bzw. geklüfteten Festgesteinen erzeugen mehrmals im Jahr Grundwasserspiegelschwankungen von über 10 Metern in dem ungespannten Kiesaquifer. Die hydrogeologische Situation bringt besondere Herausforderungen für die Grundwasserbewirtschaftung und die Bemessung der Trinkwasserschutzzonen in diesem Gebiet mit sich. Daher waren die hydrogeologisch-geohydraulischen Verhältnisse detailliert zu untersuchen und zu quantifizieren. Das komplexe hydrogeologische Modell ist durch ein instationäres kalibriertes Grundwasserströmungsmodell verifiziert, das die zeitliche und räumliche Variabilität der Gewässerinfiltration sowie der Randzuflüsse aus dem verkarsteten Festgestein berücksichtigt.
Abstract
In the alpine basin of the Laubau, located south of Ruhpolding, a groundwater system connected to glacial gravels is characterized by groundwater level dynamics. Infiltration processes along streams which vary frequently in time and space, in combination with differentiated groundwater inflows from adjacent karstified and fractured hard rock, lead to frequent shifts in the groundwater level by more than 10 meters in the unconfined gravel aquifer. The hydrogeological context holds challenges for groundwater management and the design of water protection zones in this area. Accordingly, the hydrogeological-geohydraulic characteristics had to be carefully examined and quantified. The complex hydrogeological conceptual model is confirmed by a transient calibrated groundwater flow model that considers temporal and spatial variability of the infiltration rates of the streams as well as inflows from the adjacent hard rock.
This is a preview of subscription content, log in to check access.
Access options
Buy single article
Instant access to the full article PDF.
US$ 39.95
Price includes VAT for USA
Subscribe to journal
Immediate online access to all issues from 2019. Subscription will auto renew annually.
US$ 99
This is the net price. Taxes to be calculated in checkout.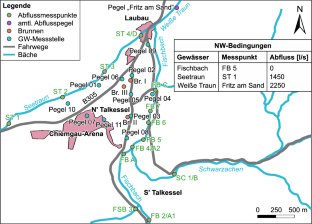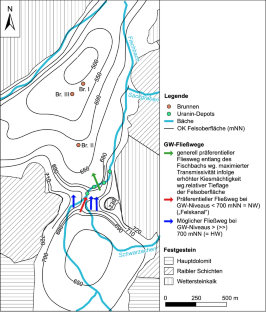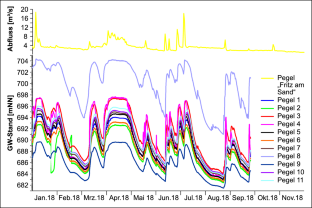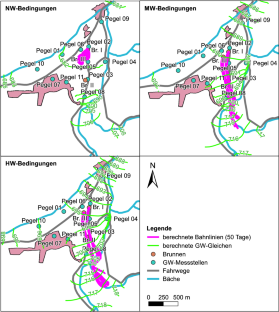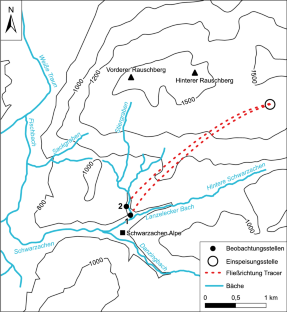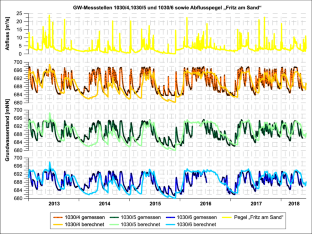 Literatur
Verwendete Literatur
Bayer. Geologisches Landesamt: Geologische Karten von Bayern mit Erläuterungen, M 1:25.000, Blätter Nr. 8241 Ruhpolding und 8242 Inzell (1973). 1970/1973

Deutschen Geologischen Gesellschaft (FH-DGG): Hydrogeologische Modelle – Ein Leitfaden mit Fallbeispielen. Schriftenreihe der Deutschen Geologischen Gesellschaft (FH-DGG), Bd. 24. (2002)

HG Büro für Hydrogeologie und Geohydraulik GmbH: Hydrogeologische Untersuchungen im Trinkwassergewinnungsgebiet Laubau – Erkundungen im Bereich des Biathlonzentrums und ergänzende Grundwassermodellrechnungen (4. Bericht); Lich, 02.01.1995 (1995)
Weiterführende Literatur
DVGW: Regelwerk Technische Regel – Arbeitsblatt W 107 – Aufbau und Anwendung numerischer Grundwassermodelle in Wassergewinnungsgebieten (2016)
Additional information
Hinweis des Verlags
Der Verlag bleibt in Hinblick auf geografische Zuordnungen und Gebietsbezeichnungen in veröffentlichten Karten und Institutsadressen neutral.
About this article
Cite this article
Hanauer, B., Möbus, C. Quantifizierung der Grundwassersströmung in einem alpinen Talkessel. Grundwasser - Zeitschrift der Fachsektion Hydrogeologie (2020). https://doi.org/10.1007/s00767-019-00443-w
Received:

Revised:

Accepted:

Published:
Keywords
Hydrogeological model

Transient numerical flow model

Alpine basin

Karst

Tracer test