Abstract
Thin-layer chromatography (TLC) hyphenated to bioassays is a modern tool used for discovery of drugs with diverse biological activities from plant extracts which justifies the continuous need for developing such methods. A new TLC–bioautography assay for detecting peroxidase enzyme inhibitors was developed and validated in this study. Peroxidases are related to pathogenesis of many diseases such as neurodegenerative disorders and rheumatoid arthritis and are considered as inflammatory markers. The developed TLC–bioautography method was based on reaction of peroxidase with hydrogen peroxide and the subsequent formation of blue color by the reaction between the released oxygen and benzidine. Compounds with peroxidase inhibition activity are observed as yellowish spots against a blue background. The developed method was validated according to the ICH guidelines. Quantitative estimation of peroxidase inhibitors was achieved by applying image analyses techniques, showing good linearity (R2 = 0.998), accuracy (% recovery 96.6–99.7%), intra-day precisions (RSD% = 0.95–2.35) and inter-day precision (RSD% = 1.80–3.20) as well as low LOD (0.28 μg/spot) and LOQ (0.85 μg/spot). The developed method was applied to different Juniperus species fractions as a demonstrative illustration. Overall, the method proved to be efficient, simple and rapid for identification of peroxidase inhibitors in complex matrices and can be applied in high-throughput screening of plant extracts.
This is a preview of subscription content, log in to check access.
Access options
Buy single article
Instant access to the full article PDF.
US$ 39.95
Price includes VAT for USA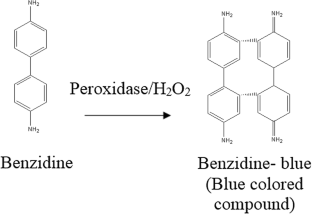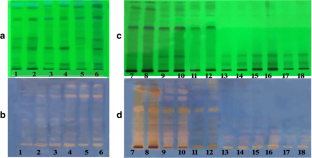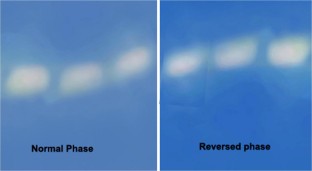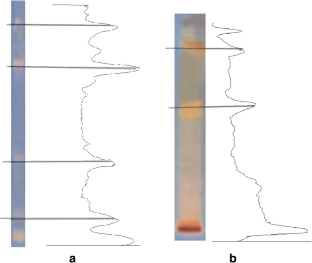 References
1.

Boka VI, Stathopoulou K, Benaki D, Gikas E, Aligiannis N, Mikros E et al (2017) Could multivariate statistics exploit HPTLC and NMR data to reveal bioactive compounds? The case of Paeonia mascula. Phytochem Lett 20:379–385

2.

Móricz ÁM, Ott PG, Häbe TT, Darcsi A, Böszörményi A, Alberti Á, Krüzselyi D, Csontos P, Béni S, Morlock GE (2016) Effect-directed discovery of bioactive compounds followed by highly targeted characterization, isolation and identification, exemplarily shown for solidago virgaurea. Anal Chem 88:8202–8209

3.

Abou-Donia AH, Darwish FA, Toaima SM, Shawky E, Takla SS (2014) A new approach to develop a standardized method for assessment of acetylcholinesterase inhibitory activity of different extracts using HPTLC and image analysis. J Chromatogr B 955-956:50–57

4.

Marston A, Kissling J, Hostettmann K (2002) A rapid TLC bioautographic method for the detection of acetylcholinesterase and butyrylcholinesterase inhibitors in plants. Phytochem Anal 13:51–54

5.

Kong Y, Li X, Zhang N, Miao Y, Feng H, Wu T, Cheng Z (2018) Improved bioautographic assay on TLC layers for qualitative and quantitative estimation of xanthine oxidase inhibitors and superoxide scavengers. J Pharm Biomed Anal 150:87–94

6.

Simões-Pires CA, Hmicha B, Marston A, Hostettmann K (2006) A TLC bioautographic method for the detection of α- and β-glucosidase inhibitors in plant extracts. Phytochem Anal 20:511–515

7.

Hassan AMS (2012) TLC bioautographic method for detecting lipase inhibitors. Phytochem Anal 23:405–407

8.

Hsu KD, Chan YH, Chen HJ, Lin SP, Cheng KC (2018) Tyrosinase-based TLC Autography for anti-melanogenic drug screening. Sci Rep 8:1–10

9.

Khan AA, Rahmani AH, Aldebasi YH, Aly SM (2014) Biochemical and Pathological Studies on Peroxidases –An Updated Review. Glob J Health Sci 6:87–98

10.

Khan A, Alsahli M, Rahmani A (2018) Myeloperoxidase as an Active Disease Biomarker: Recent Biochemical and Pathological Perspectives. Med Sci 6:61–21

11.

Petacci F, Freitas SS, Brunetti IL, Khalil NM (2010) Inhibition of peroxidase activity and scavenging of reactive oxygen species by astilbin isolated from Dimorphandra mollis (Fabaceae, Caesalpinioideae). Biol Res 43:63–74

12.

Prokopowicz Z, Marcinkiewicz J, Katz DR, Chain BM (2012) Neutrophil myeloperoxidase: soldier and statesman. Arch Immunol Ther Exp 60:43–54

13.

Schiller J, Fuchs B, Arnhold J, Arnold K (2003) Contribution of reactive oxygen species to cartilage degradation in rheumatic diseases: molecular pathways, diagnosis and potential therapeutic strategies. Curr Med Chem 10:2123–2145

14.

Fontana M, Costa M, Mosca L, Rosei MA (1997) A specific assay for discriminating between peroxidase and lipoxygenase activities. Biochem Mol Biol Int 42:163–168

15.

Molaei Rad A, Ghourchian H, Moosavi-Movahedi AA, Hong J, Nazari K (2007) Spectrophotometric assay for horseradish peroxidase activity based on pyrocatechol-aniline coupling hydrogen donor. Anal Biochem 36:38–43

16.

Dahmane D, Dob T, Chelghoum C (2015) Chemical composition of essential oils of Juniperus communis L obtained by hydrodistillation and microwave-assisted hydrodistillation. J Mater Environ Sci 6:1253–1259

17.

El-Sawi SA, Motawae HM, Ali AM (2007) Chemical composition, cytotoxic activity and antimicrobial activity of essential oils of leaves and berries of Juniperus phoenicea L. grown in Egypt. Afr J Tradit Complement Altern Med 4:417–426

18.

Seca AML, Silva AMS (2006) The chemical composition of the Juniperus genus (1970-2004), Phytom. Recent Prog Med Plant 16:401–522

19.

Wang T, Tian J, Li T, Li J (2016) Enzyme properties and thermal stability of horseradish peroxidase (HRP-DL), international conference on engineering and technology innovations, France, 227–231 Paris

20.

Food and Drug Administration (FDA) (2005) Validation of a analytical Procedures : text and methodology Q2(R1), ICH Guidlines 1–17

21.

van Duijn P (1955) An improved histochemical benzidine-blue peroxidase method and a note on the composition of the blue reaction product. Recl des Trav Chim des Pays-Bas 74:771–778

22.

Josephy PD, Eling TE, Mason RP (1983) Co-oxidation of benzidine by prostaglandin synthase and comparison with the action of horseradish peroxidase. J Biol Chem 258:5561–5569

23.

Josephy PD (1985) Oxidative activation of benzidine and its derivatives by peroxidases. Environ Health Perspect 64:171–178

24.

Olech M, Komsta Ł, Nowak R, Cieśla Ł, Waksmundzka-Hajnos M (2012) Investigation of antiradical activity of plant material by thin-layer chromatography with image processing. Food Chem 132:549–553
About this article
Cite this article
Darwish, R.S., Shawky, E., Hammoda, H.M. et al. A new thin-layer chromatography–direct bioautography assay for the qualitative and quantitative determination of peroxidase inhibitors in plant extracts. JPC-J Planar Chromat (2020). https://doi.org/10.1007/s00764-019-00004-0
Keywords
TLC–bioautography

Validation, antiperoxidase

High-throughput screening

Juniperus