Abstract
A straightforward and greener approach has been developed for the synthesis of novel aminomethylene bisphosphonates by one-pot reaction of diverse aryl/heteroaryl amines with dialkyl phosphite and triethyl orthoformate using CuO nanoparticles as catalyst under microwave irradiation and solvent-free conditions. This is an ecofriendly synthetic approach for swift access to a library of diverse aminomethylene bisphosphonates. All the synthesized new compounds were evaluated for their antimicrobial activity by disc diffusion method and antioxidant activity by DPPH, H2O2, and NO methods. The title compounds exhibited significant antioxidant and considerable antimicrobial activities.
Graphic abstract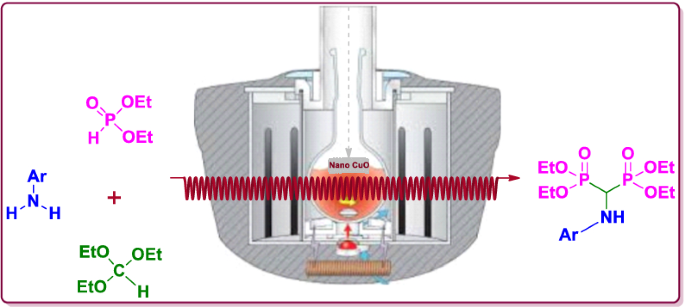 This is a preview of subscription content, log in to check access.
Access options
Buy single article
Instant access to the full article PDF.
US$ 39.95
Price includes VAT for USA
Subscribe to journal
Immediate online access to all issues from 2019. Subscription will auto renew annually.
US$ 199
This is the net price. Taxes to be calculated in checkout.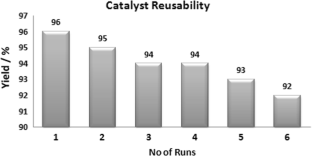 References
1.

Mucha A, Kafarski P, Berlicki L (2011) J Med Chem 54:5955

2.

Delfino RT, Ribeiro TS, Figueroa-Villar JD (2009) J Braz Chem Soc 20:407

3.

Wagner S, Rakotomalala M, Bykov Y, Walter O, Döring M (2012) Heteroat Chem 23:216

4.

Gundluru M, Sarva S, Kandula MKR, Netala VR, Tartte V, Cirandur SR (2016) Heteroat Chem 27:269

5.

Mohan G, Santhisudha S, Murali S, Reddy NB, Sravya G, Zyryanov GV, Reddy CS (2018) Res Chem Intermed 44:3475

6.

Demkowicz S, Rachon J, Daśkoa M, Kozak W (2016) RSC Adv 6:7101

7.

Abdou WM, Shaddy AA (2009) Arkivoc 2009(ix):143

8.

Nancollas GH, Tang R, Phipps RJ, Henneman Z, Gulde S, Wu W, Mangood A, Russell RGG, Ebetino FH (2006) Bone 38:617

9.

Breuil V, Euller-Ziegler L (2006) Jt Bone Spine 73:349

10.

Nagashima M, Takahashi H, Shimane K, Nagase Y, Wauke K (2012) Arthritis Res Ther 14:1

11.

Heymann D, Ory B, Gouin F, Green JR, Redini F (2004) Trends Mol Med 10:337

12.

Sanz-Rodrıguez CE, Concepcion JL, Pekerar S, Oldfield E, Urbina JA (2007) J Biol Chem 282:12377

13.

Ermer MA, Kottmann SC, Otten JE, Wittmer A, Poxleitner P, Pelz K (2018) J Oral Maxillofac Surg 76:553

14.

Metelytsia LO, Hodyna DM, Kobzar OL, Kovalishyn VV, Semenyuta IV (2019) Ukr Biochem J 4:78

15.

Li Z, Li C, Szajnman SH, Rodriguez JB, Moreno SNJ (2017) Antimicrob Agents Chemother 61:e02628

16.

Mohan G, Santhisudha S, Reddy NM, Sreekanth T, Murali S, Reddy CS (2017) Monatsh Chem 148:1843

17.

Sudileti M, Nagaripati S, Gundluru M, Chintha V, Aita S, Wudayagiri R, Chamarthi N, Cirandur SR (2019) ChemistrySelect 4:13006

18.

Kunda UM, Balam SK, Nemallapudi BR, Chereddy SS, Nayak SK, Cirandur SR (2012) Chem Pharm Bull 60:104

19.

Ramírez-Marroquín OA, Jiménez-Arellanes MA, Cortés-Pacheco A, Zambrano-Vásquez OR, López-Torres A (2019) Monatsh Chem 150:267

20.

Occhipinti A, Berlicki Ł, Giberti S, Dziedzioła G, Kafarski P, Forlani G (2010) Pest Manag Sci 66:51

21.

Gumienna-Kontecka E, Silvagni R, Lipinski R, Lecouvey M, Marincola FC, Crisponi G, Nurchi VM, Leroux Y, Kozlowski H (2002) Inorg Chimica Acta 339:111

22.

Gumienna-Kontecka E, Jezierska J, Lecouvey M, Leroux Y, Kozlowski H (2002) J Inorg Biochem 89:13

23.

Kontturi M, Vuokila-Laine E, Peräniemi S, Pakkanen TT, Vepsäläinen JJ, Ahlgrén M (2002) J Chem Soc Dalton Trans 2002:1969

24.

Green JR, Rogers MJ (2002) Drug Dev Res 55:210

25.

Nuti R (2014) Clin Cases Miner Bone Metab 11:208

26.

Li M, Xing XP, Zhang ZL, Liu JL, Zhang ZL, Liu DG, Xia WB, Meng XW (2010) J Bone Miner Metab 28:299

27.

Mallmin H, Ljunghall S, Larsson K, Lindh E (1991) Upsala J Med Sci 96:205

28.

Clézardin P, Massaia M (2010) Curr Pharm Des 16:3007

29.

Tanaka Y, Iwasaki M, Murata-Hirai K, Matsumoto K, Hayashi K, Okamura H, Sugie T, Minato N, Morita CT, Toi M (2017) Sci Rep 7:1

30.

Hoeres T, Smetak M, Pretscher D, Wilhelm M (2018) Front Immunol 9:1

31.

Abdou WM, Ganoub NAF, El-Khoshnieh YO (2003) Synlett 6:785

32.

Jansa P, Holy A, Dracinsky M, Baszczynski O, Cesnek Janeba MZ (2011) Green Chem 13:882

33.

Xu T, Zhang L, Cheng Z, Zhu X (2015) Polym Chem 6:2283

34.

Palacios F, Gil MJ, Marigorta EMD, Rodriguez M (2000) Tetrahedron 56:6319

35.

Yokomatsu T, Yoshida Y, Nakabayashi N, Shibuya S (1994) J Org Chem 59:7562

36.

Wu M, Chen R, Huang Y (2004) Synth Commun 34:1393

37.

Reddy SS, Kalla RMN, Varyambath A, Kim I (2019) Catal Commun 126:15

38.

Zhou K, Wang R, Xu B, Li Y (2006) Nanotechnology 17:3939

39.

Mishra S, Santra S, Hajna A (2015) RSC Adv 5:91326

40.

Vidyasagar CC, Naik YA, Venkatesh TG, Viswanatha R (2011) Powder Technol 214:337

41.

Moradi L, Ataei Z (2017) Green Chem Lett Rev 10:380

42.

Kantam ML, Laha S, Yadav J, Bhargava S (2008) Tetrahedron Lett 49:3083

43.

Karmakar B, Paul S, Banerji J (2011) Arkivoc 2011(ii):161

44.

Wang D, Astruc D (2017) Chem Soc Rev 46:816

45.

Ojha NK, Zyryanov GV, Majee A, Charushin VN, Chupakhin ON, Santra S (2017) Coord Chem Rev 353:1

46.

Santra S, Bagdi AK, Majee A, Hajra A (2013) RSC Adv 3:24931

47.

Kiran YB, Devendranath Reddy C, Gunasekar D, Suresh Reddy C, Leon A, Barbosa LC (2008) Eur J Med Chem 43:885

48.

Balakrishna A, Reddy MVN, Rao PV, Kumar MA, Kumar BS, Nayak SK, Reddy CS (2011) Eur J Med Chem 46:1798

49.

Prasad SS, Jayaprakash SH, Syamasundar C, Sreelakshmi P, Bhuvaneswar C, Bhaskar BV, Rajendra W, Nayak SK, Reddy CS (2015) Phosphorus. Sulfur Silicon Relat Elem 190:2040

50.

Balouiri M, Sadiki M, Ibnsouda SK (2016) J Pharm Anal 6:71

51.

Choi CW, Kim SC, Hwang SS, Choi BK, Ahn HJ, Lee MY, Park SH, Kim SK (2002) Plant Sci 163:1161

52.

Winston GW, Regoli F, Dugas AJ Jr, Fong JH, Blanchard KA (1998) Free Radic Biol Med 24:480

53.

Shirwaikar AN, Sirwaikar AR, Rajendrar K, Punitha ISR (2006) Biol Pharm Bull 29:1906
Acknowledgements
The authors are grateful to Prof. C. Devendranath Reddy, Department of Chemistry, S.V. University, Tirupati, for his helpful discussions. The author T. Sreekanth is thankful to the University Grants Commission (UGC), New Delhi, for providing financial support through Senior Research Fellowship (File no: 21/12/2014(ii)EU-V dated 29/06/15); one of the authors G. Mohan acknowledge DST-PURSE 2nd Phase Programme in S.V. University, Tirupati, funded by DST, New Delhi, India, for providing instrumental analysis and funding through Senior Research Fellowship (File no. 17118-UGC-III(3)/DST-PURSE-2nd phase/2017, dated 23/08/2018). One of the authors S. Santhisudha expresses her sincere thanks to DST, New Delhi, India, for providing financial support through Woman Scientist Scheme-A (WOS-A) (F. no.: SR/WOS-A/CS-104/2018, Dated: 27-09-2019).
Additional information
Publisher's Note
Springer Nature remains neutral with regard to jurisdictional claims in published maps and institutional affiliations.
Electronic supplementary material
Below is the link to the electronic supplementary material.
About this article
Cite this article
Tellamekala, S., Gundluru, M., Sudileti, M. et al. Green one-pot synthesis of N-bisphosphonates as antimicrobial and antioxidant agents. Monatsh Chem 151, 251–260 (2020). https://doi.org/10.1007/s00706-020-02551-3
Received:

Accepted:

Published:

Issue Date:
Keywords
Aminomethylene bisphosphonates

CuO nanoparticles

Solvent free

Microwave irradiation

Antimicrobial activity

Antioxidant activity