Abstract
Quinoline-2,4-diones reacted with 2-[bis(methylthio)methylene]malononitrile in DMF/Et3N to produce 3-(methylthio)-4-oxo-4,5-dihydrofuro[3,2-c]quinolone-2-carbonitriles and 3-(methylthio)-4-oxo-4,5-dihydrofuro[3,2-c]quinolone-2-carboxamides in state of 2-imino-substituted 4-(methylthio)-5,6-dihydro-2H-pyrano[3,2-c]quinolone-3-carbonitriles. The structures of all new products were proved using NMR, IR, and mass spectral data. The possible mechanism for the reaction is also discussed.
Graphic abstract

This is a preview of subscription content, log in to check access.
Access options
Buy single article
Instant access to the full article PDF.
US$ 39.95
Price includes VAT for USA
Subscribe to journal
Immediate online access to all issues from 2019. Subscription will auto renew annually.
US$ 199
This is the net price. Taxes to be calculated in checkout.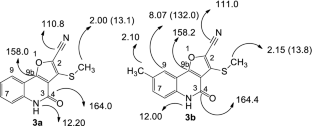 References
1.

Siddiqui N, Arshad MF, Khan SA (2009) Acta Pol Pharm 66:161

2.

Kamiński K, Obniska J, Dybała M (2008) Eur J Med Chem 43:53

3.

Obniska J, Kamiñski K, Tatarczyñska E (2006) Pharmcol Res 58:207

4.

Park HB, Jo NH, Hong JH, Chei JH, Cho J-H, Yoo KH, Oh C-H (2007) Arch Pharm (Weinheim) 340:530

5.

Fujio M, Hashimoto K, Katayama J, Numata A (2001) Preparation of spiro[azabicycloalkane-oxazolidinone] derivatives and analogs as α-7 nicotinic receptor agonists. Chem Abstr 135:318499 (WO 2001066546)

6.

Pawar MJ, Burungal AB, Karale BK (2009) Arkivoc xiii:97

7.

Nakao K, Ikeda K, Kurokawa T, Togashi Y, Umeuchi H, Honda T, Okano K, Mochizuki H (2008) Jpn J Psychopharmacol 28:75

8.

Chin Y-W, Salim AA, Su B-N, Mi Q, Chai H-B, Riswan S, Kardono LBS, Ruskandi A, Farnsworth NR, Swanson SM, Kinghorn AS (2008) J Nat Prod 71:390

9.

Schick H, Frank R, Reich M, Jostock R, Bahrenberg G, Theil F, Henkel B (2006) Preparation of 1-oxa-2,8-diazaspiro[4.5]dec-2-enes as vanilloid receptor 1 inhibitors. Chem Abstr 145:505458 (WO 2006122769)

10.

Hu H, Guo H, Li E, Liu X, Zhou Y, Che Y (2006) J Nat Prod 69:1672

11.

Sarma BK, Manna D, Minoura M, Mugesh G (2010) J Am Chem Soc 132:5364

12.

Lee D, Long SA, Murray JH, Adams JL, Nuttall ME, Nadeau DP, Kikly K, Winkler JD, Sung CM, Ryan MD, Levy MA, Keller PM, DeWolf WE Jr (2001) J Med Chem 7:2015

13.

Tan H, Wang G, Li J, Meng G, Liu Z, Dong M, Li Y, Ju D, Zhang Q (2015) Bioorg Med Chem 23:118

14.

Lu W, Wang Y, Wang L, Zhao F, Yang S, Xi C, Yang Y, Xu L, Chi X (2018) J Mol Struct 1155:623

15.

Aly AA, El-Sheref EM, Mourad AE, Bakheet MEM, Bräse S, Nieger M (2019) Chem Pap 73:27

16.

Aly AA, Ramadan M, El-Reedy AAM (2019) J Heterocycl Chem 56:642

17.

Aly AA, El-Sheref EM, Mourad AE, Brown AB, Bräse S, Bakheet MEM, Nieger M (2018) Monatsh Chem 149:635

18.

El-Sheref EM, Aly AA, Mourad AE, Brown AB, Bräse S, Bakheet MEM (2018) Chem Pap 72:181

19.

El-Sheref EM, Aly AA, Ameen MA, Brown AB (2019) Monatsh Chem 150:747

20.

Aly AA, El-Sheref EM, Bakheet MEM, Mourad AE, Bräse S, Ibrahim MAA, Nieger M, Garvalov BK, Dalby KN, Kaoud TS (2019) Bioorg Chem 82:290

21.

Aly AA, El-Sheref EM, Bakheet MEM, Mourad AE, Brown AB, Bräse B, Nieger M, Ibrahim MAA (2018) Bioorg Chem 81:700

22.

Basco LK, Mitaku S, Skaltsounis AL, Ravelomanantsoa N, Tillequin F, Koch M, Bras JL (1994) Antimic Agents Chemother 38:1169

23.

Cruickshank PA, Lee FT, Lupichuk A (1970) J Med Chem 13:1110

24.

Hanawa F, Fokialakis N, Skaltsounis AL (2004) Planta Med 70:531

25.

Marzano C, Chilin A, Baccichetti F, Bettio F, Guiotto A, Miolo G, Bordin F (2004) Eur J Med Chem 39:411

26.

Sakharov PA, Rostovskii NV, Khlebnikov AF, Panikorovskii TL, Novikov MS (2019) Org Lett 21:3615

27.

Calleja J, González-Pérez AB, de Lera ÁR, Álvarez R, Fañanás FJ, Rodríguez F (2014) Chem Sci 5:996

28.

Chung P-Y, Tang JC-O, Cheng C-H, Bian Z-X, Wong W-Y, Lam K-H (2016) Springer Plus 5:271

29.

Görlitzer K, Fabian J, Jones PG, Frohberg P, Drutkowski G (2002) Pharmazie 57:159

30.

Buckle DR, Cantello BCC, Smith H, Spicer BA (1975) J Med Chem 18:726

31.

El-Agrody AM, Abd-Rabboh HSM, Al-Ghamdi AM (2013) Med Chem Res 22:1339
Acknowledgements
The authors also thank DFG Foundation for providing Prof Ashraf A. Aly, 1-month fellowship enabling him to carry out the compounds analysis in Karlsruhe Institute of Technology, Karlsruhe, Germany in July–August 2019.
Additional information
Publisher's Note
Springer Nature remains neutral with regard to jurisdictional claims in published maps and institutional affiliations.
Electronic supplementary material
Below is the link to the electronic supplementary material.
About this article
Cite this article
Aly, A.A., Ishak, E.A., Shwaky, A.M. et al. Formation of furo[3,2-c]quinolone-2-carbonitriles and 4-oxo-4,5-dihydrofuro[3,2-c]quinolone-2-carboxamides from reaction of quinoline-2,4-diones with 2-[bis(methylthio)methylene]malononitrile. Monatsh Chem 151, 223–229 (2020). https://doi.org/10.1007/s00706-019-02541-0
Received:

Accepted:

Published:

Issue Date:
Keywords
Quinolin-2,4-diones

2-[Bis(methylthio)methylene]malononitrile

Furo[3,2-c]quinolone-3-carbonitriles

Mechanism