Abstract
Two 4-amino-1,2,4-triazoles and two 1,3,4-oxadiazoles are obtained in a common synthetic route including hydrogenation-hydrazidation of (Z)-methyl octadec-9-enoate to octadecanoic hydrazide under atmospheric air. Preservation of olefinic bond in heptadec-8-enyl group is achieved by carrying out hydrazidation reaction under the presence of an argon atmosphere. The disappearance of the olefinic bond is detected by physical data, IR, 1H, and13C NMR spectroscopy. New palladium complexes derived from 4-amino-5-heptadecyl-1,2,4-triazole-3-thiol and 5-heptadecyl-1,3,4-oxadiazole-2(3H)-thione are obtained and characterized by elemental analysis (solid state), IR, 1H, 13C NMR spectroscopy, XRD, and XPS. These resulting metallic entities are also identified in solution based in mass spectrometry (MS-ESI) experiments. Most compounds and their palladium(II) complexes are tested in vitro against Gram-positive, Gram-negative bacteria, and fungi, some of them showed variable activity.
Graphic abstract

This is a preview of subscription content, log in to check access.
Access options
Buy single article
Instant access to the full article PDF.
US$ 39.95
Price includes VAT for USA
Subscribe to journal
Immediate online access to all issues from 2019. Subscription will auto renew annually.
US$ 199
This is the net price. Taxes to be calculated in checkout.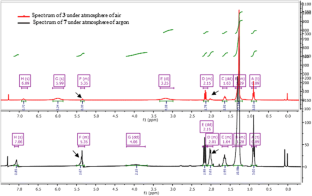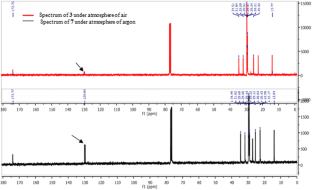 References
1.

Hastings CNM, Sheridan H, Pariante CM, Mondelli V (2017) Curr Topics Behav Neurosci 31:1

2.

Amiri M, Yousefnia S, Forootan FS, Peymani M, Ghaedi K, Esfahani MHN (2018) Gene 676:171

3.

Chung HS, Choi KM (2018) Curr Med Chem 25:2401

4.

Healy-Stoffel M, Levant B (2018) CNS Neurol Disord Drug Targets 17:216

5.

Chen JJ, Gong Y-H, He L (2018) J Drug Target 27:347

6.

Escribá PV, Barceló G, Martín ML, Terés S, Noguera MA, Busquets X, López D, Ibarguren, M, Soto JJ, Yus M (2013) Synthesis of 2-hydroxy fatty acid enantiomers useful in the diagnosis/prognosis of enzymatic regulated diseases. WO 2013050644A1, Apr 11, 2013; (2013) Chem Abstr 158:534469

7.

Connor WE, Neuringer M (1988) In: Karnovsky ML, Leaf A, Bolis LC (eds) Biological membranes: aberrations in membrane structure and function. Alan R. Liss Inc, New York, p 275

8.

Holman RT, Johnson SB, Hatch TF (1982) Am J Clin Nutr 35:617

9.

Hooper L, Martin N, Abdelhamid A, Davey Smith G (2015) Cochrane Database Syst Rev 2015:CD011737. https://doi.org/10.1002/14651858.cd011737

10.

Sacks FM, Lichtenstein AH, Wu JH, Appel LJ, Creager MA, Kris-Etherton PM, Miller M, Rimm EB, Rudel LL, Robinson JG, Stone NJ, Van Horn LV (2017) Circulation 136:e1

11.

Taieb Brahimi F, Belkadi M, Othman AA (2017) Arab J Chem 10:S1690

12.

Ilikti H, Benabdallah T, Bentayeb K, Othman AA, Derrich Z (2008) S Afr J Chem 61:31

13.

Yoon BK, Jackman JA, Valle-González ER, Cho N-J (2018) Int J Mol Sci 19:11

14.

Abdel-Mawgoud AM, Stephanopoulos G (2018) Synth Syst Biotechnol 3:3

15.

Janiš R, Klásek A, Krejčí J, Bobálová J (2005) Tenside Surfactants Deterg 42:44

16.

Chehrouri M, Othman AA, Jiménez-Cecilia S, Moreno-Cabrerizo C, Sansano JM (2019) Synth Commun 49:1301

17.

Menges N, Balci M (2014) Synlett 25:671

18.

Espinosa JC, Navalón S, Álvaro M, Dhakshinamoorthy A, García H (2018) ACS Sustain Chem Eng 6:5607

19.

Kuhnt K, Degen C, Jahreis G (2016) Crit Rev Food Sci Nutr 56:1964

20.

Pieber B, Teixeira-Martínez S, Cantillo D, Kappe O (2013) Angew Chem Int Ed 52:10241

21.

López-Lara IM, Soto MJ (2019) Fatty acid synthesis and regulations. In: Geiger O (ed) Biogensis of fatty acids, lipids and membranes. Springer, Berlin, p 391

22.

Nadeem S, Sirajuddin M, Ahmad S, Tirmizi SA, Ali MI, Hameed A (2016) Alex J Med 52:279

23.

He H, Zhao J, Wang B, Yue Y, Sheng G, Wang Q, Yu L, Hucand Z-T, Li X (2019) RSC Adv 9:21557

24.

Wojnicki M, Socha RP, Pędzich Z, Mech K, Tokarski T, Fitzner K (2018) J Chem Eng Data 63:702

25.

Grap SR, Kurbakova AP, Kuzmina LG, Efimenko IA, Ponticelli G (1995) Russ J Coord Chem 21:767

26.

Gouranourimi A, Ghassemzadeh M, Bahemmat S, Neumüller B, Tonner R (2015) Monatsh Chem 146:57

27.

Ghassemzadeh M, Bahemmat S, Mahmoodabadi M, Rezaii-Rad B, Monfared HH, Mottefakeri E, Neumüller B (2010) Polyhedron 29:3036

28.

Al-Jibori SA, Khaleel TF, Ahmed SAO, Al-Hayaly LJ, Merzweiler K, Wagner C, Hogarth G (2012) Polyhedron 41:20

29.

Qadir AM, Abdullah AI, Al-jibor SA, Al-Allaf TAK (2004) Polyhedron 23:2013

30.

Al-Hayaly LJ, Buttrus NH, Al-Allaf TAK (2002) Asian J Chem 14:1421

31.

The methodology employed was analogous to the described one for other similar structures: (a) Yildirim A, Öztürk S (2015) Phosphorus, Sulfur, Silicon Relat Elem 190:1535; (b) Ahmad A, Varshney H, Rauf A, Sherwani A, Owais M (2017) Arab J Chem 10:S3347

32.

Manneganti V, Bethala L, Anu PD, Rachapudi BNP, Singh A, Ummanni R (2018) Chem Eng J 346:271

33.

Jubie S, Bincy B, Begam AJ, Ashish W, Kalirajan R, Azam MA (2018) Indian J Chem Sec B Org Chem Incl Med Chem 57B:671

34.

Dzhumadullaeva SA, Baeshov AB (2019) Russ J Gen Chem 89:190

35.

Balouiri M, Sadiki M, Ibnsouda SK (2016) J Pharm Anal 6:71

36.

Casanova YV, Mayor AVR, Cardenas KJ, Castro ALL, Molina LCM, Medina RF, Monroy ZJR, Castañeda JEG (2019) RSC Adv 9:7239

37.

Mahesh M, Bheemaraju G, Manjunath G, Ramana PV (2016) Chem Sci Trans 5:207
Acknowledgements
Financial support was provided by the Spanish Ministerio de Ciencia e Innovación (MICINN) (projects CTQ2010-20387, and Consolider-Ingenio 2010, CSD2007-00006), the Spanish Ministerio de Economía y Competitividad (MINECO) (projects CTQ2013-43446-P, and CTQ2014-51912-REDC), FEDER, the Generalitat Valenciana (PROMETEO 2009/039 and PROMETEOII/2014/017) and the University of Alicante. One of us (M.C.) thanks USTO-MB for scientific leave.
Additional information
Publisher's Note
Springer Nature remains neutral with regard to jurisdictional claims in published maps and institutional affiliations.
Electronic supplementary material
Below is the link to the electronic supplementary material.
About this article
Cite this article
Chehrouri, M., Othman, A.A., Moreno-Cabrerizo, C. et al. Synthesis of 5-heptadecyl- and 5-heptadec-8-enyl substituted 4-amino-1,2,4-triazole-3-thiol and 1,3,4-oxadiazole-2-thione from (Z)-octadec-9-enoic acid: preparation of Palladium(II) complexes and evaluation of their antimicrobial activity. Monatsh Chem 151, 173–180 (2020). https://doi.org/10.1007/s00706-019-02540-1
Received:

Accepted:

Published:

Issue Date:
Keywords
(Z)-Octadec-9-enoic acid

1,3,4-Oxadiazole

Amino-1,2,4-triazole

Organometallic complexes

Antimicrobial activity