Abstract
In the present work, the [3+2] cycloaddition reaction of para-quinone methides and nitrile imines, experimentally researched by Su and coworkers, is studied using density functional theory. A good agreement is observed between the experimental finding and the results obtained from the Fukui functions and potential energy surface analyses. Also, we found that the reaction is relatively polar in character and takes place via a two-stage one-step mechanism.
Graphic abstract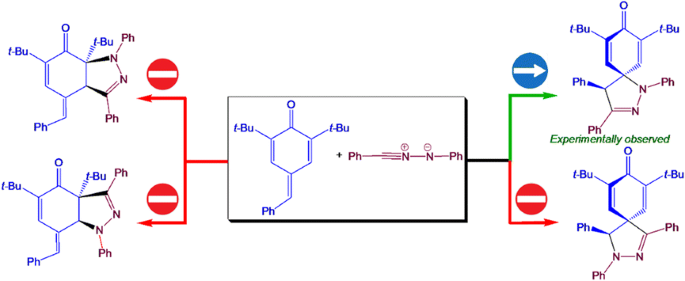 This is a preview of subscription content, log in to check access.
We're sorry, something doesn't seem to be working properly.
Please try refreshing the page. If that doesn't work, please contact support so we can address the problem.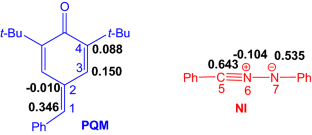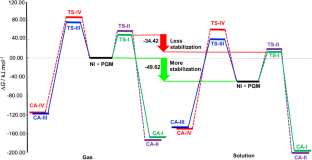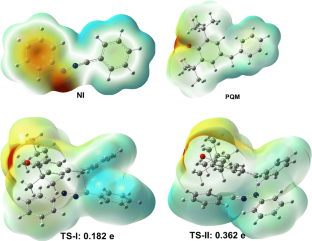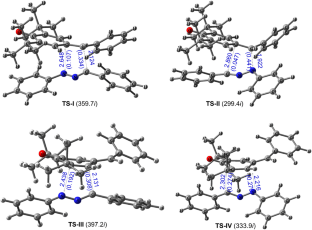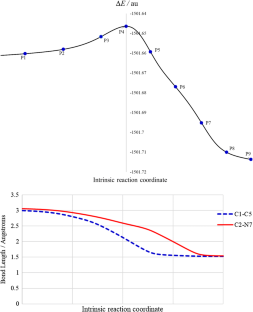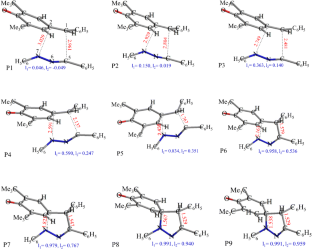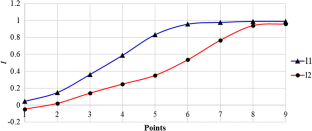 References
1.

Emamian S (2016) RSC Adv 6:75299

2.

Emamian S (2015) RSC Adv 5:72959

3.

Gothelf KV, Jorgensen KA (1998) Chem Rev 98:863

4.

Huisgen R (1984) 1,3-Dipolar cycloaddition chemistry. Wiley, New York

5.

Jasiński R (2015) RSC Adv 5:101045

6.

Soleymani M (2019) Theor Chem Acc 138:87

7.

Dewar MJS, Olivella S, Stewart JJP (1986) J Am Chem Soc 108:5771

8.

Houk KN, Gonzalez J, Li Y (1995) Acc Chem Res 28:81

9.

Berski S, Andres J, Silvi B, Domingo LR (2006) J Phys Chem A 110:13939

10.

Soleymani M (2018) Mon Chem 149:2183

11.

Emamian S (2017) ChemistrySelect 2:4193

12.

Emamian S (2017) J Fluor Chem 199:77

13.

Abdel-Latif NA, Sabry NM, Mohamed AM, Abdulla MM (2007) Mon Chem 138:715

14.

Bashir R, Ovais S, Yaseen S, Hamid H, Alam MS, Samim M, Singh S, Javed K (2011) Bioorg Med Chem Lett 21:4301

15.

Pandey AK, Sharma S, Pandey M, Alam MM, Shaquiquzzaman M, Akhter M (2016) Eur J Med Chem 123:476

16.

El-Sayed WA, Nassar IF, Abdel-Rahman AAH (2009) Mon Chem 140:365

17.

Abdel-Rahman AAH, Abdel-Megied AES, Hawata MAM, Kasem ER, Shabaan MT (2007) Mon Chem 138:889

18.

Amr AEGE, Maigali SS, Abdulla MM (2008) Mon Chem 139:1409

19.

Sapnakumari M, Narayana B, Gurubasavarajswamy PM, Sarojini BK (2015) Mon Chem 146:1015

20.

Varghese B, Al-Busafi SN, Suliman FO, Al-Kindy SMZ (2017) RSC Adv 7:46999

21.

Monteiro Â, Gonçalves LM, Santos MMM (2014) Eur J Med Chem 79:266

22.

Farghaly TA, Gomha SM, Dawood KM, Shaaban MR (2016) RSC Adv 6:17955

23.

Dadiboyena S, Valente EJ, Hamme AT II (2014) Tetrahedron Lett 55:2208

24.

Yu B, Yu D-Q, Liu H-M (2015) Eur J Med Chem 97:673

25.

Liu H, Jia H, Wang B, Xiao Y, Guo H (2017) Org Lett 19:4714

26.

Su Y, Zhao Y, Chang B, Zhao X, Zhang R, Liu X, Huang D, Wang KH, Huo C, Hu Y (2019) J Org Chem 84:6719

27.

Soleymani M, Kazemi Chegeni Z (2019) J Mol Graph Model 92:256

28.

Soleymani M (2019) J Struct Chem 60:524

29.

Soleymani M (2019) Struct Chem 30:1173

30.

Geerlings P, De Proft F, Langenaeker W (2003) Chem Rev 103:1793

31.

Ess DH, Jones GO, Houk KN (2006) Adv Synth Catal 348:2337

32.

Domingo LR, Aurell MJ, Perez P, Contreras R (2002) Tetrahedron 58:4417

33.

Jaramillo P, Domingo LR, Chamorro E, Pérez P (2008) J Mol Struct THEOCHEM 865:68

34.

Yang W, Mortier WJ (1986) J Am Chem Soc 108:5708

35.

Domingo LR, Aurell MJ, Pêrez P, Contreras R (2002) J Phys Chem A 106:6871

36.

Pêrez P, Domingo LR, Duque-Noreňa M, Chamorro E (2009) J Mol Struct THEOCHEM 895:86

37.

Eyring H (1935) J Chem Phys 3:107

38.

Domingo LR (2014) RSC Adv 4:32415

39.

Jasinski R, Wasik K, Mikulska M, Baranski A (2009) J Phys Org Chem 22:717

40.

Lee C, Yang W, Parr RG (1988) Phys Rev B Condens Matter Mater Phys 37:785

41.

Zhao Y, Truhlar DG (2006) J Phys Chem 110:5121

42.

Barone V, Cossi M (1998) J Phys Chem A 102:1995

43.

Gonzalez C, Schlegel HB (1989) J Chem Phys 90:2154

44.

Gonzalez C, Schlegel HB (1990) J Phys Chem 94:5523

45.

Reed AE, Curtiss LA, Weinhold F (1988) Chem Rev 88:899

46.

Carpenter JE, Weinhold FJ (1988) J Mol Struct 169:41

47.

Domingo LR, Perez P, Ortega DE (2013) J Org Chem 78:2462

48.

Parr RG, Pearson RG (1983) J Am Chem Soc 105:7512

49.

Parr RG, Yang W (1989) Density functional theory of atoms and molecules. Oxford University Press, New York

50.

Parr RG, Szentpaly LV, Liu S (1999) J Am Chem Soc 121:1922

51.

Frisch MJ, Trucks GW, Schlegel HB, Scuseria GE, Robb MA, Cheeseman JR, Scalmani G, Barone V, Mennucci B, Petersson GA, Nakatsuji H, Caricato M, Li X, Hratchian HP, Izmaylov AF, Bloino J, Zheng G, Sonnenberg JL, Hada M, Ehara M, Toyota K, Fukuda R, Hasegawa J, Ishida M, Nakajima T, Honda Y, Kitao O, Nakai H, Vreven T, Montgomery JA Jr, Peralta JE, Ogliaro F, Bearpark M, Heyd JJ, Brothers E, Kudin KN, Staroverov VN, Kobayashi R, Normand J, Raghavachari K, Rendell A, Burant JC, Iyengar SS, Tomasi J, Cossi M, Rega N, Millam JM, Klene M, Knox JE, Cross JB, Bakken V, Adamo C, Jaramillo J, Gomperts R, Stratmann RE, Yazyev O, Austin AJ, Cammi R, Pomelli C, Ochterski JW, Martin RL, Morokuma K, Zakrzewski VG, Voth GA, Salvador P, Dannenberg JJ, Dapprich S, Daniels AD, Farkas O, Foresman JB, Ortiz JV, Cioslowski J, Fox DJ (2010) Gaussian 09, Revision E.01. Gaussian, Inc, Wallingford
Acknowledgements
We are grateful to the Research Council and Office of Graduate Studies of the Ayatollah Boroujerdi University for their financial support.
Additional information
Publisher's Note
Springer Nature remains neutral with regard to jurisdictional claims in published maps and institutional affiliations.
Electronic supplementary material
Below is the link to the electronic supplementary material.
About this article
Cite this article
Soleymani, M., Jahanparvar, S. A computational study on the [3+2] cycloaddition of para-quinone methides with nitrile imines: a two-stage one-step mechanism. Monatsh Chem 151, 51–61 (2020). https://doi.org/10.1007/s00706-019-02531-2
Received:

Accepted:

Published:

Issue Date:
Keywords
Pyrazoline

Spiro compounds

Reaction mechanisms

Fukui functions

Electron transfer

DFT