Abstract
We have developed an efficient method for Cu-ACP-Am-Fe3O4@SiO2 catalyzed Chan–Lam coupling of phenylboronic acid with primary amine furnished secondary amines. The catalyst offered virtues like mild reaction conditions, magnetically separable, and reusable and exhibits excellent performance in terms of good product yield and high turnover number.
Graphic abstract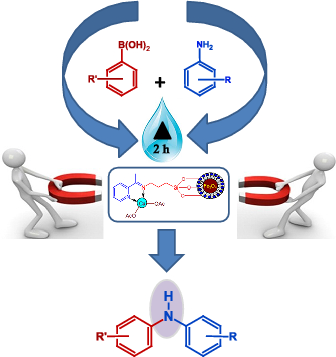 This is a preview of subscription content, log in to check access.
Access options
Buy single article
Instant unlimited access to the full article PDF.
US$ 39.95
Price includes VAT for USA
Subscribe to journal
Immediate online access to all issues from 2019. Subscription will auto renew annually.
US$ 199
This is the net price. Taxes to be calculated in checkout.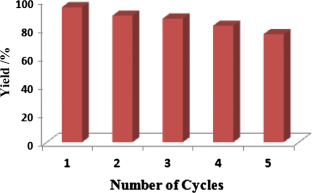 References
1.

Hartwig JF (2008) Nature 455:314

2.

Beccalli EM, Broggini G, Martinelli M, Sottocornola S (2007) Chem Rev 107:5318

3.

Monnier F, Taillefer MM (2009) Angew Chem Int Ed 48:6954

4.

Lam PYS, Clark CG, Saubern S, Adams J, Winters MP, Chan DMT, Combs A (1998) Tetrahedron Lett 39:2941

5.

Vantourout JC, Law RP, Isidro-Llobet A, Atkinson SJ, Watson AJB (2016) J Org Chem 81:3942

6.

Onaka T, Umemoto H, Miki Y, Nakamura A, Maegawa T (2014) J Org Chem 79:6703

7.

Huang F, Quach TD, Batey RA (2013) Org Lett 15:3150

8.

Zhang J, Jia RP, Wang DH (2016) Tetrahedron Lett 57:3604

9.

Reddy AS, Reddy KR, Rao DN, Jaladanki CK, Bharatam PV, Lam PYS, Das P (2017) Org Biomol Chem 15:801

10.

Vantourout JC, Miras HN, Isidro-Llobet A, Sproules S, Watson AJB (2017) J Am Chem Soc 139:4769

11.

Baruah J, Gogoi K, Dewan A, Borah G, Bora U (2017) Bull Korean Chem Soc 38:1203

12.

Li B, Li M, Yao C, Shi Y, Ye D, Wu J, Zhao D (2013) J Mater Chem A 1:6742

13.

Moghaddam FM, Pourkaveh R, Gholamtajari M (2018) Appl Organomet Chem 32:4568

14.

Hu A, Yee GT, Lin WJ (2005) Am Chem Soc 127:12486

15.

Abu-Reziq R, Alper H, Wang D, Post ML (2006) J Am Chem Soc 128:5279

16.

Dalaigh CO, Corr SA, Gun'ko Y, Connon SJ (2007) Angew Chem Int Ed 46:4329

17.

Bohara RA, Thorat ND, Pawar SH (2016) RSC Adv 6:43989

18.

Cano R, Yus M, Ramon DJ (2012) Tetrahedron 68:1393

19.

Vibhute SP, Mhaldar PM, Gaikwad DS, Shejawal RV, Pore DM (2018) Tetrahedron Lett 59:3652

20.

Mane MM, Korade SN, Chinchkar SM, Pore DM (2018) Org Prep Proced Int 50:454

21.

Chan DMT, Monaco KL, Wang RP, Winters MP (1998) Tetrahedron Lett 39:2933

22.

Bekolo H (2007) J Can Chem 85:42

23.

Shieh FK, Wang SC, Yen C, Wu C, Dutta S, Chou LY, Morabito JV, Hu P, Hsu MH, Wu KCW, Tsung CK (2015) J Am Chem Soc 137:4276

24.

Chen S, Huang H, Liu X, Shen J, Jiang H, Liu H (2008) Comb Chem 10:358

25.

Singh BK, Appukkuttan P, Claerhout S, Parmar VS, Van der Eycken E (2006) Org Lett 8:1863

26.

Wentzel MT, Hewgley JB, Kamble RM, Wall PD, Kozlowski MC (2009) Adv Synth Catal 351:931

27.

Moon SY, Nam J, Rathwell K, Kim WS (2014) Org Lett 16:338

28.

Duan X, Liu N, Liu K, Song Y, Wang J, Mao X, Xu W, Yang S, Li H, Ma J (2018) Tetrahedron Lett 59:4187

29.

Sharma H, Mahajan H, Jamwal B, Paul S (2018) Catal Commun 107:68

30.

Dutta MM, Phukan P (2018) Catal Commun 109:38

31.

Khosravi A, Mokhtari J, Naimi-Jamal MR, Tahmasebi S, Panahi L (2017) RSC Adv 7:46022

32.

Han Y, Zhang M, Zhang YQ, Zhang ZH (2018) Green Chem 20:4891
Acknowledgements
One of the authors, DMP, is grateful to acknowledge Shivaji University, Kolhapur for financial assistance through Research Strengthening Scheme [SU/C&U.D.Section/89/1386].
Additional information
Publisher's Note
Springer Nature remains neutral with regard to jurisdictional claims in published maps and institutional affiliations.
Electronic supplementary material
Below is the link to the electronic supplementary material.
About this article
Cite this article
Vibhute, S.P., Mhaldar, P.M., Gaikwad, D.S. et al. Cu-ACP-Am-Fe3O4@SiO2: an efficient and recyclable heterogeneous catalyst for the Chan–Lam coupling reaction of boronic acids and amines. Monatsh Chem 151, 87–92 (2020). https://doi.org/10.1007/s00706-019-02529-w
Received:

Accepted:

Published:

Issue Date:
Keywords
Magnetic nanoparticles

Chan–Lam coupling

Heterogeneous catalyst

Reusability