Abstract
Dengue virus (DENV) is the most common mosquito-borne viral disease. The World Health Organization estimates that 400 million new cases of dengue fever occur every year. Approximately 500,000 individuals develop severe and life-threatening complications from dengue fever, such as dengue shock syndrome (DSS) and dengue hemorrhagic fever (DHF), which cause 22,000 deaths yearly. Currently, there are no specific licensed therapeutics to treat DENV illness. We have previously shown that the MEK/ERK inhibitor U0126 inhibits the replication of the flavivirus yellow fever virus. In this study, we demonstrate that the MEK/ERK inhibitor AZD6244 has potent antiviral efficacy in vitro against DENV-2, DENV-3, and Saint Louis encephalitis virus (SLEV). We also show that it is able to protect AG129 mice from a lethal challenge with DENV-2 (D2S20). The molecule is currently undergoing phase III clinical trials for the treatment of non-small-cell lung cancer. The effect of AZD6244 on the DENV life cycle was attributed to a blockade of morphogenesis. Treatment of AG129 mice twice daily with oral doses of AZD6244 (100 mg/kg/day) prevented the animals from contracting dengue hemorrhagic fever (DHF)-like lethal disease upon intravenous infection with 1 × 105 PFU of D2S20. The effectiveness of AZD6244 was observed even when the treatment of infected animals was initiated 1-2 days postinfection. This was also followed by a reduction in viral copy number in both the serum and the spleen. There was also an increase in IL-1β and TNF-α levels in mice that were infected with D2S20 and treated with AZD6244 in comparison to infected mice that were treated with the vehicle only. These data demonstrate the potential of AZD6244 as a new therapeutic agent to treat DENV infection and possibly other flavivirus diseases.
This is a preview of subscription content, log in to check access.
Access options
Buy single article
Instant unlimited access to the full article PDF.
US$ 39.95
Price includes VAT for USA
Subscribe to journal
Immediate online access to all issues from 2019. Subscription will auto renew annually.
US$ 199
This is the net price. Taxes to be calculated in checkout.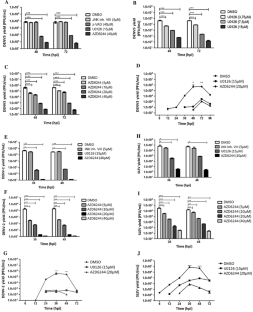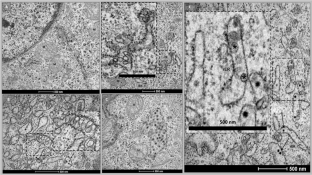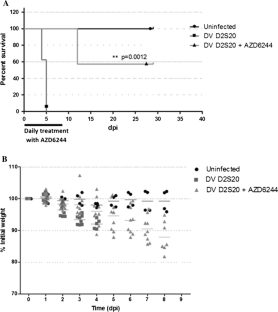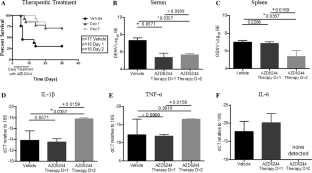 References
1.

Gardner CL, Ryman KD (2010) Yellow fever: a reemerging threat. Clin Lab Med 30:237–260

2.

Lindenbach BD, Murray CL, Thiel HJ, Rice CM (2013) Flaviviridae: the viruses and their replication. In: Knipe D M, Howley PM (eds) Fields virology. Lippincott Williams & Wilkins, Philadelphia, pp 712–746

3.

Fernandez-Garcia MD, Mazzon M, Jacobs M, Amara A (2009) Pathogenesis of flavivirus infections: using and abusing the host cell. Cell Host Microbe 5:318–328

4.

Boldescu V, Behnam MAM, Vasilakis N, Klein CD (2017) Broad-spectrum agents for flaviviral infections: dengue, Zika and beyond. Nat Rev Drug Discov 16:565–586

5.

Whitehorn J, Simmon CP (2011) The pathogenesis of dengue. Vaccine 29:7221–7228

6.

Guzman MG, Harris E (2015) Dengue. Lancet 385:453–465

7.

Bhatt S, Gething PW, Brady OJ, Messina JP, Farlow AW, Moyes CL et al (2013) The global distribution and burden of dengue. Nature 496:504–507

8.

Halstead SB, Cohen SN (2015) Dengue hemorrhagic fever at 60 years: early evolution of concepts of causation and treatment. Microbiol Mol Biol Rev 79:281–291

9.

Poh MK, Yip A, Zhang S, Smit JM, Wilschut J, Priestle JP et al (2009) A small molecule fusion inhibitor of dengue virus. Antivir Res 84:260–266

10.

Nitsche C, Behnam MA, Steuer C, Klein CD (2012) Retro peptide-hybrids as selective inhibitors of the Dengue virus NS2B-NS3 protease. Antivir Res 94:72–79

11.

Lim SP, Sonntag LS, Noble C, Nilar SH, Ng RH, Zou G et al (2011) Small molecule inhibitors that selectively block dengue virus methyltransferase. J Biol Chem 286:6233–6240

12.

Mastrangelo E, Pezzullo M, De Burghgraeve T, Kaptein S, Pastorino B, Dallmeier K et al (2012) Ivermectin is a potent inhibitor of flavivirus replication specifically targeting NS3 helicase activity: new prospects for an old drug. J Antimicrob Chemother 67:1884–1894

13.

Noble CG, Lim SP, Chen YL, Liew CW, Yap L, Lescar J et al (2013) Conformational flexibility of the Dengue virus RNA-dependent RNA polymerase revealed by a complex with an inhibitor. J Virol 87:5291–5295

14.

Rathore AP, Paradkar PN, Watanabe S, Tan KH, Sung C, Connolly JE et al (2011) Celgosivir treatment misfolds dengue virus NS1 protein, induces cellular pro-survival genes and protects against lethal challenge mouse model. Antivir Res 92:453–460

15.

Martinez-Gutierrez M, Correa-Londoño LA, Castellanos JE, Gallego-Gómez JC, Osorio JE (2014) Lovastatin delays infection and increases survival rates in AG129 mice infected with dengue virus serotype 2. PLoS One 9:e87412

16.

De Clercq E (2013) Antivirals: past, present and future. Biochem Pharmacol 85:727–744

17.

Huynh H, Soo KC, Chow PK, Tran E (2007) Targeted inhibition of the extracellular signal-regulated kinase kinase pathway with AZD6244 (ARRY-142886) in the treatment of hepatocellular carcinoma. Mol Cancer Ther 6:138–146

18.

Figueiredo LB, Sakamoto T, Coelho LFL, Rocha ESO, Cota MMG, Ferreira GP et al (2014) Dengue virus 2 American-Asian genotype identified during the 2006/2007 outbreak in Piauí, Brazil reveals a Caribbean route of introduction and dissemination of dengue virus in Brazil. PLoS One 9:e104516

19.

Figueiredo LB, Cecílio AB, Ferreira GP, Drumond BP, de Oliveira J, Bonjardim CA et al (2008) Dengue virus 3 genotype 1 associated with dengue fever and dengue hemorrhagic fever, Brazil. Emerg Infect Dis 14:314–316

20.

Vedovello D, Drumond BP, Marques R, Ullmann LS, Fávaro EA, Terzian AC et al (2015) First genome sequence of St. Louis encephalitis virus (SLEV) isolated from a human in Brazil. Arch Virol 160:1189–1195

21.

Pereira AC, Leite FG, Brasil BS, Soares-Martins JA, Torres AA, Pimenta PF et al (2012) A vaccinia virus-driven interplay between the MKK4/7-JNK1/2 pathway and cytoskeleton reorganization. J Virol 86:172–184

22.

Makhluf H, Buck MD, King K, Perry ST, Henn MR, Shresta S (2013) Tracking the evolution of dengue virus strains D2S10 and D2S20 by 454 pyrosequencing. PLoS One 8:e54220

23.

Gurukumar KR, Priyadarshini D, Patil JA, Bhagat A, Singh A, Shah PS et al (2009) Development of real time PCR for detection and quantitation of Dengue viruses. Virol J 6:10

24.

Pinto AK, Brien JD, Lam CY, Johnson S, Chiang C, Hiscott J et al (2015) Defining new therapeutics using a more immunocompetent mouse model of antibody-enhanced Dengue virus infection. MBio 6:e01316-15

25.

Yeh TC, Marsh V, Bernat BA, Ballard J, Colwell H, Evans RJ, Parry J, Smith D, Brandhuber BJ, Gross S, Marlow A, Hurley B, Lyssikatos J, Lee PA, Winkler JD, Koch K, Wallace E (2007) Biological characterization of ARRY-142886 (AZD6244), a potent, highly selective mitogen-activated protein kinase kinase 1/2 inhibitor. Clin Cancer Res 13(5):1576–1583

26.

Welsch S, Miller S, Romero-Brey I, Merz A, Bleck CK, Walther P et al (2009) Composition and three-dimensional architecture of the dengue virus replication and assembly sites. Cell Host Microbe 5:365–375

27.

Chatel-Chaix L, Bartenschlager R (2014) Dengue virus and Hepatitis C vírus induced replication and assembly compartments: the enemy inside—caught in the web. J Virol 88:5907–5911

28.

Shresta S, Sharar KL, Prigozhin DM, Beatty PR, Harris E (2006) Murine model for dengue virus-induced lethal disease with increased vascular permeability. J. Virol 80:10208–10217

29.

Neufeldt CJ, Cortese M, Acosta EG, Bartenschlager R (2018) Rewiring cellular networks by members of the Flaviviridae family. Nat Rev Microbiol 16:125–142

30.

Albarnaz JD, de Oliveira LC, Torres AA, Palhares RM, Casteluber MC, Rodrigues CM et al (2014) MEK/ERK activation plays a decisive role in yellow fever virus replication: implication as an antiviral therapeutic target. Antivir Res 111:82–92

31.

Zhao Y, Adjei AA (2014) The clinical development of MEK inhibitors. Nat Rev Clin Oncol 11:385–400

32.

Liu W, Yang R, Payne AS, Schowalter RM, Spurgeon ME, Lambert PF et al (2016) Identifying the target cells and mechanisms of merkel cell polyoma virus infection. Cell Host Microbe 19:775–787

33.

Haasbach E, Hartmayer C, Planz O (2013) Combination of MEK inhibitors and oseltamivir leads to synergistic antiviral effects after influenza A virus infection in vitro. Antivir Res 98:319–324

34.

Dudek SE, Schreiber A, Ehrhardt C, Planz O, Ludwig S (2018) The clinically approved MEK inhibitor Trametinib efficiently blocks influenza A virus propagation and cytokine expression. Antivir Res 157:80–92

35.

Stein DA, Huang CY, Silengo S, Amantana A, Crumley S, Blouch RE et al (2008) Treatment of AG129 mice with antisense morpholino oligomers increases survival time following challenge with dengue 2 virus. J Antimicrob Chemother 62:555–565

36.

Fraser JE, Watanabe S, Wang C, Chan WK, Maher B, Lopez-Denman A et al (2014) A nuclear transport inhibitor that modulates the unfolded protein response and provides in vivo protection against lethal dengue virus infection. J Infect Dis 210:1780–1791

37.

Carocci M, Hinshaw SM, Rodgers MA, Villareal VA, Burri DJ, Pilankatta R et al (2015) The bioactive lipid 4hydroxyphenyl retinamide inhibits flavivirus replication. Antimicrob Agents Chemother 59:85–95
Acknowledgements
The authors are grateful to Dr. Michael S. Diamond, Washington University, St. Louis, MO, USA, for providing us with the AG129 mice. We also thank Dr. Erna G. Kroon from Laboratório de Virus – UFMG for the kind gift of DENV-2 and -3 viruses, and Dr. Maurício L. Nogueira from FAMERP – SJRP - SP, Brazil, for the gift of SLEV. This work was supported by grants awarded to CAB from FAPEMIG - CBB – APQ-01670-11; CBB – AUC-00071-15; CAPES – AUXPE/PROEX/2015; CNPq - 476288/2012-6; FAPEMIG/PPSUS – CBB – APQ -04178-17.
Funding
FAPEMIG - CBB – APQ-01670-11; CBB – AUC-00071-15; CAPES – AUXPE/PROEX/2015; CNPq - 476288/2012-6; FAPEMIG/PPSUS – CBB – APQ -04178-17.
Ethics declarations
Conflict of interest
The authors declare no conflict of interest.
Ethical approval
Animal Care and Use Committee at Saint Louis University (Animal Welfare Assurance: D16-00141, IACUC protocol: 2667).
Additional information
Publisher's Note
Springer Nature remains neutral with regard to jurisdictional claims in published maps and institutional affiliations.
In memoriam: Mark R. Buller.
Handling Editor: Zhenhai Chen.
Electronic supplementary material
Below is the link to the electronic supplementary material.
About this article
Cite this article
de Oliveira, L.C., Ribeiro, A.M., Albarnaz, J.D. et al. The small molecule AZD6244 inhibits dengue virus replication in vitro and protects against lethal challenge in a mouse model. Arch Virol (2020). https://doi.org/10.1007/s00705-020-04524-7
Received:

Accepted:

Published: