Abstract
Two begomovirus-associated alphasatellites were isolated from okra and a malvastrum plant (Malvaceae) in Cameroon. The complete nucleotide sequences of the okra- and malvastrum-infecting alphasatellites were 1375 and 1416–1418 nucleotides, respectively, and both exhibited features characteristic of other alphasatellites. Based on pairwise sequence comparisons, these previously undescribed alphasatellites are members of distinct species in the genera Colecusatellite and Gosmusatellite and have been tentatively named "pepper yellow vein Mali alphasatellite" and "cotton leaf curl Gezira alphasatellite3", respectively. Taken together with previous studies, alphasatellites endemic to Cameroon appear to be more diverse and infect plants of many more species and families than currently recognized.
This is a preview of subscription content, log in to check access.
Access options
Buy single article
Instant access to the full article PDF.
US$ 39.95
Price includes VAT for USA
Subscribe to journal
Immediate online access to all issues from 2019. Subscription will auto renew annually.
US$ 199
This is the net price. Taxes to be calculated in checkout.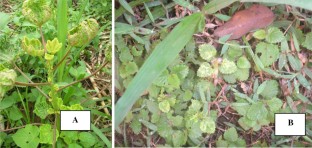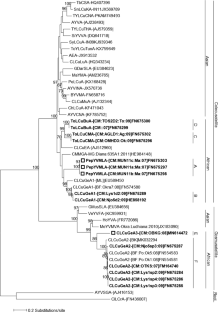 References
1.

Briddon RW, Bull SE, Mansoor S, Amin I, Markham PG (2002) Universal primers for the PCR-mediated amplification of DNA β; a molecule associated with some monopartite begomoviruses. Mol Biotechnol 20:315–318

2.

Briddon RW, Martin DP, Roumagnac P, Navas-Castillo J, Fiallo-Olive E, Lett JM, Zerbini FM, Varsani A (2018) Alphasatellitidae: a new family with two subfamilies for the classification of geminivirus- and nanovirus-associated alphasatellites. Arch Virol 163:2587–2600. https://doi.org/10.1007/s00705-018-3854-2

3.

Brown JK (2010) Bemisia: phylogenetic biology of the Bemisia tabaci sibling species group. In: Stansly PA, Naranjo SE (eds) Bemisia: bionomics and management of a global pest. Springer, Netherlands, p 350

4.

Brown JK, Zerbini FM, Navas-Castillo J, Moriones E, Ramos-Sobrinho R, Silva JCF, Fiallo-Olive E, Briddon RW, Hernandez-Zepeda C, Idris AM, Malathi VG, Martin DP, Rivera-Bustamante R, Ueda S, Varsani A (2015) Revision of Begomovirus taxonomy based on pairwise sequence comparisons. Arch Virol 160:1593–1619

5.

Bull SE, Briddon RW, Markham PG (2003) Universal primers for the PCR-mediated amplification of DNA 1: A satellite-like molecule associated with begomovirus DNA-β complexes. Mol Biotechnol 23:83–86

6.

Edgar RC (2004) MUSCLE: multiple sequence alignment with high accuracy and high throughput. Nucleic Acids Res 32:1792–1797

7.

Fiallo-Olivé E, Hamed A, Navas-Castillo J, Moriones E (2013) Cotton leaf curl Gezira alphasatellite associated with tomato leaf curl Sudan virus approaches the expected upper size limit in the evolution of alphasatellites. Virus Res 178:506–510

8.

Idris AM, Shahid MS, Briddon RW, Khan AJ, Zhu JK, Brown JK (2011) An unusual alphasatellite associated with monopartite begomoviruses attenuates symptoms and reduces betasatellite accumulation. J Gen Virol 92:706–717

9.

Inoue-Nagata AK, Albuquerque LC, Rocha WB, Nagata T (2004) A simple method for cloning the complete begomovirus genome using the bacteriophage phi29 DNA polymerase. J Virol Methods 116:209–211

10.

Leke WN, Kvarnheden A, Ngane EB, Titanji VPK, Brown JK (2011) Molecular characterization of a new begomovirus and divergent alphasatellite from tomato in Cameroon. Arch Virol 156:925–928

11.

Leke WN, Brown JK, Ligthart ME, Sattar N, Njualem DK, Kvarnheden A (2012) Ageratum conyzoides: a host to a unique begomovirus disease complex in Cameroon. Virus Res 163:229–237

12.

Leke WN, Sattar MN, Ngane EB, Ngeve JM, Kvarnheden A, Brown JK (2013) Molecular characterization of begomoviruses and DNA satellites associated with okra leaf curl disease in Cameroon. Virus Res 174:116–125

13.

Mar TB, Mendes IR, Lau D, Fiallo-Olivé E, Navas-Castillo I, Alves MS, Murilo-Zerbini F (2017) Interaction between the New World begomovirus Euphorbia yellow mosaic virus and its associated alphasatellite: effects on infection and transmission by the whitefly Bemisia tabaci. J Gen Virol 98:1552–1562

14.

Martin DP, Murrell B, Golden M, Khoosal A, Muhire B (2015) RDP4: detection and analysis of recombination patterns in virus genomes. Virus Evol 1:vev003

15.

Muhire B, Martin DP, Brown JK, Navas-Castillo JEM, Zerbini FM, Rivera-Bustamante R, Malathi VG, Briddon RW, Varsani A (2013) A genome-wide pairwise-identity-based proposal for the classification of viruses in the genus Mastrevirus (family Geminiviridae). Arch Virol 158:1411–1424

16.

Ndunguru J, Tayor NJ, Yadav J, Aly H, Legg JP, Aveling T, Thompson G, Fauquet CM (2005) Application of FTA technology for sampling, recovery and molecular characterization of viral pathogens and virus-derived transgenes from plant tissues. Virol J 2:45

17.

Owor BE, Shepherd DN, Taylor NJ, Edema R, Monjane AL, Thomson JA, Martin DP, Varsani A (2007) Successful application of FTA® Classic Card technology and use of bacteriophage Φ29 DNA polymerase for large-scale field sampling and cloning of complete maize streak virus genomes. J Virol Methods 140:100–105

18.

Rojas MR, Macedo MA, Maliano MR, Aguilar MS, Souza JO, Briddon RW, Kenyon L, Bustamante RFR, Zerbini FM, Adkins S, Legg JP, Kvarnheden A, Wintermantel WM, Sudarshana MR, Peterschmitt M, Lapidot M, Martin DP, Moriones E, Inoue-Nagata AK, Gilbertson RL (2018) World management of geminiviruses. Annu Rev Phytopathol 56:637–677

19.

Tamura K, Glen S, Daniel P, Alan F, Sudhir K (2013) MEGA6: molecular evolutionary genetics analysis version 6.0. Mol Biol Evol 30:2725–2729

20.

Tiendrébéogo F, Lefeuvre P, Hoareau M, Villemot J, Konate G, Traoré AS, Barro N, Traoré VS, Reynaud B, Traoré O, Lett JM (2010) Molecular diversity of Cotton leaf curl Gezira virus isolates and their satellite DNAs associated with okra leaf curl disease in Burkina Faso. Virol J 7:48

21.

Wyatt SD, Brown JK (1996) Detection of subgroup III geminivirus isolates in leaf extracts by degenerate primers and polymerase chain reaction. Phytopathology 86:1288–1293
Acknowledgements
This research was supported by the following organizations or foundations to which we express our sincere gratitude: a grant to WN Leke from the International Foundation of Science; Rothamsted International-African Fellows program; The Swedish Institute; USAID IPM-CRSP Insect-transmitted viruses-Global Theme Project, and The Nilsson-Ehle Foundation, Sweden.
Ethics declarations
Conflict of interest
The authors, Walter N. Leke, Anders Kvarnheden, Sofia Avelar, and Judith K. Brown declare no conflict of interest.
Ethical approval
This research did not involve studies with human participants or other animals.
Additional information
Publisher's Note
Springer Nature remains neutral with regard to jurisdictional claims in published maps and institutional affiliations.
Handling Editor: Elvira Fiallo-Olivé.
About this article
Cite this article
Leke, W.N., Kvarnheden, A., Avelar, S. et al. Molecular characterization of two previously undescribed begomovirus-associated alphasatellite molecules infecting malvaceous species in Cameroon. Arch Virol 165, 775–779 (2020). https://doi.org/10.1007/s00705-020-04523-8
Received:

Accepted:

Published:

Issue Date: