Abstract
In this study, the prevalence and genotype distribution of human papillomavirus (HPV) in 49,793 women aged 25–64 years were determined by fluorescent real-time polymerase chain reaction (PCR) assay. HPV was detected in 6,020 women, giving a prevalence of 12.09% (6020/49,793). Single and multiple infections accounted for 71.81% (4323/6020) and 28.19% (1697/6020) of total infections, respectively. The most commonly found genotypes were HPV52 (19.90%, 1198/6020) and HPV16 (19.17%, 1154/6020), followed by HPV58 (13.11%, 789/6020), HPV81 (10.10%, 608/6020) and HPV56 (9.00%, 542/6020). The prevalence of HPV increased with age and was highest in the 54- to 64-year-old age group. The genotypes covered by the nonavalent HPV vaccine accounted for 39.32% (2367/6020) and 22.81% (1373/6020) of the total monoinfections and polyinfections, respectively. This study indicates a high HPV infection rate in women in the city of Zhengzhou and a large percentage of women are infected with single or multiple high-risk HPV genotypes that cannot be prevented using the current nonavalent HPV vaccine. Vaccines incorporating more HPV genotypes and extended age coverage for the current nonavalent vaccine might be necessary to better prevent HPV-related cervical cancer.
This is a preview of subscription content, log in to check access.
Access options
Buy single article
Instant access to the full article PDF.
US$ 39.95
Price includes VAT for USA
Subscribe to journal
Immediate online access to all issues from 2019. Subscription will auto renew annually.
US$ 199
This is the net price. Taxes to be calculated in checkout.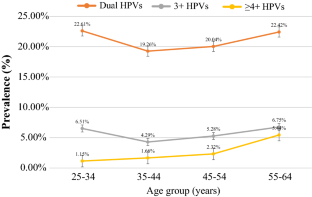 References
1.

Zheng RS, Sun KX, Zhang SW, Zeng HM, Zou XN, Chen R et al (2019) Report of cancer epidemiology in China, 2015. Zhonghua zhong liu za zhi [Chin J Oncol]. 41(1):19–28

2.

De Martel C, Ferlay J, Franceschi S, Vignat J, Bray F, Forman D et al (2012) Global burden of cancers attributable to infections in 2008: a review and synthetic analysis. Lancet Oncol 13(6):607–615

3.

Ho GY, Burk RD, Klein S, Kadish AS, Chang CJ, Palan P et al (1995) Persistent genital human papillomavirus infection as a risk factor for persistent cervical dysplasia. J Natl Cancer Inst 87(18):1365–1371

4.

Knipe DMHP, Cohen JI, Griffin DE, Lamb RA, Martin MA, Racaniello RA, Roizman B (2013) Fields virology. In: Howley PM, Schiller JT, Lowy DR (eds) Pappilomaviruses (volume 2). Wolters Kluwer/Lippincot Williams & Wilkins, Philadelphia, pp 1706–1747

5.

Arbyn M, Xu L (2018) Efficacy and safety of prophylactic HPV vaccines. A Cochrane review of randomized trials. Expert Rev Vaccines 17(12):1085–1091

6.

Phillips A, Patel C, Pillsbury A, Brotherton J, Macartney K (2018) Safety of Human Papillomavirus Vaccines: an Updated review. Drug Saf 41(4):329–346

7.

Huh WK, Joura EA, Giuliano AR, Iversen OE, de Andrade RP, Ault KA et al (2017) Final efficacy, immunogenicity, and safety analyses of a nine-valent human papillomavirus vaccine in women aged 16–26 years: a randomised, double-blind trial. Lancet 390(10108):2143–2159

8.

Bruni L, Diaz M, Castellsagué M, Ferrer E, Bosch FX, de Sanjosé S (2010) Cervical human papillomavirus prevalence in 5 continents: meta-analysis of 1 million women with normal cytological findings. J Infect Dis 202(12):1789–1799

9.

Baloch Z, Yuan T, Wang B, Tai W, Feng Y, Liu Y et al (2016) Ethnic and geographic variations in HPV prevalence and genotype distribution in north-western Yunnan, China. J Med Virol 88(3):532–540

10.

Vidal AC, Smith JS, Valea F, Bentley R, Gradison M, Yarnall KS et al (2014) HPV genotypes and cervical intraepithelial neoplasia in a multiethnic cohort in the southeastern USA. Cancer Causes Control 25(8):1055–1062

11.

Huh WK, Ault KA, Chelmow D, Davey DD, Goulart RA, Garcia FA et al (2015) Use of primary high-risk human papillomavirus testing for cervical cancer screening: interim clinical guidance. Gynecol Oncol 136(2):178–182

12.

Scarinci IC, Garcia FA, Kobetz E, Partridge EE, Brandt HM, Bell MC et al (2010) Cervical cancer prevention: new tools and old barriers. Cancer 116(11):2531–2542

13.

Group TFIS (2007) Quadrivalent vaccine against human papillomavirus to prevent high-grade cervical lesions. N Engl J Med 356(19):1915–1927

14.

Paavonen J, Naud P, Salmerón J, Wheeler CM, Chow SN, Apter D et al (2009) Efficacy of human papillomavirus (HPV)-16/18 AS04-adjuvanted vaccine against cervical infection and precancer caused by oncogenic HPV types (PATRICIA): final analysis of a double-blind, randomised study in young women. Lancet 374(9686):301–314

15.

Kjaer SK, Sigurdsson K, Iversen OE, Hernandez-Avila M, Wheeler CM, Perez G et al (2009) A pooled analysis of continued prophylactic efficacy of quadrivalent human papillomavirus (Types 6/11/16/18) vaccine against high-grade cervical and external genital lesions. Cancer Prev Res 2(10):868–878

16.

Lu JF, Shen GR, Li Q, Chen X, Ma CF, Zhu TH (2017) Genotype distribution characteristics of multiple human papillomavirus in women from the Taihu River Basin, on the coast of eastern China. BMC Infect Dis 17(1):226

17.

Gu Y, Yi M, Xu Y, Zhao H, Fu F, Zhang Y (2016) Genotype distribution characteristics of high-risk human papillomaviruses in women from Shanghai, China. Epidemiol Infect 144(7):1482–1489
Ethics declarations
Conflict of interest
The authors declare that they have no competing interests.
Ethical approval
This article does not contain any experiments with human participants or animals performed by any of the authors.
Additional information
Publisher's Note
Springer Nature remains neutral with regard to jurisdictional claims in published maps and institutional affiliations.
Handling Editor: Graciela Andrei.
About this article
Cite this article
Liu, J., Ma, S., Qin, C. et al. Prevalence and genotype distribution of human papillomavirus in Zhengzhou, China, in 2016. Arch Virol 165, 731–736 (2020). https://doi.org/10.1007/s00705-019-04515-3
Received:

Accepted:

Published:

Issue Date: