Abstract
Human pegivirus 2 (HPgV-2) is a recently recognized pegivirus of the family Flaviviridae. To investigate the epidemic features of HPgV-2 circulating in the human immunodeficiency virus (HIV)-infected population, we tested for antibodies and viral RNA of HPgV-2 and hepatitis C virus (HCV) with retrospective plasma samples collected from 771 HIV infections with multiple risk behaviors in Honghe Prefecture of Yunnan Province. A total of 195 subjects (25.29%) were seroreactive to HPgV-2, and 41 (5.32%) were RNA positive. Although the positive rate of HPgV-2 antibodies in HIV/HCV-coinfected individuals (27.69%) was significantly higher than that of HIV monoinfections (20.82%) (p = 0.036), this is the first report of HPgV-2 viremia in HIV-infected individuals without HCV infection and the presence of two HPgV-2 lineages in China. Our data indicate that HPgV-2 can also be transmitted sexually, which might be facilitated when combined with HCV infection, injecting drug use, and risky sexual behavior, which appear to have a synergistic effect on HPgV-2 infection. Phylogenetic analysis of 26 near-full-length genome sequences showed that the HPgV-2 strains in China are divided into two clusters.
This is a preview of subscription content, log in to check access.
Access options
Buy single article
Instant access to the full article PDF.
US$ 39.95
Price includes VAT for USA
Subscribe to journal
Immediate online access to all issues from 2019. Subscription will auto renew annually.
US$ 199
This is the net price. Taxes to be calculated in checkout.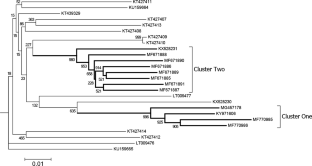 References
1.

Stapleton J, Foung S, Muerhoff AS, Bukh J, Simmonds P (2011) The GB viruses: a review and proposed classification of GBV-A, GBV-C (HGV), and GBV-D in genus Pegivirus within the family Flaviviridae. J Gen Virol 92:233–246. https://doi.org/10.1099/vir.0.027490-0

2.

Berg MG, Lee D, Coller K et al (2015) Discovery of a novel human pegivirus in blood associated with hepatitis C virus co-infection. PLoS Pathog 11:e1005325

3.

Kapoor A, Kumar A, Simmonds P et al (2015) Virome analysis of transfusion recipients reveals a novel human virus that shares genomic features with hepaciviruses and pegiviruses. MBio 6:e01466-15

4.

Bonsall D, Gregory WF, Ip CL et al (2016) Evaluation of viremia frequencies of a novel human pegivirus by using bioinformatic screening and PCR. Emerg Infect Dis 22:671–678

5.

Kandathil AJ, Breitwieser FP, Sachithanandham J (2017) Presence of human hepegivirus-1 in a cohort of people who inject drugs. Ann Intern Med 167:1–7

6.

Wang HY, Wan ZhW, Sun Q et al (2018) Second human pegivirus in hepatitis C virus–infected and hepatitis C virus/HIV-1-co-infected persons who inject drugs, China. EID 24:908–911

7.

Wang HY, Wan ZhG, Sun Q et al (2018) A novel human pegivirus, HPgV-2 (HHpgV-1), is tightly associated with hepatitis C Virus (HCV) infection and HCV/human immunodeficiency virus type 1 coinfection. Clin Infect Dis 66:29–35

8.

Zheng XW, Zhang JP, Tian ChQ et al (1993) Cohort study of HIV In feetion among drug users in Ruili, Longchuan and Luxi of Yunnan Province, China. Biomed Environ Sci 6:348–351

9.

Zhou YH, Yao ZH, Liu FL et al (2012) High prevalence of HIV, HCV, HBV and co-infection and associated risk factors among injecting drug users in Yunnan province, China. PLoS One 7:e42937

10.

Li QF, Yao YY, Shen YS et al (2017) Assessment of HCV genotypes in Yunnan Province of Southwest, China. Virus Genes 53:1–7

11.

Jin X, Kumi S, Chen RY et al (2010) HIV prevalence and risk behaviors among male clients of female sex workers in Yunnan, China. J Acquir Immune Defic Syndr 53:131–135

12.

Xu JJ, Wang N, Lin Lu et al (2008) HIV and STIs in clients and female sex workers in mining regions of Gejiu City, China. Sex Transm Dis 35:558–565

13.

Zhang ChY, Yang RG, Xia XSh et al (2002) High prevalence of HIV-1 and hepatitis C virus coinfection among injection drug user in the southeastern region of Yunnan, China. J Acquir Immune Defic Syndr 29:191–196

14.

Su Yingying (2015) Epidemiological study on AIDs among Kaiyuan City, Yunnan Province. Dissertation, Chinese Center for Disease Control and Prevention

15.

Pu LF, Su YY, Wang GX, Bai J (2015) Prevalence of HIV and HCV infections in patients receiving methadone maintenance treatment in Kaiyuan, Yunnan. Chin J Epidemiol 36:829–831

16.

Chandriani S, Skewes-Cox P, Zhong W et al (2013) Identification of a previously undescribed divergent virus from the Flaviviridae family in an outbreak of equine serum hepatitis. Proc Natl Acad Sci 110:E1407–E1415

17.

Tian D, Li L, Liu Y et al (2012) Different HCV genotype distributions of HIV-infected individuals in Henan and Guangxi, China. PloS One 7:e50343

18.

Guindon S, Gascuel O (2003) PhyML: a simple, fast, and accurate algorithm to estimate large phylogenies by maximum likelihood. Syst Biol 52:696–704

19.

Coller KE, Berg MG, Frankel M et al (2016) Antibodies to the novel human pegivirus 2 are associated with active and resolved infections. J Clin Microbiol 54:2023–2030

20.

Anh N, Hong N, Nhu L et al (2018) Detection and characterization of human pegivirus 2, Vietnam. Emerg Infect Dis 24(11):2063–2067. https://doi.org/10.3201/eid2411.180668

21.

Arroyave-Ospina JC, Caicedo MF, Navas MC, Cortés-Mancera FM (2018) Human pegivirus: pathogenic potential and non-Hodgkin lymphoma development risk. Rev Chilena Infectol 35:164–175
Acknowledgements
This work was supported by Beijing Municipal Science and Technology Project (Grant no. D141100000314001) and National Key S&T Special Projects (Grant no. 2018ZX10721102-006).
Ethics declarations
Conflict of interest
The authors declare that they have no conflict of interest.
Additional information
Publisher's Note
Springer Nature remains neutral with regard to jurisdictional claims in published maps and institutional affiliations.
Handling Editor: Ioly Kotta-Loizou.
About this article
Cite this article
Li, T., Tang, S., Su, Y. et al. High prevalence and viremia of human pegivirus 2 in the HIV-infected population in Honghe Prefecture, Yunnan Province. Arch Virol 165, 619–626 (2020). https://doi.org/10.1007/s00705-019-04512-6
Received:

Accepted:

Published:

Issue Date: