Abstract
A new polycipivirus was identified in the arboreal ant Colobopsis shohki. The viral RNA was 11,855 nt in length with five 5'-proximal open reading frames (ORFs) encoding structural proteins and a long 3' ORF encoding the replication polyprotein. The protein sequences of these ORFs had significant similarity to those of the polycipiviruses Lasius niger virus 1 and Solenopsis invicta virus 2. The results of phylogenetic analysis and its genome organization suggested that this virus belongs to the genus Sopolycivirus in the family Polycipiviridae. The name "Colobopsis shohki virus 1" (CshV1) is proposed for the new virus.
This is a preview of subscription content, log in to check access.
Access options
Buy single article
Instant access to the full article PDF.
US$ 39.95
Price includes VAT for USA
Subscribe to journal
Immediate online access to all issues from 2019. Subscription will auto renew annually.
US$ 199
This is the net price. Taxes to be calculated in checkout.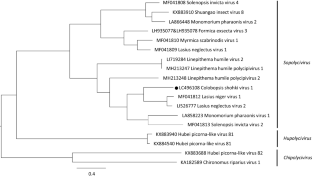 References
1.

Olendraite I, Brown K., Valles SM, Firth AE, Chen Y, Guérin DMA, Hashimoto Y, Herrero S, de Miranda JR, Ryabov E, ICTV Report Consortium (2019) ICTV virus taxonomy profile: Polycipiviridae. J Gen Virol 100:554–555

2.

Olendraite I, Lukhovitskaya NI, Porter SD, Valles SM, Firth AE (2017) Polycipiviridae: a proposed new family of polycistronic picorna-like RNA viruses. J Gen Virol 98:2368–2378

3.

Koyama S, Urayama S, Ohmatsu T, Sassa Y, Sakai C, Takata M, Hayashi S, Nagai M, Furuya T, Moriyama H, Satoh T, Ono S, Mizutani T (2015) Identification, characterization and full-length sequence analysis of a novel dsRNA virus isolated from the arboreal ant Camponotus yamaokai. J Gen Virol 96:1930–1937

4.

Koyama S, Sakai C, Thomas CE, Nunoura T, Urayama S (2016) A new member of the family Totiviridae associated with arboreal ants (Camponotus nipponicus). Arch Virol 161:2043–2045

5.

Urayama S, Yoshida-Takashima Y, Yoshida M, Tomaru Y, Moriyama H, Takai K, Nunoura T (2015) A new fractionation and recovery method of viral genomes based on nucleic acid composition and structure using tandem column chromatography. Microbes Environ 30:199–203

6.

Urayama S, Takaki Y, Nunoura T (2016) FLDS: a comprehensive dsRNA sequencing method for intracellular RNA virus surveillance. Microbes Environ 31:33–40

7.

Urayama S, Takaki Y, Nishi S, Yoshida-Takashima Y, Deguchi S, Takai K, Nunoura T (2018) Unveiling the RNA virosphere associated with marine microorganisms. Mol Ecol Resour 18:1444–1455

8.

Bolger AM, Lohse M, Usadel B (2014) Trimmomatic: A flexible trimmer for Illumina sequence data. Bioinformatics 30:2114–2120

9.

Martin M (2011) Cutadapt removes adapter sequences from high-throughput sequencing reads. EMBnet. Journal 17:10–12

10.

Schmieder R, Edwards R (2011) Quality control and preprocessing of metagenomic datasets. Bioinformatics 27:863–864

11.

Zimmermann L, Stephens A, Nam SZ, Rau D, Kübler J, Lozajic M, Gabler F, Söding J, Lupas AN, Alva V (2018) A completely reimplemented MPI bioinformatics toolkit with a new HHpred server at its core. J Mol Biol 430:2237–2243

12.

Berman HM, Westbrook J, Feng Z, Gilliland G, Bhat TN, Weissig H, Shindyalov IN, Bourne PD (2000) The protein data bank. Nucleic Acids Res 28:235–242

13.

Hashimoto Y, Valles SM (2008) Infection characteristics of Solenopsis invicta virus 2 in the red imported fire ant, Solenopsis invicta. J Invertebr Pathol 99:136–140

14.

Ronquist F, Teslenko M, van der Mark P, Ayres DL, Darling A, Höhna S, Larget B, Liu L, Suchard MA, Huelsenbeck JP (2012) MrBayes 3.2: efficient bayesian phylogenetic inference and model choice across a large model space. Syst Biol 61:539–542

15.

Edgar RC (2004) MUSCLE: multiple sequence alignment with high accuracy and high throughput. Nucleic Acids Res 32:1792–1797
Acknowledgements
This research was supported in part by a Grant-in-Aid for Challenging Research (Pioneering) from JSPS (18H05368) and a Grant-in-Aid for Scientific Research on Innovative Areas from the Ministry of Education, Culture, Science, Sports, and Technology (MEXT) of Japan (nos. 16H06429, 16K21723, and 16H06437). JAMSTEC has filed a patent application related to FLDS, of which S.U., T.N. are the named inventors.
Ethics declarations
Conflict of interest
The authors declare no conflict of interest.
Additional information
Publisher's Note
Springer Nature remains neutral with regard to jurisdictional claims in published maps and institutional affiliations.
Handling Editor: T. K. Frey.
Electronic supplementary material
Below is the link to the electronic supplementary material.
About this article
Cite this article
Fukasawa, F., Hirai, M., Takaki, Y. et al. A new polycipivirus identified in Colobopsis shohki. Arch Virol 165, 761–763 (2020). https://doi.org/10.1007/s00705-019-04510-8
Received:

Accepted:

Published:

Issue Date: