Abstract
In the present study, we evaluated the degree of contamination of fresh vegetables, cheeses and jellies from disaster area in Brazil with bacteria and enteric viruses. Food samples (n = 350) were tested for Escherichia coli, Salmonella spp., Listeria monocytogenes, Staphylococcus spp., and enteric viruses (rotavirus A (RVA), human adenovirus (HAdV), hepatitis A virus (HAV), and human norovirus (HNoV). E. coli was present in 56% of the samples, Salmonella spp. was present in 14% of the samples, L. monocytogenes and Staphylococcus spp. (coagulase-positive) were present in 36% of the samples. The enteric viruses RVA and HAdV were detected in cheeses and vegetables.
This is a preview of subscription content, log in to check access.
Access options
Buy single article
Instant access to the full article PDF.
US$ 39.95
Price includes VAT for USA
Subscribe to journal
Immediate online access to all issues from 2019. Subscription will auto renew annually.
US$ 199
This is the net price. Taxes to be calculated in checkout.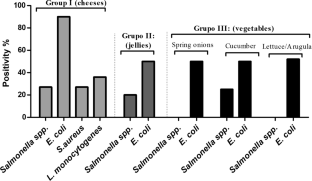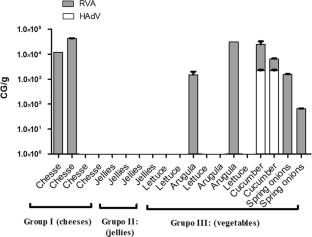 References
1.

Amorim P, Meyr H, Almeder C, Almada-Lobo B (2013) Managing perishability in production-distribution planning: a discussion and review. Flex Serv Manuf J 25(3):389–413

2.

Baert L, Mattison K, Loisy-Hamon F, Harlow J, Martyres A, Lebeau B, Uyttendaele M (2011) Norovirus prevalence in Belgian, Canadian and French fresh produce: a threat to human health? Int J Food Microbiol 151(3):261–269

3.

Berger CN, Sodha SV, Shaw RK, Griffin PM, Pink D, Hand P, Frankel G (2010) Fresh fruit and vegetables as vehicles for the transmission of human pathogens. Environ Microbiol 12(9):2385–2397

4.

Bhutta ZA, Das JK, Walker N, Rizvi A, Campbell H, Rudan I, Black RE (2013) Interventions to address deaths from childhood pneumonia and diarrhoea equitably: what works and at what cost? Lancet 381(9875):1417–1429

5.

Bosch A, Guix S, Sano D, Pinto RM (2008) New tools for the study and direct surveillance of viral pathogens in water. Curr Opin Biotechnol 19(3):295–301

6.

Costafreda MI, Bosch A, Pinto RM (2006) Development, evaluation, and standardization of a real-time TaqMan reverse transcription-PCR assay for quantification of hepatitis A virus in clinical and shellfish samples. Appl Environ Microbiol 72(6):3846–3855

7.

FDA (US Food and Drug Administration) (1995) Department of Health and Human services. Public health service FDA, Washington DC, USA

8.

Fongaro G, Padilha J, Schissi CD, Nascimento MA, Bampi GB, Viancelli A, Barardi CRM (2015) Human and animal enteric virus in groundwater from deep wells, and recreational and network water. Environ Sci Pollut Res 22(24):20060–20066

9.

Fongaro G, Viancelli A, Magri ME, Elmahdy EM, Biesus LL, Kich JD, Barardi CRM (2014) Utility of specific biomarkers to assess safety of swine manure for biofertilizing purposes. Sci Total Environ 479:277–283

10.

Hernroth BE, Conden-Hansson AC, Rehnstam-Holm AS, Girones R, Allard AK (2002) Environmental factors influencing human viral pathogens and their potential indicator organisms in the blue mussel, Mytilus edulis: the first Scandinavian report. Appl Environ Microbiol 68(9):4523–4533

11.

IBAMA (2015) Instituto Brasileiro de Meio Ambiente. http://www.ibama.gov.br/. Accessed Jan 2019

12.

Jothikumar N, Cromeans TL, Sobsey MD, Robertson H (2005) Development and evaluation of a broadly reactive TaqMan assay for rapid detection of hepatitis A virus. Appl Environ Microbiol 71:3359–3363

13.

Kingsley DH, Guan D, Hoover DG (2005) Pressure inactivation of hepatitis A virus in strawberry puree and sliced green onions. J Food Prot 68(8):1748–1751

14.

Kokkinos P, Kozyra I, Lazic S, Bouwknegt M, Rutjes S, Willems K, D'Agostino M (2012) Harmonised investigation of the occurrence of human enteric viruses in the leafy green vegetable supply chain in three European countries. Food Environ Virol 4(4):179–191

15.

Liu J, Gratz J, Maro A, Kumburu H, Kibiki G, Taniuchi M, Qureshi S (2012) Simultaneous detection of six diarrhea-causing bacterial pathogens with an in-house PCR-luminex assay. J Clin Microbiol 50(1):98–103

16.

Marti E, Ferrary-Américo M, Barardi CRM (2017) Detection of potential infectious enteric viruses in fresh produce by (RT)-qPCR preceded by nuclease treatment. Food Environ Virol 9(4):444–452

17.

Nunes MM, Mota ALAA, Caldas ED (2013) Investigation of food and water microbiological conditions and foodborne disease outbreaks in the Federal District. Brazil. Food Control 34(1):235–240

18.

Scallan E, Hoekstra RM, Angulo FJ, Tauxe RV, Widdowson MA, Roy SL, Griffin PM (2011) Foodborne illness acquired in the United States—major pathogens. Emerg Infect Dis 17(1):7

19.

United States Environmental Protection Agency (USEPA) (2018) Contaminant candidate list (CCL) and regulatory determination. EPA-HQ-OW-2018-0594

20.

World Health Organization (WHO) (2015) Progress on sanitation and drinking water: 2015 update and MDG assessment. World Health Organization, Geneva

21.

Zeng SQ, Halkosalo A, Salminen M, Szakal ED, Puustinen L, Vesikari T (2008) One-step quantitative RT-PCR for the detection of rotavirus in acute gastroenteritis. J Virol Methods 153:238–240
Additional information
Publisher's Note
Springer Nature remains neutral with regard to jurisdictional claims in published maps and institutional affiliations.
Handling editor: Tim Skern.
About this article
Cite this article
de Castro Carvalho, S.V., Rogovski, P., Cadamuro, R.D. et al. Co-contamination of food products from family farms in an environmental disaster area in Southeast Brazil with pathogenic bacteria and enteric viruses. Arch Virol 165, 715–718 (2020). https://doi.org/10.1007/s00705-019-04501-9
Received:

Accepted:

Published:

Issue Date: