Abstract
The eradication of hepatitis C virus (HCV) infection is a public health priority. Despite the efficiency of treatment with direct-acting antivirals, the high cost of the therapy and the lack of accurate data about the HCV-infected population worldwide constitute important factors hampering this task. Hence, an affordable preventive vaccine is still necessary for reducing transmission and the future disease burden globally. In this work, chimeric proteins (EnvCNS3 and NS3EnvCo) encompassing conserved and immunogenic epitopes from the HCV core, E1, E2 and NS3 proteins were produced in Escherichia coli, and their immunogenicity was evaluated in BALB/c mice. The impact of recombinant HCV E2.680 protein and oligodeoxynucleotide 39M (ODN39M) on the immune response to chimeric proteins was also assessed. Immunization with chimeric proteins mixed with E2.680 enhanced the antibody and cellular response against HCV antigens and chimeric proteins. Interestingly, the combination of NS3EnvCo with E2.680 and ODN39M as adjuvant elicited a potent antibody response characterized by an increase in antibodies of the IgG2a subclass against E2.680, NS3 and chimeric proteins, suggesting the induction of a Th1-type response. Moreover, a cytotoxic T lymphocyte response and a broad response of IFN-γ-secreting cells against HCV antigens were induced with this formulation as well. This T cell response was able to protect vaccinated mice against challenge with a surrogate model based on HCV recombinant vaccinia virus. Overall, the vaccine candidate NS3EnvCo/E2.680/ODN39M might constitute an effective immunogen against HCV with potential for reducing the likelihood of viral persistence.
This is a preview of subscription content, log in to check access.
Access options
Buy single article
Instant access to the full article PDF.
US$ 39.95
Price includes VAT for USA
Subscribe to journal
Immediate online access to all issues from 2019. Subscription will auto renew annually.
US$ 199
This is the net price. Taxes to be calculated in checkout.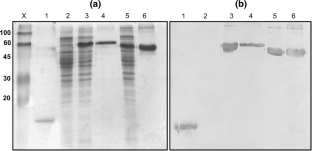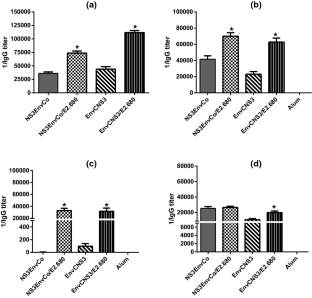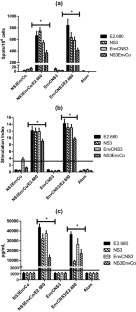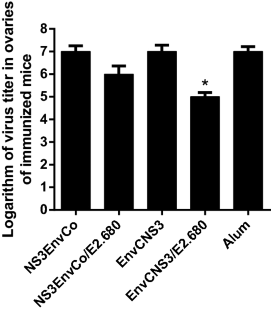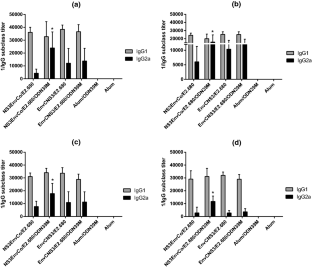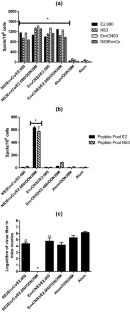 References
1.

Gower E, Estes C, Blach S, Razavi-Shearer K, Razavi H (2014) Global epidemiology and genotype distribution of the hepatitis C virus infection. J Hepatol 61:S45–S57

2.

Pawlotsky JM, Feld JJ, Zeuzem S, Hoofnagle JH (2015) From non-A, non-B hepatitis to hepatitis C virus cure. J Hepatol 62:S87–S99

3.

Zhang J, Nguyen D, Hu KQ (2016) Chronic hepatitis C virus infection: a review of current direct-acting antiviral treatment strategies. N Am J Med Sci (Boston) 9:47–54

4.

Muir AJ, Naggie S (2015) Hepatitis C virus treatment: is it possible to cure all hepatitis C virus patients? Clin Gastroenterol Hepatol 13:2166–2172

5.

Cox AL (2015) MEDICINE. Global control of hepatitis C virus. Science 349:790–791

6.

Goossens N, Negro F (2014) Is genotype 3 of the hepatitis C virus the new villain? Hepatology 59:2403–2412

7.

Vermehren J, Park JS, Jacobson IM, Zeuzem S (2018) Challenges and perspectives of direct antivirals for the treatment of hepatitis C virus infection. J Hepatol 69:1178–1187

8.

Badr G, Bedard N, Abdel-Hakeem MS et al (2008) Early interferon therapy for hepatitis C virus infection rescues polyfunctional, long-lived CD8+ memory T cells. J Virol 82:10017–10031

9.

Dahari H, Feinstone SM, Major ME (2010) Meta-analysis of hepatitis C virus vaccine efficacy in chimpanzees indicates an importance for structural proteins. Gastroenterology 139:965–974

10.

Lucas M, Ulsenheimer A, Pfafferot K et al (2007) Tracking virus-specific CD4+ T cells during and after acute hepatitis C virus infection. PLoS One 2:e649

11.

Semmo N, Lucas M, Krashias G, Lauer G, Chapel H, Klenerman P (2006) Maintenance of HCV-specific T-cell responses in antibody-deficient patients a decade after early therapy. Blood 107:4570–4571

12.

Logvinoff C, Major ME, Oldach D et al (2004) Neutralizing antibody response during acute and chronic hepatitis C virus infection. Proc Natl Acad Sci USA 101:10149–10154

13.

Alvarez-Lajonchere L, Duenas-Carrera S (2012) Complete definition of immunological correlates of protection and clearance of hepatitis C virus infection: a relevant pending task for vaccine development. Int Rev Immunol 31:223–242

14.

Raghuraman S, Park H, Osburn WO, Winkelstein E, Edlin BR, Rehermann B (2012) Spontaneous clearance of chronic hepatitis C virus infection is associated with appearance of neutralizing antibodies and reversal of T-cell exhaustion. J Infect Dis 205:763–771

15.

Pestka JM, Zeisel MB, Blaser E et al (2007) Rapid induction of virus-neutralizing antibodies and viral clearance in a single-source outbreak of hepatitis C. Proc Natl Acad Sci USA 104:6025–6030

16.

Abdel-Hakeem MS, Shoukry NH (2014) Protective immunity against hepatitis C: many shades of gray. Front Immunol 5:274

17.

Swadling L, Halliday J, Kelly C et al (2016) Highly-immunogenic virally-vectored T-cell vaccines cannot overcome subversion of the T-cell response by HCV during chronic infection. Vaccines (Basel) 4:27

18.

Nascimento IP, Leite LC (2012) Recombinant vaccines and the development of new vaccine strategies. Braz J Med Biol Res 45:1102–1111

19.

Hanagata N (2012) Structure-dependent immunostimulatory effect of CpG oligodeoxynucleotides and their delivery system. Int J Nanomedicine 7:2181–2195

20.

Bode C, Zhao G, Steinhagen F, Kinjo T, Klinman DM (2011) CpG DNA as a vaccine adjuvant. Expert Rev Vaccines 10:499–511

21.

Beaumont E, Patient R, Hourioux C, Dimier-Poisson I, Roingeard P (2013) Chimeric hepatitis B virus/hepatitis C virus envelope proteins elicit broadly neutralizing antibodies and constitute a potential bivalent prophylactic vaccine. Hepatology 57:1303–1313

22.

Sominskaya I, Skrastina D, Dislers A et al (2010) Construction and immunological evaluation of multivalent hepatitis B virus (HBV) core virus-like particles carrying HBV and HCV epitopes. Clin Vaccine Immunol 17:1027–1033

23.

Aguilar-Noriega D, Alvarez-Lajonchere L, Brown E et al (2014) A chimeric protein encompassing hepatitis C virus epitopes is able to elicit both humoral and cell-mediated immune responses in mice. Biotechnol Appl Biochem 61:627–636

24.

Martinez-Donato G, Capdesuner Y, Acosta-Rivero N et al (2007) Multimeric HCV E2 protein obtained from Pichia pastoris cells induces a strong immune response in mice. Mol Biotechnol 35:225–235

25.

Yero D, Pajon R, Niebla O et al (2006) Bicistronic expression plasmid for the rapid production of recombinant fused proteins in Escherichia coli. Biotechnol Appl Biochem 44:27–34

26.

Alvarez-Obregon JC, Duenas-Carrera S, Valenzuela C, Grillo JM (2001) A truncated HCV core protein elicits a potent immune response with a strong participation of cellular immunity components in mice. Vaccine 19:3940–3946

27.

Palenzuela D, Pedroso S, Roca J, Illareal G, Emos O, Eyes J (2006) A new NS3 recombinant protein shows improved antigenic properties for HCV diagnosis. Biotechnol Aplicada 23:94–98

28.

Gil L, Marcos E, Izquierdo A et al (2015) The protein DIIIC-2, aggregated with a specific oligodeoxynucleotide and adjuvanted in alum, protects mice and monkeys against DENV-2. Immunol Cell Biol 93:57–66

29.

Duenas-Carrera S, Alvarez-Lajonchere L, Cesar Alvarez-Obregon J et al (2002) Enhancement of the immune response generated against hepatitis C virus envelope proteins after DNA vaccination with polyprotein-encoding plasmids. Biotechnol Appl Biochem 35:205–212

30.

Schmittel A, Keilholz U, Bauer S et al (2001) Application of the IFN-gamma ELISPOT assay to quantify T cell responses against proteins. J Immunol Methods 247:17–24

31.

Martinez-Donato G, Amador-Canizares Y, Alvarez-Lajonchere L et al (2014) Neutralizing antibodies and broad, functional T cell immune response following immunization with hepatitis C virus proteins-based vaccine formulation. Vaccine 32:1720–1726

32.

Martinez-Donato G, Piniella B, Aguilar D et al (2016) Protective T cell and antibody immune responses against hepatitis C virus achieved using a biopolyester-bead-based vaccine delivery system. Clin Vaccine Immunol 23:370–378

33.

Alverez-Lajonchere L, Gerra I, Amador-Cañizares Y et al (2007) Generation and characterization of recombinant vaccinia viruses expressing a hepatitis C virus Core protein, genotype 1b, individually or as a polyprotein. Biotecnología Aplicada 24:246–253

34.

Hanagata N (2017) CpG oligodeoxynucleotide nanomedicines for the prophylaxis or treatment of cancers, infectious diseases, and allergies. Int J Nanomedicine 12:515–531

35.

Ghasemi F, Rostami S, Meshkat Z (2015) Progress in the development of vaccines for hepatitis C virus infection. World J Gastroenterol 21:11984–12002

36.

Folgori A, Capone S, Ruggeri L et al (2006) A T-cell HCV vaccine eliciting effective immunity against heterologous virus challenge in chimpanzees. Nat Med 12:190–197

37.

Rollier CS, Paranhos-Baccala G, Verschoor EJ et al (2007) Vaccine-induced early control of hepatitis C virus infection in chimpanzees fails to impact on hepatic PD-1 and chronicity. Hepatology 45:602–613

38.

Swadling L, Capone S, Antrobus RD et al (2014) A human vaccine strategy based on chimpanzee adenoviral and MVA vectors that primes, boosts, and sustains functional HCV-specific T cell memory. Sci Transl Med 6:261ra153

39.

Burke KP, Munshaw S, Osburn WO et al (2012) Immunogenicity and cross-reactivity of a representative ancestral sequence in hepatitis C virus infection. J Immunol 188:5177–5188

40.

Yusim K, Dilan R, Borducchi E et al (2013) Hepatitis C genotype 1 mosaic vaccines are immunogenic in mice and induce stronger T-cell responses than natural strains. Clin Vaccine Immunol 20:302–305

41.

Gonzalez-Horta EE, Marante J, Amador-Canizares Y et al (2011) Analysis of hepatitis C virus core encoding sequences in chronically infected patients reveals mutability, predominance, genetic history and potential impact on therapy of Cuban genotype 1b isolates. Eur Rev Med Pharmacol Sci 15:1320–1327

42.

Lorenzo LJ, Garcia O, Acosta-Rivero N et al (2000) Expression and immunological evaluation of the Escherichia coli-derived hepatitis C virus envelope E1 protein. Biotechnol Appl Biochem 32(Pt 2):137–143

43.

Sabahi A, Uprichard SL, Wimley WC, Dash S, Garry RF (2014) Unexpected structural features of the hepatitis C virus envelope protein 2 ectodomain. J Virol 88:10280–10288

44.

Seong YR, Choi S, Lim JS, Lee CH, Lee CK, Im DS (2001) Immunogenicity of the E1E2 proteins of hepatitis C virus expressed by recombinant adenoviruses. Vaccine 19:2955–2964

45.

Cox JC, Coulter AR (1997) Adjuvants–a classification and review of their modes of action. Vaccine 15:248–256

46.

Karch CP, Burkhard P (2016) Vaccine technologies: from whole organisms to rationally designed protein assemblies. Biochem Pharmacol 120:1–14

47.

Wu F, Yuan XY, Li J, Chen YH (2009) The co-administration of CpG-ODN influenced protective activity of influenza M2e vaccine. Vaccine 27:4320–4324

48.

Gu M, Hine PM, James JW, Giri L, Nabors GS (2007) Increased potency of BioThrax anthrax vaccine with the addition of the C-class CpG oligonucleotide adjuvant CPG 10109. Vaccine 25:526–534

49.

Coban C, Ishii KJ, Stowers AW, Keister DB, Klinman DM, Kumar N (2004) Effect of CpG oligodeoxynucleotides on the immunogenicity of Pfs25, a Plasmodium falciparum transmission-blocking vaccine antigen. Infect Immun 72:584–588

50.

Sanchez VR, Pitkowski MN, Fernandez Cuppari AV et al (2011) Combination of CpG-oligodeoxynucleotides with recombinant ROP2 or GRA4 proteins induces protective immunity against Toxoplasma gondii infection. Exp Parasitol 128:448–453

51.

Davis HL, Weeratna R, Waldschmidt TJ, Tygrett L, Schorr J, Krieg AM (1998) CpG DNA is a potent enhancer of specific immunity in mice immunized with recombinant hepatitis B surface antigen. J Immunol 160:870–876

52.

Zhan N, Xiu BS, Wang GH et al (2011) Enhancement of humoral immunity in mice by coupling pUCpGs10 and aluminium to the HCV recombinant immunogen. Virol J 8:507

53.

Vajdy M, Selby M, Medina-Selby A et al (2006) Hepatitis C virus polyprotein vaccine formulations capable of inducing broad antibody and cellular immune responses. J Gen Virol 87:2253–2262

54.

Krieg AM (2002) CpG motifs in bacterial DNA and their immune effects. Annu Rev Immunol 20:709–760

55.

Gursel M, Verthelyi D, Gursel I, Ishii KJ, Klinman DM (2002) Differential and competitive activation of human immune cells by distinct classes of CpG oligodeoxynucleotide. J Leukoc Biol 71:813–820

56.

Hartmann G, Weeratna RD, Ballas ZK et al (2000) Delineation of a CpG phosphorothioate oligodeoxynucleotide for activating primate immune responses in vitro and in vivo. J Immunol 164:1617–1624

57.

Krieg AM (2006) Therapeutic potential of Toll-like receptor 9 activation. Nat Rev Drug Discov 5:471–484

58.

Rothenfusser S, Hornung V, Ayyoub M et al (2004) CpG-A and CpG-B oligonucleotides differentially enhance human peptide-specific primary and memory CD8+ T-cell responses in vitro. Blood 103:2162–2169

59.

Murata K, Lechmann M, Qiao M, Gunji T, Alter HJ, Liang TJ (2003) Immunization with hepatitis C virus-like particles protects mice from recombinant hepatitis C virus-vaccinia infection. Proc Natl Acad Sci USA 100:6753–6758

60.

Naeem A, Waheed Y (2017) Sequence analysis of hepatitis C virus nonstructural protein 3-4A serine protease and prediction of conserved B and T cell epitopes. Biomed Rep 7:563–566

61.

Ikram A, Zaheer T, Awan FM et al (2018) Exploring NS3/4A, NS5A and NS5B proteins to design conserved subunit multi-epitope vaccine against HCV utilizing immunoinformatics approaches. Sci Rep 8:16107

62.

Vertuani S, Bazzaro M, Gualandi G et al (2002) Effect of interferon-alpha therapy on epitope-specific cytotoxic T lymphocyte responses in hepatitis C virus-infected individuals. Eur J Immunol 32:144–154

63.

Drane D, Maraskovsky E, Gibson R et al (2009) Priming of CD4+ and CD8+ T cell responses using a HCV core ISCOMATRIX vaccine: a phase I study in healthy volunteers. Hum Vaccin 5:151–157

64.

Rosen HR, Ribeiro RR, Weinberger L et al (2002) Early hepatitis C viral kinetics correlate with long-term outcome in patients receiving high dose induction followed by combination interferon and ribavirin therapy. J Hepatol 37:124–130

65.

Habersetzer F, Honnet G, Bain C et al (2011) A poxvirus vaccine is safe, induces T-cell responses, and decreases viral load in patients with chronic hepatitis C. Gastroenterology 141:890–899
Acknowledgements
The authors would like to thank Lázaro Gil González, Alexis Musacchio Lasa, Tania Cárdenas Borrego and Ingrid Rodríguez for their valuable contribution to this work.
Additional information
Publisher's Note
Springer Nature remains neutral with regard to jurisdictional claims in published maps and institutional affiliations.
Handling Editor: Tim Skern.
About this article
Cite this article
Olivera, S., Perez, A., Falcon, V. et al. Protective cellular immune response against hepatitis C virus elicited by chimeric protein formulations in BALB/c mice. Arch Virol 165, 593–607 (2020). https://doi.org/10.1007/s00705-019-04464-x
Received:

Accepted:

Published:

Issue Date: