Abstract
The genome sequence of a novel Meiothermus bacteriophage, named MMP7, which was isolated from Tengchong hot spring in Yunnan Province of China and belongs to the family Myoviridae, was sequenced in this study. To the best of our knowledge, this is the first reported genome sequence of a Meiothermus phage, which has a circular DNA genome of 32,864 bp and a GC content of 64%. The MMP7 genome contains 53 putative protein-encoding genes but no rRNA or tRNA genes, and it exhibits low overall sequence similarity and no significant homology to phage genomes whose sequences are publicly available, suggesting that MMP7 is a novel phage. Consistent with current taxonomic results, whole-genome-based phylogenetic analysis revealed that Meiothermus phage MMP7 has close evolutionary relationship to Thermus phages. Together, our results could be helpful for discovering new thermostable antimicrobial agents and understanding the evolution and genetic diversity of Meiothermus phages in extreme environments.
This is a preview of subscription content, log in to check access.
Access options
Buy single article
Instant access to the full article PDF.
US$ 39.95
Price includes VAT for USA
Subscribe to journal
Immediate online access to all issues from 2019. Subscription will auto renew annually.
US$ 199
This is the net price. Taxes to be calculated in checkout.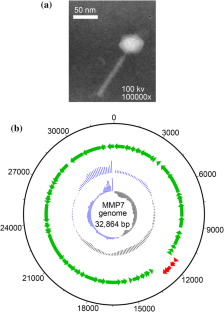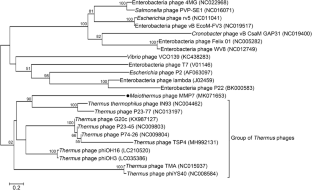 Acknowledgements
This study was funded by the Natural Science Foundation of China under grant no. 31760338 to FW and grant no. 31760042 to LBL, and a Start-up Grant from Kunming University of Science and Technology for the Introduction of Talent Research Project under grant no. KKSY201626003.
Ethics declarations
Conflict of interest
The authors declare that they have no conflicts of interest.
Ethical approval
This article does not contain any studies with human participants or animals requiring ethical approval.
Additional information
Publisher's Note
Springer Nature remains neutral with regard to jurisdictional claims in published maps and institutional affiliations.
Handling Editor: Tim Skern.
Electronic supplementary material
Below is the link to the electronic supplementary material.
About this article
Cite this article
Wang, F., Xiao, Y., Xiong, Y. et al. Complete genome sequence of MMP7, a novel Meiothermus bacteriophage of the family Myoviridae isolated from a hot spring. Arch Virol 165, 753–756 (2020). https://doi.org/10.1007/s00705-019-04462-z
Received:

Accepted:

Published:

Issue Date: