Cave microclimatology: diurnal variations in aerosol particle concentrations
Abstract
Based on a case study in speleotherapeutic Císařská Cave (Moravian Karst, Czech Republic), the behavior of cave aerosol was studied. The particle size distribution in the aerosol showed an atypical shape with majority of nucleation mode particles. The particle number concentrations oscillated diurnally with the amplitude of 1935 cm−3 (nanoparticles in the range of 6–154 nm) and 436 cm−3 (submicron particles in the range of 154–942 nm). This behavior was simulated under the use of simplified dynamic model. At the model optimization, it was found that the part of aerosol particles (submicron particles especially) was introduced into the cave from exterior by cave ventilation (controlled by external temperature) with participation of external wind and traffic. Other parts of the particles (the nanoparticles especially) probably arose directly in the cave. The presented findings could be important for better understanding of the factors governing cave microclimate.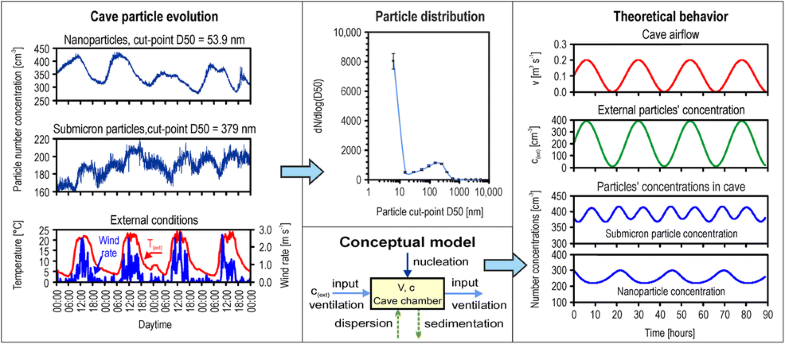 Notes
Acknowledgements
The authors would like to thank Dr. Pavel Pracný for critical reading of the manuscript and the employees of the Children Sanatorium with Speleotherapy (Ostrov u Macochy) for a wide support.
Funding information
This article was produced with the financial support from the Ministry of Education, Youth and Sports within the National Sustainability Programme I, project of Transport R&D Centre (LO1610), on the research infrastructure acquired from the Operation Programme Research and Development for Innovations (CZ.1.05/2.1.00/03.0064).
Copyright information
© Springer-Verlag GmbH Austria, part of Springer Nature 2019