Abstract
Alzheimer's disease (AD) is the most prevalent and age-related dementia accompanied by neurodegenerative disorder, memory loss, and abnormal behaviors. Recent studies have shown an increasing interest in studying the role of microRNAs (miRNAs) and their potential values in the early diagnostics of AD. MiR-425-5p has extensively expression within various tissues and organs, acting as an important regulator in many pathological procedures. The functions of miR-425-5p involved in AD were investigated in the present study. The results showed that miR-425-5p was upregulated in patients with AD and HEK293/tau cells. Transfections with miR-425-5p overexpression vector significantly enhanced cell apoptosis, activated glycogen synthase kinase-3β (GSK-3β), and increased tau phosphorylation in HEK293/tau cells. Heat shock protein B8 (HSPB8) was directly targeted by miR-425-5p. Upregulation of miR-425-5p induced cell apoptosis and promoted tau phosphorylation partially via targeting HSPB8 in AD. Therefore, miR-425-5p might act as a new therapeutic target for AD treatment.
This is a preview of subscription content, log in to check access.
Access options
Buy single article
Instant unlimited access to the full article PDF.
US$ 39.95
Price includes VAT for USA
Subscribe to journal
Immediate online access to all issues from 2019. Subscription will auto renew annually.
US$ 199
This is the net price. Taxes to be calculated in checkout.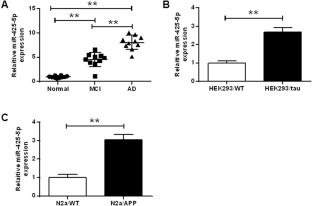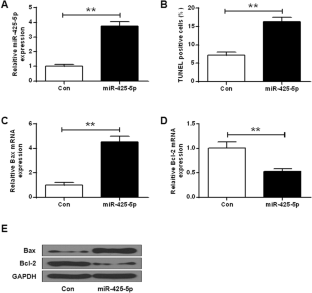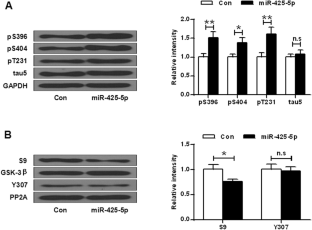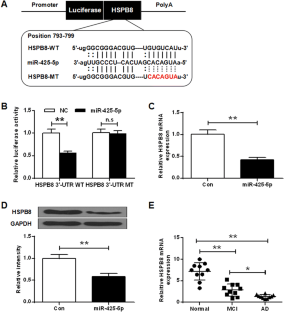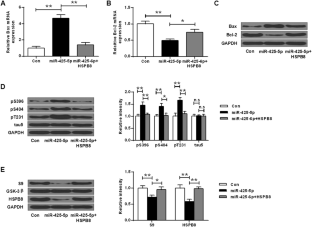 References
Absalon S, Kochanek DM, Raghavan V, Krichevsky AM (2013) MiR-26b, upregulated in Alzheimer's disease, activates cell cycle entry, tau-phosphorylation, and apoptosis in postmitotic neurons. J Neurosci 33:14645–14659

Banzhaf-Strathmann J et al (2014) MicroRNA-125b induces tau hyperphosphorylation and cognitive deficits in Alzheimer's disease. EMBO J. 33:1667–1680

Crippa V et al (2010a) A role of small heat shock protein B8 (HspB8) in the autophagic removal of misfolded proteins responsible for neurodegenerative diseases. Autophagy 6:958–960. https://doi.org/10.4161/auto.6.7.13042

Crippa V et al (2010b) The small heat shock protein B8 (HspB8) promotes autophagic removal of misfolded proteins involved in amyotrophic lateral sclerosis (ALS). Hum Mol Genet 19:3440–3456. https://doi.org/10.1093/hmg/ddq257

Delay C, Mandemakers W, Hébert SS (2012) MicroRNAs in Alzheimer's disease. Neurobiol Dis 46:285–290

Fang F, Song T, Zhang T, Cui Y, Zhang G, Xiong Q (2017) MiR-425-5p promotes invasion and metastasis of hepatocellular carcinoma cells through SCAI-mediated dysregulation of multiple signaling pathways. Oncotarget 8:31745

Fontaine JM, Sun X, Hoppe AD, Simon S, Vicart P, Welsh MJ, Benndorf R (2006) Abnormal small heat shock protein interactions involving neuropathy-associated HSP22 (HSPB8) mutants. FASEB J 20:2168–2170. https://doi.org/10.1096/fj.06-5911fje

Geekiyanage H, Chan C (2011) MicroRNA-137/181c regulates serine palmitoyltransferase and in turn amyloid β, novel targets in sporadic Alzheimer's disease. J Neurosci 31:14820–14830

Geekiyanage H, Jicha GA, Nelson PT, Chan C (2012) Blood serum miRNA: non-invasive biomarkers for Alzheimer's disease. Exp Neurol 235:491–496

Hamouda MA et al (2014) The small heat shock protein B8 (HSPB8) confers resistance to bortezomib by promoting autophagic removal of misfolded proteins in multiple myeloma cells. Oncotarget 5:6252–6266. https://doi.org/10.18632/oncotarget.2193

Hardy JA, Higgins GA (1992) Alzheimer's disease: the amyloid cascade hypothesis. Science 256:184–186

Irobi J et al (2010) Mutant HSPB8 causes motor neuron-specific neurite degeneration. Hum Mol Genet 19:3254–3265

Jiang B et al (2017) MicroRNA-126a-5p enhances myocardial ischemia-reperfusion injury through suppressing Hspb8 expression. Oncotarget 8:94172

Khachaturian ZS (1985) Diagnosis of Alzheimer's disease. Arch Neurol 42:1097–1105

Kumar S, Vijayan M, Bhatti JS, Reddy PH (2017) Chapter three-microRNAs as peripheral biomarkers in aging and age-related diseases. Prog Mol Biol Transl Sci 146:47–94

Lu M, Zhang Q, Deng M, Miao J, Guo Y, Gao W, Cui Q (2008) An analysis of human microRNA and disease associations. PLoS ONE 3:e3420

Ma X, Liu L, Meng J (2017) MicroRNA-125b promotes neurons cell apoptosis and Tau phosphorylation in Alzheimer's disease. Neurosci Lett 661:57–62

Nelson PT, Wang WX, Rajeev BW (2008) MicroRNAs (miRNAs) in neurodegenerative diseases. Brain Pathol 18:130–138

Nunez-Iglesias J, Liu C-C, Morgan TE, Finch CE, Zhou XJ (2010) Joint genome-wide profiling of miRNA and mRNA expression in Alzheimer's disease cortex reveals altered miRNA regulation. PLoS ONE 5:e8898

Schonrock N, Ke YD, Humphreys D, Staufenbiel M, Ittner LM, Preiss T, Götz J (2010) Neuronal microRNA deregulation in response to Alzheimer's disease amyloid-β. PLoS ONE 5:e11070

Sun L, Jiang R, Li J, Wang B, Ma C, Lv Y, Mu N (2017) MicoRNA-425-5p is a potential prognostic biomarker for cervical cancer. Ann Clin Biochem 54:127–133

Wang X et al (2009) miR-34a, a microRNA up-regulated in a double transgenic mouse model of Alzheimer's disease, inhibits bcl2 translation. Brain Res Bull 80:268–273

Yu G, Li Y, Tian Q, Liu R, Wang Q, Wang J-Z, Wang X (2011) Berberine attenuates calyculin A-induced cytotoxicity and Tau hyperphosphorylation in HEK293 cells. J Alzheimer's Dis 24:525–535

Zhang Z, Li Y, Fan L, Zhao Q, Tan B, Li Z, Zang A (2015) microRNA-425-5p is upregulated in human gastric cancer and contributes to invasion and metastasis in vitro and in vivo. Exp Therap Med 9:1617–1622

Zhang Y et al (2016) Micro RNA-425-5p regulates chemoresistance in colorectal cancer cells via regulation of Programmed Cell Death 10. J Cell Mol Med 20:360–369

Zhu H-C, Wang L-M, Wang M, Song B, Tan S, Teng J-F, Duan D-X (2012) MicroRNA-195 downregulates Alzheimer's disease amyloid-β production by targeting BACE1. Brain Res Bull 88:596–601
Ethics declarations
Conflict of interest
The authors declare that they have no conflict of interest.
Ethical approval
Ethical approval was obtained from the Ethics Committee of Qingdao Mental Health Center (No. QMHC2015021156673). All procedures performed in studies involving human participants were in accordance with the ethical standards of the institutional and/or national research committee and with the 1964 Helsinki Declaration and its later amendments or comparable ethical standards.
Informed consent
Informed consent was obtained from all individual participants included in the study.
Additional information
Publisher's Note
Springer Nature remains neutral with regard to jurisdictional claims in published maps and institutional affiliations.
Electronic supplementary material
Below is the link to the electronic supplementary material.
About this article
Cite this article
Yuan, J., Wu, Y., Li, L. et al. MicroRNA-425-5p promotes tau phosphorylation and cell apoptosis in Alzheimer's disease by targeting heat shock protein B8. J Neural Transm (2020) doi:10.1007/s00702-019-02134-5
Received:

Accepted:

Published:
Keywords
MicroRNA-425-5p

AD

GSK-3β

HSPB8

Apoptosis