The role of neurotrophins in psychopathology and cardiovascular diseases: psychosomatic connections
Open Access
Psychiatry and Preclinical Psychiatric Studies - Review Article
Abstract
Cardiovascular (CV) diseases and mood disorders are common public health problems worldwide. Their connections are widely studied, and the role of neurotrophins (NTs) is already supposed in both conditions. However, data in the literature of clinical aspects are sometimes controversial and no reviews are available describing possible associations between CV risk and mood disorders based on NTs. The mostly studied NT is brain-derived neurotrophic factor (BDNF). Decreased level of BDNF is observed in depression and its connection to hypertension has also been demonstrated with affecting the arterial baroreceptors, renin–angiotensin system and endothelial nitric oxide synthase. BDNF was also found to be the predictor of CV outcome in different patient populations. Other types of human NT-s, such as nerve growth factor, neurotrophin 3 and neurotrophin 4 also seem to have both psychopathological and CV connections. Our aim was to overview the present knowledge in this area, demonstrating a new aspect of the associations between mood disorders and CV diseases through the mediation of NTs. These findings might enlighten new psychosomatic connections and suggest new therapeutic targets that are beneficial both in respect of mood disorders and CV pathology.
Keywords
Neurotrophic factors 
Mood disorders 
Cardiovascular diseases 
Psychosomatic connections 
Introduction
Neurortophic factors or neurotrophins (NTs) consist a family of trophic factors of secreted proteins that promote growth, survival and differentiation of neurons both in the central and peripheral nervous system (Chao et al. 2006). The members of the NT family are structurally similar proteins (Keefe et al. 2017), and in mammals comprise the following four types: brain-derived neurotrophic factor (BDNF), nerve growth factor (NGF), neurotrophin 3 (NT-3), and neurotrophin 4 (NT-4) (Skaper 2008). The biological effects of mature NTs are mediated through the activation of one or more of the three tyrosine kinase receptors: tropomyosin receptor kinase A, -B, -C (TrkA, TrkB, TrkC). Nevertheless, NTs are synthesized from proneurotrophins, which are proteolytically cleaved to mature NTs. Proneurotrophins preferentially activate p75 neurotrophin receptor (p75Ntr) (Skaper 2008) and mainly induce apoptotic processes. The proneurotrophin cleavage seems to be an important factor, as the two classes of receptors (Trks and p75Ntr) interestingly act antagonistically on many physiological functions (Tsai 2017).
Both transcriptional and posttranslational mechanisms are involved in upstream regulation of neurotrophins. Neurotrophins' gene structure is very complex, contains several coding and non-coding exons with multiple promoters and various spliced variants have also been reported. Human BDNF, for example, has a very complex gene structure, including 11 non-coding exons that are spliced independently to form a coding exon, thus more than 15 mRNA transcripts can be produced (Pruunsild et al. 2007). There are several cis and trans-acting transcriptional elements as well, which regulate the promoters of neurotrophins, contributing to various productions of neurotrophins. In neurons, cAMP response element binding protein (CREB) is one of the major transcription factors and an important regulator of neurotrophins' gene expression.
Other studies demonstrated that various neurotransmitters, hormones and other neurotrophins also contribute to the transcriptional regulation of neurotrophins, but the molecular components involved in this regulation have not been clarified yet (Lindholm et al. 1994). Glutamate and acetylcholine up-regulate NGF and BDNF mRNA expression, while GABA down-regulates the levels of NGF and BDNF (Zafra et al. 1990, 1991). The regulation of NT-3 production is independent of cholinergic neuronal activity (da Penha Berzaghi et al. 1993).
Posttranslational modifications are also important processes regulating the productions of neurotrophins. Recently, a direct link between sigma-1 receptor (S1R) and BDNF has been discovered. Some studies described that S1R agonists (endogen like dehydroepiandrosterone or exogenous like SSRI fluvoxamine) increase BDNF expression and activate its downstream signaling. Others demonstrated that S1R acting as a chaperone protein enhances secretion of mature BDNF (Fujimoto et al. 2012). Our group also showed that S1R agonism by the fluvoxamine increases BDNF secretion in the rat hippocampus (Lenart et al. 2016).
Cardiovascular (CV) diseases are the leading cause of morbidity and mortality in most industrialized countries worldwide, despite highly effective preventive treatments. As CV diseases exert an excessive public health burden, exploring new pathophysiological pathways with the hope of new preventive and therapeutic potential can have an outmost importance. One of these new possibilities could be the involvement of NTs, which exert diverse effects on the developing and mature CV system. Their expression continues throughout life, influencing hypertension, atherosclerosis, diabetes and myocardial ischemia (Emanueli et al. 2014).
Mood disorders are also common public health problems in the Western world and their strong connection with CV diseases is broadly recognized (Penninx et al. 2001). Lower NT concentrations, such as serum BDNF and NGF have been shown to correlate negatively with many affective disorders including bipolar disorder (Barbosa et al. 2014; Lin et al. 2014), major depressive disorder (Brunoni et al. 2008), mania (Tramontina et al. 2009) and obsessive compulsive disorder (Maina et al. 2010). Although NTs themselves do not control mood directly, they are fundamental in the activity-dependent modulation of networks and changes in plasticity can affect mood as well (Castren et al. 2007).
As NTs can cross the blood–brain barrier, they potentially can influence CV pathology and psychopathology at the same time. BDNF is not only able to cross the blood–brain barrier (Pan et al. 1998), but in the periphery it is stored in platelets as well (Karege et al. 2002). Interestingly, while BDNF and NT-3 (as well as NT-4) are both structurally and functionally related to NGF (Maness et al. 1994; Sariola et al. 1994), the permeability coefficient-surface area of NGF is much lower compared with other NTs (Poduslo and Curran 1996).
Our aims are to overview the changes of NTs in psychiatric conditions and in CV diseases to demonstrate a new area of psychosomatic connections. We also aim to review the present knowledge about the therapeutic possibilities to restore the level of NTs and their consequences for different outcomes.
Conclusions
The accumulating data about the role of NTs, especially BDNF both in psychopathology and CV diseases, suggest that besides the involvement of the hypothalamic–pituitary–adrenal axis and the autonomic nervous system, NT pathway can also mediate psychosomatic processes. Its physiological background is based on the shared signaling pathways descending from Trk receptors and p75Ntr to both psychopathological and CV directions. The summary of our knowledge in this field, which was detailed above in this manuscript is demonstrated in Fig. 1.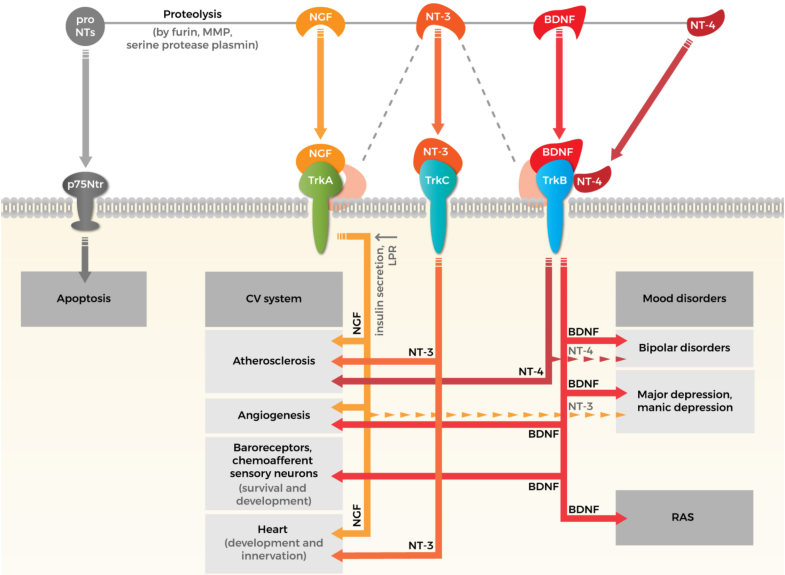 However, much more studies are needed, not only observational, but also interventional ones evaluating in psychopathological and CV conditions at the same time aiming to discover the mediator role of NTs to confirm this hypothesis, but in case of supportive results, new therapeutic targets can be defined with the possibility of beneficial effects on two groups of diseases with huge public health impact.
Notes
Acknowledgements
Open access funding provided by Semmelweis University (SE). Andrea Fekete and Lilla Lénárt were supported by the following research grants: OTKA-K112629-FK124491, NN-11460, VKE-2017-00006, EEMOFAKT-2017 and the 'Momentum' Program of the Hungarian Academy of Sciences LP008/2017. However, these grants had no influence for the content of this review paper.
Compliance with ethical standards
Conflict of interest
The authors declare that they have no conflict of interest.
Copyright information
© The Author(s) 2019
Open AccessThis article is distributed under the terms of the Creative Commons Attribution 4.0 International License (http://creativecommons.org/licenses/by/4.0/), which permits unrestricted use, distribution, and reproduction in any medium, provided you give appropriate credit to the original author(s) and the source, provide a link to the Creative Commons license, and indicate if changes were made.