Abstract
Background
Spine surgery is a demanding surgical specialty which requires surgeons to operate for hours on end, often compromising good posture. Sustained poor posture in the operating room (OR) can be the source of many adverse health effects on spine surgeons. This study will analyze posture of a spine surgeon in different types of spine surgery cases.
Methods
Posture of a surgeon was measured using the UPRIGHT Posture Training Device. The device was worn by the surgeon in the OR through a wide variety of spine surgery cases.
Results
The percent time spent slouched while performing cervical, adult deformity, and lumbar spine surgeries is 39.9, 58.9, and 38.6, respectively. For all surgeries recorded, the percent time slouched is 41.6. The average procedure time was 145.3 min, with adult deformity cases on average being the longest (245.6 min) followed by cervical (152.9 min) and then lumbar (122.5 min).
Conclusion
Poor posture while operating is very likely to occur for many spine surgeons regardless of case type. This poor posture is maintained for long periods of time given the average spine surgery procedure recorded in the study was roughly 2.5 h long. Spine surgeons should be aware of the tendency for poor posture while operating, and they should try using posture-improving techniques to maintain good spine health.
This is a preview of subscription content, log in to check access.
Access options
Buy single article
Instant access to the full article PDF.
US$ 39.95
Price includes VAT for USA
Subscribe to journal
Immediate online access to all issues from 2019. Subscription will auto renew annually.
US$ 199
This is the net price. Taxes to be calculated in checkout.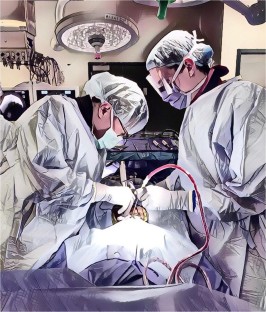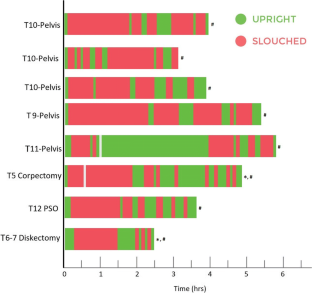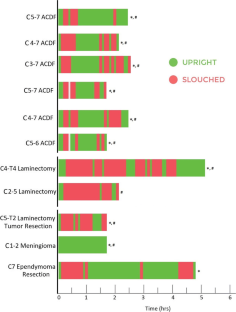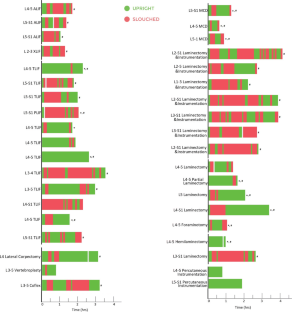 References
1.

Auerbach JD, Weidner ZD, Milby AH, Diab M, Lonner BS (2011) Musculoskeletal disorders among spine surgeons: results of a survey of the Scoliosis Research Society membership. Spine 36:E1715–E1721. https://doi.org/10.1097/BRS.0b013e31821cd140

2.

Braun BL, Amundson LR (1989) Quantitative assessment of head and shoulder posture. Arch Phys Med Rehabil 70:322–329

3.

Davis WT, Fletcher SA, Guillamondegui OD (2014) Musculoskeletal occupational injury among surgeons: effects for patients, providers, and institutions. The Journal of surgical research 189:207-212.e206. doi:https://doi.org/10.1016/j.jss.2014.03.013

4.

Dwyer A, Huckleby J, Kabbani M, Delano A, De Sutter M, Crawford D (2019) Ergonomic assessment of robotic general surgeons: a pilot study. J Robot Surg. https://doi.org/10.1007/s11701-019-00996-1

5.

Epstein S, Tran BN, Capone AC, Ruan QZ, Fukudome EY, Ricci JA, Testa MA, Dennerlein JT, Lee BT, Singhal D (2019) The current state of surgical ergonomics education in U.S. surgical training: a survey study. Ann Surg 269:778–784. https://doi.org/10.1097/sla.0000000000002592

6.

Fisher SM, Teven CM, Song DH (2018) Ergonomics in the operating room: the cervicospinal health of today's surgeons. Plast Reconstr Surg 142:1380–1387. https://doi.org/10.1097/prs.0000000000004923

7.

Hansraj KK (2014) Assessment of stresses in the cervical spine caused by posture and position of the head. Surg Technol Int 25:277–279

8.

Lou E, Lam GC, Hill DL, Wong MS (2012) Development of a smart garment to reduce kyphosis during daily living. Medical & Biological Engineering & Computing 50:1147–1154. https://doi.org/10.1007/s11517-011-0847-7

9.

Matern U, Koneczny S (2007) Safety, hazards and ergonomics in the operating room. Surg Endosc 21:1965–1969. https://doi.org/10.1007/s00464-007-9396-4

10.

Memon AG, Naeem Z, Zaman A, Zahid F (2016) Occupational health related concerns among surgeons. Int J Health Sci (Qassim) 10:279–291

11.

Mulconrey DS (2016) Fluoroscopic radiation exposure in spinal surgery: in vivo evaluation for operating room personnel. Clinical spine surgery 29:E331–E335. https://doi.org/10.1097/BSD.0b013e31828673c1

12.

Schuldt K, Ekholm J, Harms-Ringdahl K, Nemeth G, Arborelius UP (1986) Effects of changes in sitting work posture on static neck and shoulder muscle activity. Ergonomics 29:1525–1537. https://doi.org/10.1080/00140138608967266

13.

Soueid A, Oudit D, Thiagarajah S, Laitung G (2010) The pain of surgery: pain experienced by surgeons while operating. International journal of surgery (London, England) 8:118-120. doi:https://doi.org/10.1016/j.ijsu.2009.11.008

14.

Szeto GP, Ho P, Ting AC, Poon JT, Cheng SW, Tsang RC (2009) Work-related musculoskeletal symptoms in surgeons. J Occup Rehabil 19:175–184. https://doi.org/10.1007/s10926-009-9176-1

15.

Urakov TM (2018) Practical assessment of radiation exposure in spine surgery. World neurosurgery 120:e752–e754. https://doi.org/10.1016/j.wneu.2018.08.158

16.

Urakov TM, Wang MY, Levi AD (2019) Workflow caveats in augmented reality-assisted pedicle instrumentation: cadaver lab. World neurosurgery. https://doi.org/10.1016/j.wneu.2019.03.118

17.

Vaisbuch Y, Aaron KA, Moore JM, Vaughan J, Ma Y, Gupta R, Jackler RK (2019) Ergonomic hazards in otolaryngology. Laryngoscope 129:370–376. https://doi.org/10.1002/lary.27496
Ethics declarations
Conflict of interest
The authors declare that they have no conflict of interest.
Ethical approval
For this type of study, formal consent is not required.
Informed consent
This article does not contain any studies with human participants performed by any of the authors.
Additional information
Publisher's note
Springer Nature remains neutral with regard to jurisdictional claims in published maps and institutional affiliations.
This article is part of the Topical Collection on Spine - Other
About this article
Cite this article
Kothari, E.A., Urakov, T.M. Spine surgery is kyphosing to spine surgeon. Acta Neurochir (2020). https://doi.org/10.1007/s00701-020-04258-0
Received:

Accepted:

Published:
Keywords
Posture

Spine surgery

Occupational hazard

Surgeon

Slouching